National Volunteer Month, which takes place in April in the United States, provides a focused time of the year for volunteerism, as well as gives employee volunteers a special opportunity to support nonprofits important to them and their organizations. In this post, we'll discuss how you can engage your employees in volunteering during National Volunteer Month, or any time beyond.
What are the Benefits of Employee Volunteerism?
Our corporate volunteering statistics show that employees who participate in volunteering efforts in the community, with time sponsored by their companies, agree it makes them more loyal, more satisfied, proud to work for a company that allows volunteering during work hours, and that their community is stronger as result, all of which which leads to greater employee retention, a critical factor for many employers today. Volunteer service opportunities also strengthen your corporate reputation as a responsible company in the community, which may appeal to job seekers.
According to an article in Fortune in 2016, "When employees are actively involved in giving back it can lead to a deeper commitment and connection to the work," says Elizabeth Stocker, a consultant at Great Place to Work. "It doesn't surprise me that the sentiment was much higher when people are actually involved in the work, rather than a corporate donation being made."
What Causes Connect to your Company or Industry?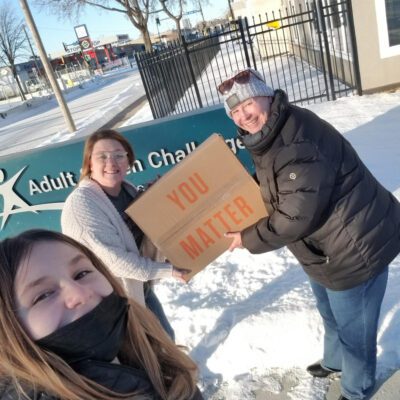 One important consideration as you look for volunteer opportunities for your employees is to study which causes connect to your people and where they like spending their time and skills volunteering. Consider surveying your employees to learn where they are already volunteering to determine if there are charitable organizations important to your staff. Another consideration for corporate volunteer programs might be causes that connect to the industry you work in or with the type of work your company does. If you work in a healthcare organization, for example, you might connect with nonprofits that focus on providing healthier communities, either through food, health screenings, or other related areas.
How Can You Engage Your Employees in Volunteering Activities?
There are many ways that employee engagement can take place through volunteering with a nonprofit organization, schools, or other community partners. All it takes is a commitment by the company and employees to create opportunities for volunteering hours. In some cases, organizations even formalize these efforts into an employee volunteer program.
Allowing for ongoing volunteer opportunities for employee engagement provides meaningful service opportunities to help in the community, while assisting nonprofits or other organizations to accomplish their missions. A win-win for both!
Offsite or team-building events that a business holds often provide a perfect volunteer opportunity, especially if they are happening during National Volunteer Month, but really at any time throughout the year. Volunteering, when incorporated as part of these types of events, can boost employee morale, showcase company values of giving back, and allow company leadership and the management team to volunteer alongside frontline employees.
But, of course, it doesn't require a special corporate event to engage in employee volunteering. You might offer a volunteering experience regularly, or at certain times of the year, like National Volunteer Month.
What Kinds of Employee Volunteering Options are Available?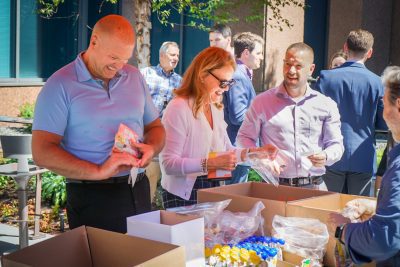 While there are a wide range of options, MATTER offers an experience where your team can pack MATTERbox Volunteer Kits, providing healthy meals to kids and families in a community, anywhere in the country. This opportunity can be part of an in-person employee volunteering program, or participation can take place virtually at field offices throughout your organization's network. Corporate partners find a MATTERbox packing experience offers a practical community impact that benefits people locally, while inviting employee participation in an easy way. There are no special skills required!
Start Volunteering Today!
Volunteering, whether through formal corporate volunteer programs or informal opportunities for participation, builds engagement benefitting your business and helping one or more nonprofit organizations. National Volunteer Month is a great time to continue to build on your existing efforts with employee volunteers or kick off the opportunity for your teams!
Read more in these articles about charitable team building, virtual volunteering, and hybrid work and volunteering.