Sixty years ago, Bob Dylan famously penned the line, "The times they are a-changin". Today, there's no better place to witness the changing times than the American workplace. Since 2020, companies are reimagining how they go about doing business and rethinking how to best utilize and accommodate their workforce, while retaining collaboration and fostering productivity. In many organizations, this means giving employees a flexible model of how they work, whether at home or a hybrid work combination of in-office and remote. While this hybrid work environment presents a new way of doing business, and a new approach for corporate culture, it is creating challenges for how companies engage their employees in volunteer activities.
Our MATTERbox Volunteer Kits are the solution for today's changing workplace. These versatile kits provide everything needed for organizations to create unique, meaningful and fun packing events for employee engagement, no matter where employees are working, whether hybrid models, remote, or a traditional office space. Companies can even host Zoom packing events for remote employees using technology and our Volunteer Kits! Here's how a few different forward-thinking companies have recently used the Kits to impact their communities with healthy food, while strengthening company culture and creating valuable worker experiences through real-time collaboration.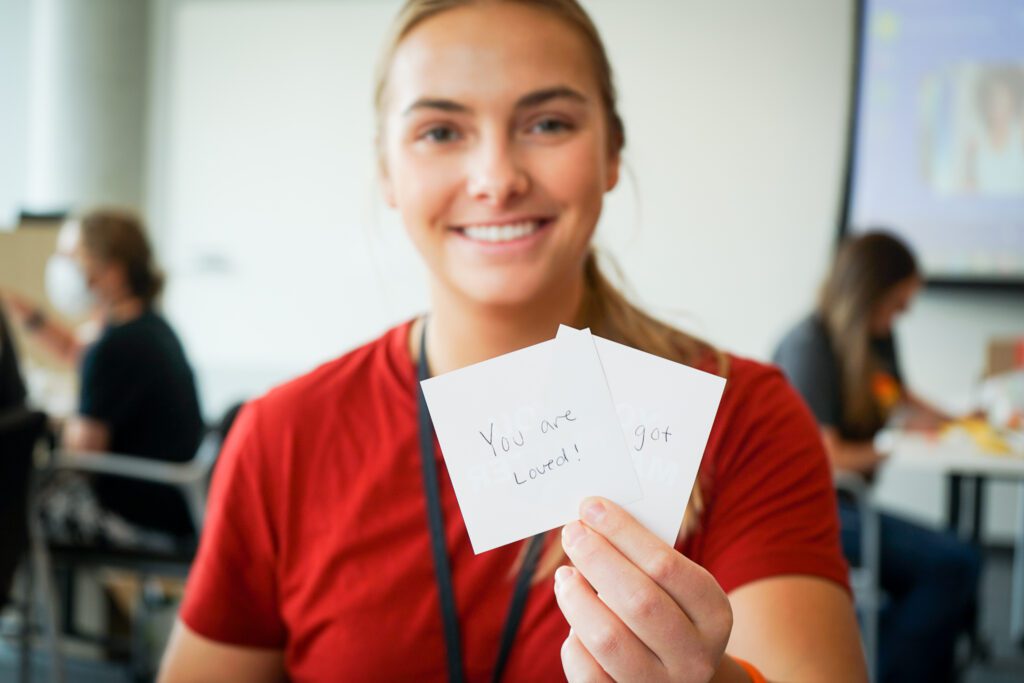 When Land O'Lakes wanted to include a community volunteer activity for their employees after meeting for their annual Diversity, Equity and Inclusion Summit this summer, they called MATTER to help bring their vision to life. Having employees nationwide meant they needed an activity that would include office workers at their headquarters in Arden Hills, Minnesota, as well as those who worked in several of their 80 plants and facilities in other office buildings around the country. Our MATTERbox Volunteer Kits were their answer.
For their local employees, they set up a packing station at their headquarters and had several small groups come in to assemble the snack packs from the Volunteer Kits. Employees packed healthy food, including whole-wheat crackers, unsweetened apple sauce and a peanut butter substitute along with handwritten YOU MATTER notes of encouragement to the recipients. Remote participants were sent their own Volunteer Kits with the option to assemble their 50 snack packs with coworkers or with their families.
In total, Land O' Lakes employees assembled nearly 4,000 snack packs! Employees chose which organizations in their local communities would receive the packs of healthy food. Communities in Minnesota, Wisconsin, Maryland and Louisiana benefitted from their volunteer efforts. Kelly Bukowski, Community Relations Specialist with Land O'Lakes, could not have been more pleased with the outcome.
"Our remote employees really appreciated being able to participate in a community give-back activity just like our local employees often do. That was one of the values of using MATTERbox Volunteer Kits, everyone could participate. Best of all, we were able to directly impact communities here in Minnesota and across the nation. Our Shreveport team was thrilled to be able to support their community with these snack packs as they continue to rebuild from Hurricane Ida."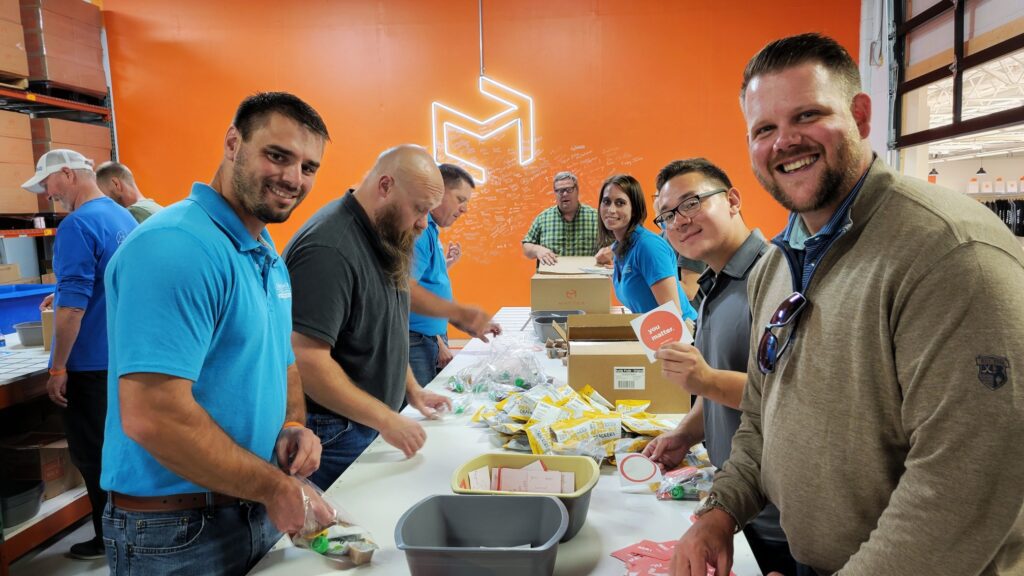 Benson-Orth Associates is a general contracting company that has been overseeing quality construction projects throughout Minnesota for the last 50 years. They're also committed to investing in their community through employee volunteer opportunities. In looking for options for employees that they could all do together, they discovered MATTER and our MATTERbox Volunteer Kits.
Instead of holding the packing event at their location, they chose to come to MATTER. We were only too happy to host their team of 17 enthusiastic employees at our office who assembled nearly 1,000 snack packs! After a group lunch with some of the MATTER team, the Benson-Orth group headed off to deliver the snack packs to two grateful MATTER partners, Washburn High School and Brooklyn Park Police Department.
Benson-Orth Associates CEO, Mike Monson, explained why they chose to partner with MATTER for this volunteer activity. "It was an extension of our culture at Benson-Orth. We spend a lot of time together, so it made sense we'd do this together. Everyone enjoyed it, especially writing the YOU MATTER notes. It was a very rewarding experience and definitely exceeded our expectations."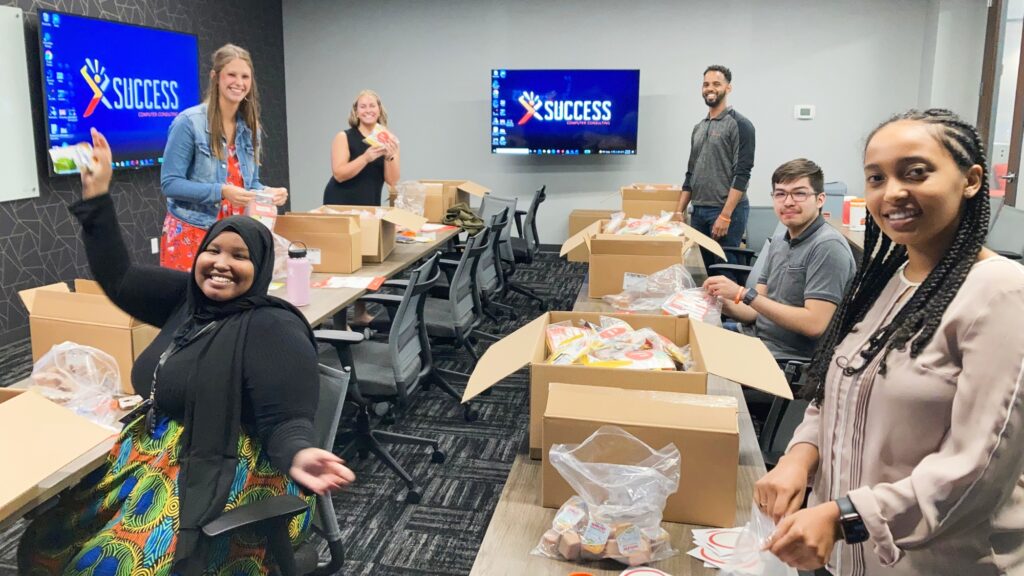 Caring for the needs of the community is part of what makes SUCCESS Computer Consulting such a success. When they wanted to address the hunger crisis in Minnesota, they partnered with MATTER and 5 Eyewitness News in our Feeding Minnesota campaign this summer to help provide 50,000 healthy meals to children and families. But they didn't stop there. Using MATTERbox Volunteer Kits, they held two on-site packing events, assembling 750 healthy snacks for MATTER's community partners!
For SCC employee John Humphrey, the volunteer experience had multiple benefits, "I had a wonderful time teaming up with my colleagues to package MATTER snack bags. Not only did this experience allow for moments of team building, friendship, and bonding, but it also left me with a deep sense of fulfillment. It was a reminder that no acts of kindness are too small and that it is possible to make a difference with the right mindset. I will definitely be volunteering more in the future, thanks to this experience."
There are many complex issues facing companies today, but doing good in their communities shouldn't be one of them. Our MATTERbox Volunteer Kit can create a unifying and impactful volunteer experience everyone will enjoy. And we have many learnings to help organizations create an engaging employee experience, that will create satisfaction for employees, from our packing activities with remote teams, those in a hybrid workplace or other flexible work arrangements, or those in a physical office.
Let us help your company create a packing event today using a comprehensive approach that will lead to rich collaboration experiences for your employees! Go here to learn more.