What Is Charitable Team Building?
Charitable team building is one of the best ways for companies to improve employee engagement, satisfaction, and enthusiasm. When businesses provide volunteer opportunities that their workers can participate in together, whether in-person or virtually, meaningful interpersonal connections are strengthened, and overall enthusiasm for their company's mission and purpose increases. All of this is not only good for the bottom line, but can build an organization's profile in the community as one that cares for and invests in the community in which it works, whether volunteering at homeless shelters, animal shelters, building bikes, or assembling school supplies.
A Disengaged Workforce
Gone are the days of employee 'lifers' who work at one or two jobs for the entirety of their careers and retire with a sizable pension and the obligatory gold watch. In 2021, according to the U.S. Bureau of Labor Statistics, the median number of years that employees stay at their jobs is a little over four years. There are many reasons for this, not the least of which is that millennials now make up half of the workforce and see their jobs and careers through a lens much different than previous generations. And many want to use their skills for good.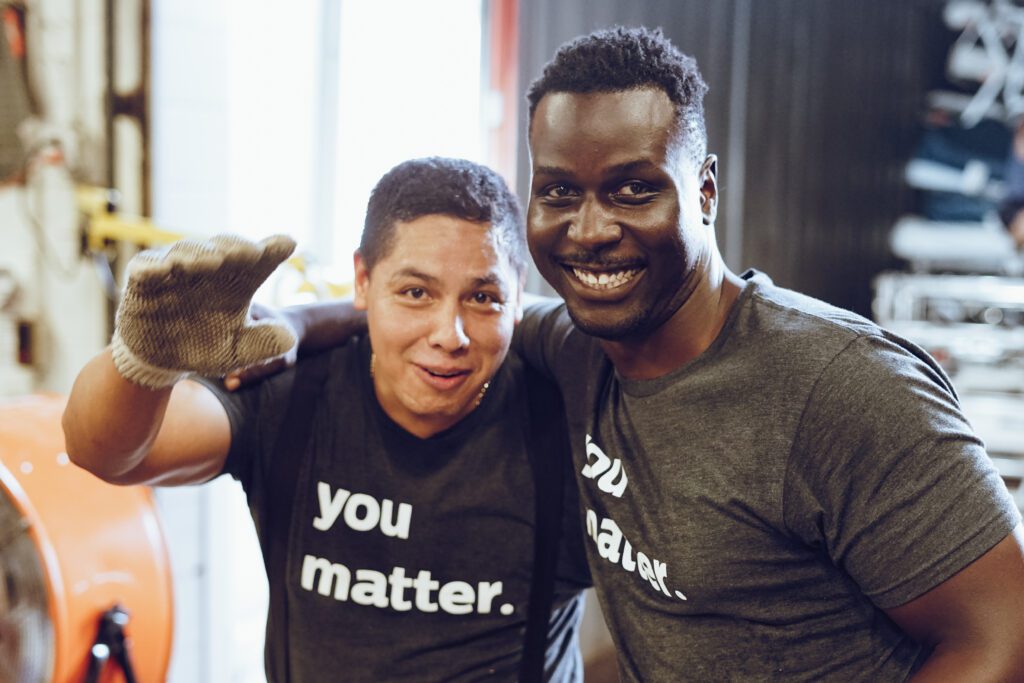 Millennials are driven by a passion for environmental and social causes. For many in this generation, their sense of social responsibility motivates them more than climbing the corporate ladder or attaining a certain social status. They also long to find meaningful connections at work and be meaningfully connected to what they do. If these values don't line up for them at their present company, they're more than willing to pack up and move to another one. In fact, according to a report by Fidelity Investments, millennials are willing to take a pay cut of more than $7,500 to work for companies that have positive corporate cultures that emphasize many of their shared values.
According to a recent Gallup poll, here is the breakdown for employee engagement among the millennial workforce:
Only 29% are engaged at work, meaning only about three in 10 are emotionally and behaviorally connected to their job and company.
Another 16% are actively disengaged, meaning they are more or less out to do damage to their company.
The majority (55%) are not engaged, leading all other generations in this category of worker engagement.
What happens when companies have high levels of employee disengagement? To say it takes a toll on an organization is an understatement. It's a real challenge! Here are just some of the effects on the corporate culture when employees don't feel emotionally or behaviorally connected to their jobs:
Low morale
Collaboration suffers
Productivity is impacted
Customer satisfaction is affected
High levels of turnover
How bad is the turnover rate in corporate America right now? One report suggests companies in the U.S. lose at least $1 trillion every year due to voluntary employee turnover, with millennial turnover accounting for $30.5 billion of that cost.
Cultivating Enthusiastic and Committed Employees
The flip-side of the coin, enthusiastic and committed employees, has a cost as well – but on the profit side of the ledger. According to Gallup, companies with a highly engaged workforce have a 21% higher profitability and a 17% higher productivity than those with a disengaged workforce.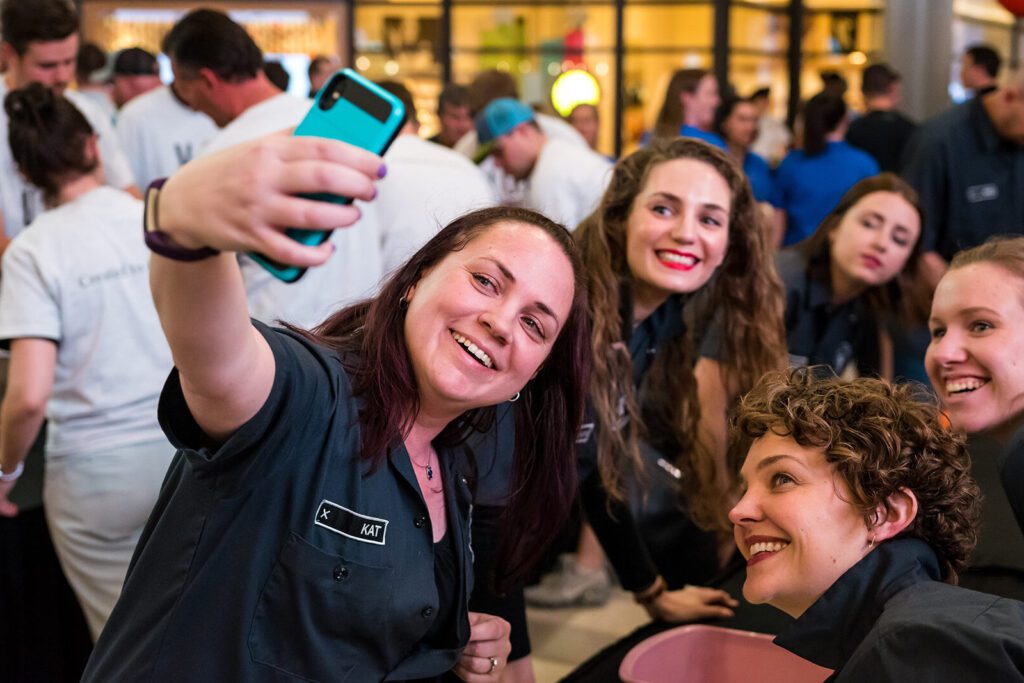 Beyond the bottom line, what else do engaged workers bring to the table? TalentCulture, an online community powered by HR leaders and strategists, put it well:
When employees are engaged, they adopt the vision, values, and purpose of the organization they work for. They become passionate contributors, innovating problem solvers, and stunning colleagues. High-performing employees want to work in places and on a team like that. Smart employers want to cultivate that kind of environment.
Obviously, getting and keeping employees engaged is, or should be, an item high on the list of considerations for employers. But how does an organization keep its team of employees, especially the millennials, engaged? How do they create a company culture where their team feels emotionally connected to their jobs and are willing to invest themselves in their work for the long haul – or at least longer than a couple of years?
The Benefits of Charitable Team Building
One of the best ways for employers to create positive energy, improve team spirit and foster an engaging corporate culture is to provide opportunities for employees to volunteer together at charitable organizations for the greater good of the community through charity team building activities. Whether it's setting aside a whole day or just a couple of hours per quarter, encouraging their team of employees to work together on a project to care for the needs in the community through a charity team building event will help build the interpersonal connectivity that will increase enthusiasm and create positive feelings about the company and its commitment to social responsibility.
A study by the Macquarie Graduate School of Management found that 93% of employees who volunteer through their company report being happy with their employer, and 54% of those who are proud of their company's contributions to society are engaged at work.
Another study found that 74% of employees feel their job is more fulfilling when their employers provide opportunities for them to make a positive impact on social or environmental issues. Not surprisingly, the percentage is even higher for millennial employees at 88%.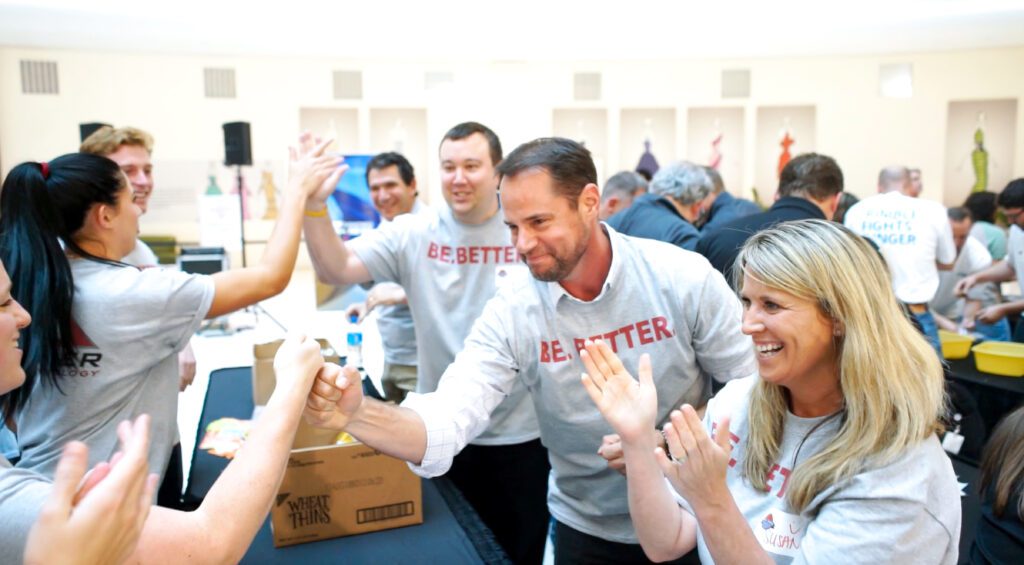 In addition to boosting employee morale and increasing motivation, there are other benefits for companies to provide charitable team-building activities. Among them are:
Increased collaboration and creativity
Improved trust and openness between employees and leadership
Problem-solving skills honed
Leadership qualities identified
But the benefits of charity team building activities can extend beyond the doors of the company as well. By finding ways to give back to the community through charity team building activities and showing they care about the people living in their backyard, companies build positive relationships with community organizations and strengthen those ties that make communities stronger and more resilient.
Building Team Morale in Today's World
The corporate landscape may be changing. The number of US. employees who worked from home five days or more per week before the COVID-19 pandemic was 17%. That number jumped to 44% during 2020. And though things are slowly returning to "normal", working remotely may well be here to stay.
So what is the toll on team morale when workers aren't working in physical proximity to each other? Here are just some of the negative effects that employers should be aware of:
Employee Satisfaction. Unhappy employees become less likely to share ideas or come up with creative solutions because they don't get a sense of satisfaction from their work.
Employee Retention. Disgruntled employees start looking elsewhere for work as soon as they can. If your workplace becomes a revolving door, you lose additional time and money in recruiting and training new people.
Productivity. Lack of morale leads to a lack of motivation. When employees don't feel inspired, productivity falters.
Health. Poor morale can lead to mental health issues as well as physical health problems among employees.
Now, more than ever, companies need to invest in those things that will increase team morale and build positive corporate cultures. Focusing on a wide range of philanthropic team-building activities, projects or events is essential to keeping employees engaged and feeling connected to one another and their community.
The MATTERbox Volunteer Kit
One of the biggest challenges facing companies at present is to find team-building activities that can be done virtually or in person, particularly if they're looking for activities that accommodate their individual and collective employees' level of comfort and safety, but that also offer a fun challenge and boosts company morale.
The MATTERbox Volunteer Kit was created for such a time as this. Developed in the midst of the pandemic, the MATTERbox Volunteer Kit has been a huge success by providing a fun activity and an innovative way for employees to volunteer together in-person or as a virtual event to pack healthy food for families in their communities… to really make a difference and have a positive impact, while helping reach team building goals and creating a sense of community among employees..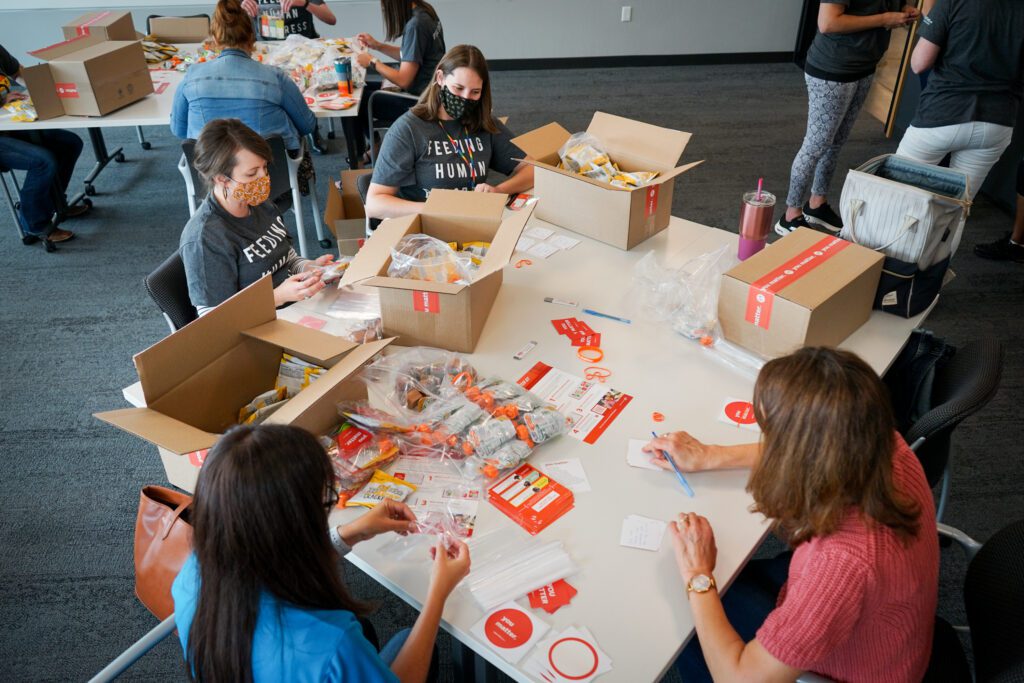 The MATTERbox Volunteer Kit is the brainchild of global non-profit MATTER, an organization headquartered in Minnesota that helps people launch projects to improve communities. Whether healthy food initiatives, innovative education projects, or hospital and clinic renovations, MATTER collaborates through diverse partnerships to bring life-changing ideas to life.
The MATTERbox Volunteer Kit comes complete with all the supplies needed to pack snack packs filled with healthy carbohydrates, delicious fruit pouches, and a soy peanut butter substitute. What makes the MATTERbox snack pack unique is the You Matter note of encouragement handwritten by the person packing the snack to the person who will receive it.
Assembling MATTERbox Volunteer Kits makes for the perfect activity for a team of employees to do as a charity event. They can meet together in person, conduct an online team building event, or a hybrid version of the two. Best of all, they or their company can choose where the packs of healthy food will go as a service to the local area. Community organizations such as child care providers, schools, child and youth programs, senior care facilities, food banks, hospitals and first responders all appreciate donations of healthy food. There is also an option to return the assembled kits to MATTER for distribution to their community partners.
When Kelly Bukowski, Community Relations Specialist with Land O'Lakes, Inc. wanted to create a volunteer experience to cap off their annual Diversity, Equity, & Inclusion Summit, she used MATTERbox Volunteer Kits for an easy, fun team building activity with impact. The 1,500 meals they packed went to a local organization working to build food equity in the community.
"It was such an easy turn-key event for us. Usually, the planning and executing of these community give-back events require a lot of extra work. Using the MATTERbox Volunteer Kits was a breeze! The kits arrived on time with everything we needed to give our employees a wonderful volunteer experience. A huge bonus in terms of employee engagement was that employees here at headquarters and those in our remote facilities could all do this event despite being in different locations. Our employees loved it and we made a meaningful impact in the community. It was great."
You can learn more about how your organization can engage in a MATTERbox corporate charity team-building event that benefits your community. Not only will this effort positively impact the lives of children and families, it might just become a regular team-building event that strengthens the bonds of your employees. Reach out to Victor at MATTER for more information!