What Is Virtual Volunteering?
The idea of 'virtual volunteering' has become more popular with the arrival of the COVID-19 pandemic in 2020. Also called 'digital volunteering', 'online volunteering' or 'cyber volunteering', volunteering this way is a virtual opportunity that's been around since the rise of the Internet in the 1990s but hasn't really taken hold until recently. Before the Coronavirus pandemic turned our lives upside down, most people considered volunteering in the traditional sense – giving of their time at a specific charity or location like a school, food pantry, soup kitchen, crisis center, youth service, a library, or a retirement care home. With the pandemic forcing widespread quarantines, many of these volunteer opportunities have been put on hold. But that hasn't stopped people from wanting to help their neighbors. In fact, as the pandemic spread and the needs grew, so did the desire of many to help their communities get through this unprecedented time. Turning to a virtual opportunity for volunteering became a safe way to help people and nonprofit organizations during this time.
Becoming an online volunteer is easy. All you need is a computer and an Internet connection and you, too, can join the global army of online volunteers making a difference in one organization, or more, from the comfort and safety of their homes.
Why Should I Engage In Virtual Volunteer Opportunities?
Besides the fact that you are helping others, there are several great reasons to consider engaging in a virtual volunteer opportunity. Compared to doing traditional volunteer work, virtual volunteers engaging in remote opportunities  or tasks have much more flexibility in offering their time and resources. Because you're not limited by a specific location or hours, you can use your extra time taking part in a virtual opportunity to help organizations on the other side of the country or even on the other side of the world!
Plus, you can help on your schedule rather than having to adhere to the limited schedule an organization may offer. Don't have time during the day? No problem. With most virtual opportunities or tasks, you can work after hours or on weekends. If you're disabled or a person living in a remote location that makes volunteering difficult, offering your services online may be the perfect solution. Your time commitment can be as much or as little as you are able to give, and often with no set hours per week.
Other reasons to consider engaging in a virtual volunteering opportunity, according to balance small business: you can work for multiple causes and organizations, you can spend more time volunteering, you can find opportunities that match your unique skills and passions, and you can fulfill education goals or hit career path milestones.
But wait, there's more!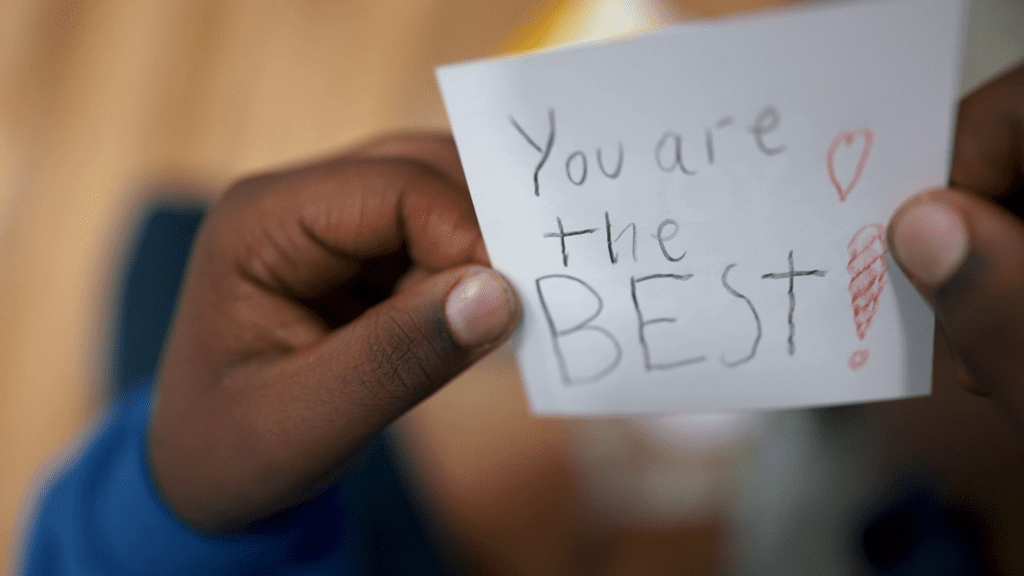 Helping others is the prime motivator for volunteering. But there's something else that drives people. Helping others just feels good. And it appears that it's good for us! This is just as true for digital volunteers as it is for traditional volunteers. Look at these results from a 2013 study by UnitedHealth Group:
76 percent of people who volunteered in the last twelve months said that volunteering has made them feel healthier
94 percent of people who volunteered in the last twelve months said that volunteering improved their mood
78 percent of them said that volunteering lowered their stress levels
96 percent reported that volunteering enriched their sense of purpose in life
If you've been feeling lonely or isolated during this time, consider becoming an online volunteer. Not only will you be making a meaningful impact on your community, but you'll probably find that your spirits will be lifted as a result. It's a win-win for everyone!
There are also professional benefits that come from being a virtual volunteer. Many nonprofits need skilled volunteers with talents or qualifications that otherwise are challenging to find and in demand, such as researchers, marketing professionals, or those with programming skills or tech knowledge. This article suggests you look for projects that can help you build your skills and show future employees that you're serious about your professional development and, of course, connecting professionals with nonprofits can have a profound impact for the nonprofit. Having volunteer work experience on your resume tells future employers that:
You're self-motivated,
You have good time management skills, since you set your own schedule.
You can commit to and finish a project.
You're comfortable communicating in written form since email is the primary form of interaction.
How Can Companies Use Virtual Volunteering With Employees?
Corporate volunteerism is on the rise as more and more companies understand the importance of giving back to the communities in which they work. They've also found that employees like to work for companies that encourage volunteering. A 2017 Deloitte Volunteerism Survey found:
70 percent believe that volunteer opportunities boost morale more than company mixers.
77 percent believe that volunteerism is essential to employee well-being.
89 percent of the respondents think that company-sponsored volunteer activities create a better working environment.
Of course, in the days before COVID, it was easy for companies to encourage their employees to volunteer. Now that COVID has shut down many in-person and on-site opportunities, and many employees are still working from home, companies are scrambling to find those volunteer experiences.
Virtual volunteering provides those safe opportunities to be of service that will not only help boost employee morale but will help employees make meaningful connections to their company, to their coworkers and to the community, At a time when so many employees are working from home, these connections are vital to the health and wellbeing of companies nationwide. By offering volunteer involvement through a virtual opportunity via the Internet or through a remote opportunity, companies can show they are in touch with their employees needs, as well as help a non-profit organization.
What Are The Limitations To Online Volunteering? 
While virtual opportunities present a wide spectrum of benefits to both nonprofit organizations and their volunteers, there are some drawbacks for remote volunteers. For many, they miss the personal connection to people that is part of traditional volunteering. Delivering meals to seniors, teaching English to new immigrants or tutoring students makes for meaningful connections. By contrast, online volunteering many times involves helping organizations with their administrative responsibilities. While that can be very fulfilling, it can also leave volunteers feeling disconnected from the people that are being served if they are looking for a more engaging volunteer project.
Another issue related to online volunteering is that it may be prohibitive for seniors or people without Internet access or computers. According to a 2015 study by the Bureau of Labor Statistics, the elderly made up almost 25 percent of the volunteer population. While those in this older demographic have the time and inclination to serve as online volunteers, many won't take advantage of virtual volunteering. During this time when in-person opportunities are limited, seniors are at a real disadvantage to share their much-needed experience, skills, and time with others in the community.
The MATTERbox Volunteer Kit: Volunteer From Home 
The MATTERbox Volunteer Kit is a unique virtual opportunity that connects online volunteers to recipients in a personal way. It also provides individuals of all ages, from youth to seniors, with the ability to make a meaningful impact in the community. All from the comfort and safety of their homes, based on their availability.
As the pandemic has taken its toll on our economy, food insecurity has risen across the country. Feeding America, the largest hunger-relief organization in the United States, estimated that approximately 54 million people (1 in 6 people) may experience food insecurity in 2020, including 18 million children (1 in 4 children).
To address this growing crisis, the global nonprofit organization, MATTER, created the MATTERbox Volunteer Kit. This unique kit, designed as a virtual opportunity, comes with everything needed to pack 50 healthy snack packs that can be given to local organizations for distribution into the community.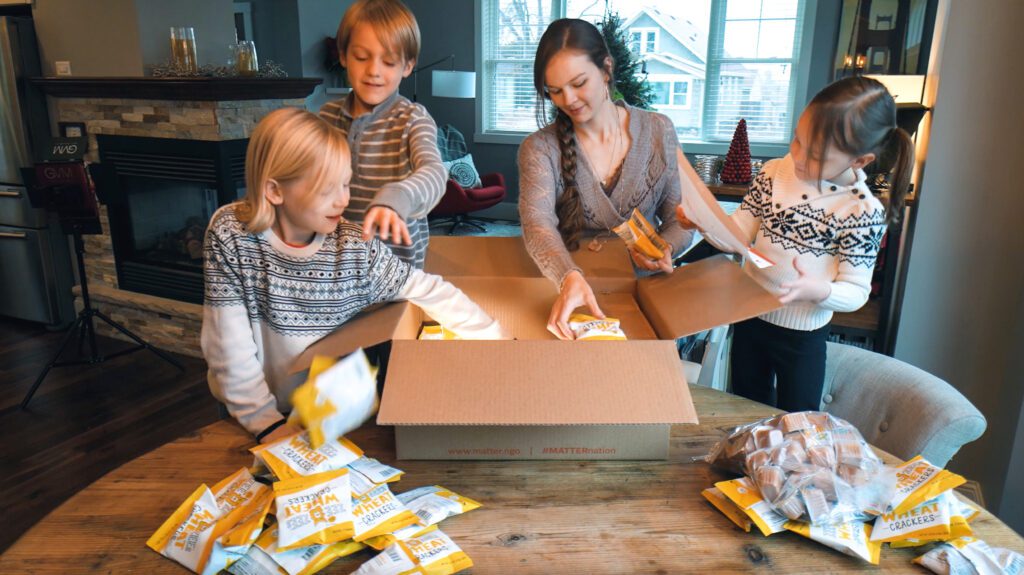 Schools, community centers, children's programs, youth camps, first responders, hospitals, homeless shelters, and other community organizations use MATTERbox snack packs as an easy and convenient service to provide healthy food for those in need.
What makes the MATTER snack packs unique, and brings a personal connection to the packing activity, is the YOU MATTER note of encouragement included in each snack pack. Handwritten by the volunteer who assembles the snack pack to the person who will receive it, the YOU MATTER note provides a simple way for the recipient to know they matter. To know that someone is thinking of them during this time of uncertainty.
The MATTERbox Volunteer Kit is also the perfect virtual opportunity for employees. Using a video conferencing technology platform, like Zoom, employees can pack their kits individually in their homes, but share the experience with their coworkers together online during video calls. With so many employees still working from home, creating a virtual packing event can be that morale booster that companies are looking for during this time. It also provides the community outreach that many businesses value but have been unable to provide their staff due to the lack of availability of opportunities.
Whether you're an individual, a family, a small group, school group, or a company looking for the perfect opportunity for online volunteers, the MATTERbox Volunteer Kit provides a fun and easy experience that will make a meaningful impact in the lives of children and families in your community. The kits can be sent directly to your home with simple instructions for assembly. Let us make a volunteer match between you and your community!
For a volunteer experience that young and old can participate in with countless opportunities for impact in the community, there is no better online volunteer or virtual volunteering opportunity. Learn how to get your MATTERbox Volunteer Kit!