It's every teacher's dream for their students to come to class happy to be there and eager to learn. For Aubrey Chiwandura, the facilitator for the first MATTER Innovation Hub (MIH) Program in Zimbabwe, that's his experience almost every day. And he loves it.
"They come running with smiles on their faces because they love it. Every minute they spend in the MIH is precious to them and they can never get enough. Some of them even say they envy me because I'm always in the MIH having fun all the time!"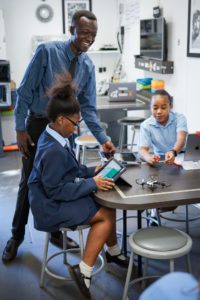 It's no surprise the kids are enjoying their time in the MIH. Created in partnership with Jamf, the MIH Program uses Apple products to teach coding skills using robotic balls, drones, physical and virtual coding blocks, while also incorporating literacy and math. These hard skills are essential for students to succeed in the coming future that experts are calling the Fourth Industrial Revolution, a global technological revolution that will radically alter the way societies live and work.
Equally important, if not more important, are the soft skills students will need to compete in the world of tomorrow. Using a student-centered methodology and a pedagogy that emphasizes how students learn as much as what they learn, Aubrey is helping the students to develop important problem solving and critical thinking skills using lessons and activities designed to build creativity, confidence, initiative and leadership skills.
The beauty of the MIH Program is that it can be utilized anywhere in the world, giving kids who would otherwise not be able to compete in a highly technological world the chance to create a brighter future for themselves and their communities.
Opening in Victoria Falls, Zimbabwe, in the fall of 2019, the MIH has already become popular with parents and teachers, as well as students.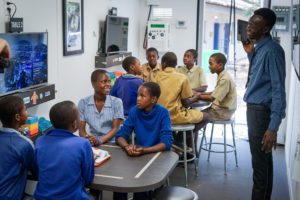 "Overall, the MIH has been fully accepted by everyone who steps foot in it, either the students or their parents who pop by sometimes because their kids are always talking about it at home. And many of the teachers who come with their students are beginning to adapt their own classroom to the teaching style of the MIH. Many are also learning to use the technology and have joined the Apple Teacher Program. It's exciting what is happening to the education community in Victoria Falls!"
This education revolution in Victoria Falls could transform the entire community. As these students embrace these tools to create brighter futures for themselves, they will also create a brighter future for Victoria Falls and beyond.
A year ago, the MIH was on display at the Jamf Nation User Conference (JNUC), the largest gathering of Apple administrators in the world. It wowed conference-goers with its technological capabilities and potential for global impact. At this year's conference, Jamf CEO, Dean Hager, was able to share with participants how that very same MIH is the one now in Zimbabwe making a huge impact on the students there. See how Jamf's dream, co-sponsored by Secrid, has become such an amazing reality under Aubrey's capable leadership.
Thursday, October 14, is Give to the Max Day and we can't think of a better way for you to invest your resources than to join teamMATTER to sponsor one of these amazing students in Victoria Falls. Just $25/month covers the cost of the technology, materials and facilitator for a student to receive this world-class education. With the support of MATTERnation, our goal is to have 250 students sponsored in 2020.
Will you join teamMATTER today and let these children know they matter? Whether you become a monthly sponsor of a student or make a single gift, your support is deeply appreciated. We've set up an easy donation page to begin your support today at https://www.matter.ngo/sponsor-student/
On behalf of the students in Victoria Falls, thank you for helping to create a world where everyone matters!