"Nutrition and healthy eating look different for every family, but with the support of MATTERbox, it will help introduce new foods for my students and their families to try." – Teacher Melinda Weiss, Henry Sibley High School  
The day was Halloween, but for Mrs. Weiss's REAL Program at Henry Sibley High School, the topic was not candy, but healthy food. Gathering in the school's apartment kitchen instead of their usual classroom, the students prepared to make Southwest Burrito Wraps, one of the recipes from YOU MATTER Cooking.  
Created in collaboration with Boston Scientific,  YOU MATTER Cooking is MATTER's exciting new initiative that uses MATTERbox meal kits and recipes to teach healthy cooking to young people. Featuring an online tutorial and facilitator guides for each of the nine recipes available, the courses are easy to incorporate in a variety of group and individual settings.  
Discussing the recipe and its healthy ingredients prompted a few nervous comments from Mrs. Weiss's students. "I've never had Mexican food before," said one student cautiously. "I don't like black beans," said another, skeptically eyeing the can sitting in front of her. "I've never used a knife before. They scare me," offered another anxiously.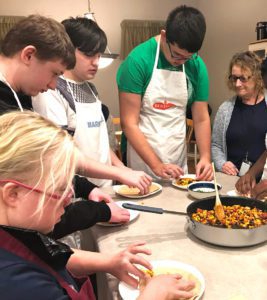 Allaying the students doubts and fears, Mrs. Weiss walked them through the recipe, encouraging them to help with opening cans, measuring and stirring. After watching the YOU MATTER Cooking skill videos for cutting green onions and folding tortillas, the students were given the opportunity to try the skills on their own.  
For students in the REAL Program, food can be a challenge. New tastes and textures are often met with resistance. But sitting down to eat their healthy burrito wraps, the reviews were surprisingly positive. "My dad will be proud of me. I ate the whole thing!" announced one student as he popped the last bite into his mouth. Comments like that are music to Mrs. Weiss's ears.  
"For some of these kids, just getting them to try something new is like a miracle. I'm thrilled they all gave it a try. And overall, I'd say it was a hit!"  
At the end of class, the students took a MATTERbox home to make the recipe for their families using the YOU MATTER online course as their guide. The experience for the students and their families was very positive and one the students are eager to do again. 
Pleased with the results of her class's first YOU MATTER Cooking course, Mrs. Weiss is looking forward to continuing the partnership with MATTER. 
"My goal as a teacher is to provide the very best for my students and MATTERbox helps me do that. The website is not only accessible for me, but it is also available for my students to learn at their own pace at home. The website provided me with nutrition information, fun facts, videos, self-guided step-by-step directions, and a cooking curriculum that is easy to use and follow.  My students were wary at first because it was something new, but after bringing home their first box, they can't wait to try another one soon!" 
Helping youth develop lifelong healthy eating habits is not easy. But with experts warning that this generation may not live as long as their parents due to poor nutrition and physical inactivity, it's essential we find a way to do it. YOU MATTER Cooking helps make the process fun and engaging for youth (and people of all ages!), and easy to use for facilitators of any cooking skill level.  
If your school or organization would like to incorporate YOU MATTER Cooking into your program, please visit here for more information!