"I hope that everything they do here helps their future to be brighter, not only on the educational side but even in life, because the creativity, critical thinking and problem-solving skills, which are all promoted by the MATTER Innovation Hub, also apply even in life."
Sharing his hopes for the 260 students he works with in Africa's first MATTER Innovation Hub (MIH) is Mr. Aubrey Chiwundura. As the lead facilitator for the MIH located in Victoria Falls, Zimbabwe, Aubrey is excited to pioneer his country into a fresh, forward-thinking approach to education, one that will better prepare Zimbabwe's children to succeed in the high-tech world of tomorrow.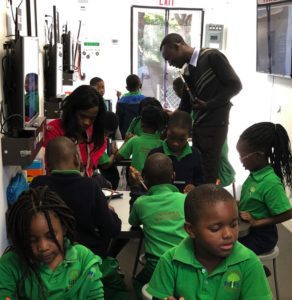 Growing up in the capital city of Harare with his mother and sister, Aubrey always loved technology, graduating with a degree in Information Technology from Harare Polytechnic in 2016. Becoming the lead facilitator for the first MATTER Innovation Hub in Zimbabwe was a natural fit. "I fell in love with everything about it from day one, and also since I was already a tech lover, I understood the concepts very quickly."
With only two months in operation, the MIH is already transforming the minds of both students and teachers in Victoria Falls. Its emphasis on student-centered learning is a novel approach for the teachers in Victoria Falls who were trained in the traditional teacher-centered method where the student is more of a passive recipient of knowledge rather than an active participant in the learning process. Slowly but surely as they see their students blossom in creativity and confidence, they are coming around to the new methodology.
"The teachers have embraced the Hub, together with its innovative methodologies, and I have been seeing some changes. It's gradual, but I think we are moving in the right direction."
 Created in collaboration with Jamf, the MIH uses Apple products and curriculum to teach coding skills. Currently, Aubrey is the only person in Zimbabwe (and possibly in all of Africa) certified by Apple to teach their exclusive curriculum of coding using robotic balls, drones, and physical and virtual coding blocks.
"All the kids I have been working with have never coded before, they did not even have an idea of what coding is. But most of them, especially those between 8-12, have now embraced the concept of coding and they really love it…I really hope that some, if not most of them will pursue coding and programming."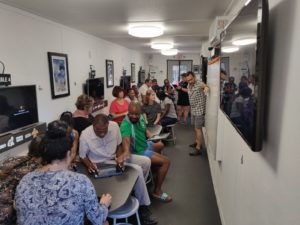 The MIH was created to offer some of the world's more disadvantaged youth a chance to compete in tomorrow's technological world. With the coding curriculum and the emphasis on creativity, critical thinking and problem solving preparing them to take on tomorrow's challenges, these students will gain the skills needed to make healthier and more fulfilling choices in their lives.
But the students in the Victoria Falls area aren't thinking about all that now. They don't know that the MIH is preparing them for a brighter future. All they know is that they get to play some really cool coding games and learn new skills they didn't even know existed a few months ago. And Aubrey is already seeing positive results.
 "I have been seeing changes in the ways the students do things and have also noticed improvements in their confidence. I've been seeing smiling faces every day. The kids are eager to play and learn at the same time."
Learn more about the MATTER Innovation Hub and consider partnering with us to deploy more Innovation Hubs, giving today's kids a chance for brighter tomorrows!