On June 11, players and staff from the Minnesota Timberwolves, Minnesota Lynx and T-Wolves Gaming came to MATTER to pack thousands of MATTERbox meal kits and snack packs for families in South Minneapolis. With food generously donated by Hy-Vee, everyone brought their A-game and got it done, packing more than 1,000 meal kits and 2,000 snack packs!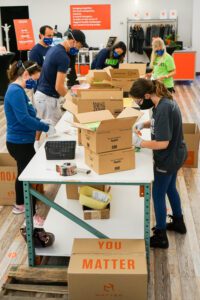 The packing event, which also included representatives from HyVee and Urban Ventures, brought out ninety participants. When asked about the huge turnout of players willing to spend their day packing food for the community, Ethan Casson, CEO of the Timberwolves and Lynx responded, "I'm not surprised. When you look at the type of players we look for in our organization, certainly the talent for what they bring on the court is important, but who they are off the court is equally important. So when you have a situation that impacts all of us, and every community around the country, every player in their own way is asking 'What can I do to make a difference?' And packing food today is one of the ways to make a difference."
Added Timberwolves Forward Jake Layman, "We have the time on our hands to put everything that we can into our community that really needs us right now."
After the packing event, the meal kits and snack packs were delivered to MATTER partner, Urban Ventures. Working to break the cycle of poverty in South Minneapolis for the past 25 years, Urban Ventures is perfectly positioned, both strategically and missionally, to address the needs of the community since the rioting in May. Pivoting almost overnight, Urban Ventures turned their massive gymnasium into a food and grocery distribution center. Twice a week, families come to pick up everything from food and diapers to toilet paper and cleaning supplies.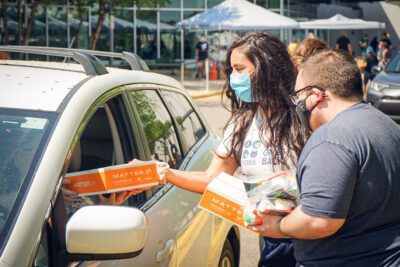 When the MATTERbox meal kits and snack packs were distributed to the community on June 16, many of those who packed them showed up to personally give them to the families. Not to miss out on the fun was Crunch, the Timberwolves mascot, whose presence brought smiles to the faces of both kids and adults alike. Despite the soaring temps in the 90s, everyone involved in the distribution had a blast.
For Urban Ventures, it was yet another busy day of serving the community. Sarah Spiegle, Events and Volunteer Manager for Urban Ventures expressed her gratitude for all the help they've received in donations and distribution.
"We're really, really thankful for the people who have helped us with this so far. We want to do as much as we can right now, but our end goal is to get back to tutoring kids, being with families and rebuilding the community."
MATTER is honored to come together and collaborate with these dedicated community partners to help with the relief efforts in South Minneapolis. During the packing event, Minnesota Lynx Guard Rachel Banham was asked what message she'd like to send to those who are hurting right now. Her response was simple yet profoundly important,
"The message is that everyone does matter, and everyone is loved."
Rachel's message resonates deeply with the mission of MATTER and is the reason we do what we do. In this time of great distress in our communities and around the world, let's echo Rachel's message. Together, let's continue to work to make sure everyone knows they matter, and everyone knows they are loved.
If you would like to pack food for the community, you can do so right in your own home by ordering a Stay At Home Volunteer Kit.