Our friend and MATTER partner, Gorgui Dieng of the Memphis Grizzlies, has been keeping himself busy during the NBA's suspended season. With his home country of Senegal ever on his heart and mind, he's been focusing this unexpected downtime on helping Senegal address the COVID-19 pandemic. 
On Instagram, Gorgui shared his foundation's mission during this time: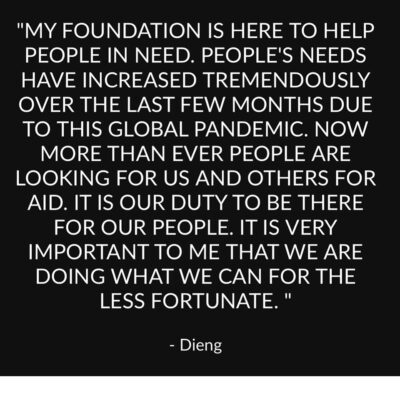 In response to the growing needs in Senegal, The Gorgui Dieng Foundation (GDF)  has been providing essential PPE supplies to healthcare workers, as well as antiseptic products to help prevent the spread of the virus.  Just last week, the most recent container arrived packed with boxes of nutritious food. 
Helping the people of Senegal is nothing new for Gorgui. It's been his dream since he was a young boy growing up in the rural town of Kebemer. After finding success in the NBA, he launched his foundation, teamed up with MATTER, and got busy fulfilling his childhood dream. To date, over twenty containers of life-saving medical equipment and supplies have been shipped to outfit and update the main hospital in Kebemer. In 2016, partnering with the Roger and Nancy McCabe Foundation, the GDF opened a neonatal center and a 200-bed dialysis center in Dakar. The Gorgui Dieng Center for Agricultural Excellence opened in Kebemer in 2017 and will hold its third annual international farming conferences in August. 
In recognition of the incredible impact he is making in Senegal, the NBA awarded Gorgui with the 2019 Offseason NBA Cares Community Assist Award. In the press release announcing the award, Gorgui commented, "Using my platform to give back to my home country and help those in need is special for me. We have a lot of work in front of us, but I am proud of the lives we have positively impacted and humbled to know future generations will benefit from the resources we have provided."
Recently, MATTER's President, Quenton Marty, spoke with Gorgui for an update on his foundation's efforts to help the people of Senegal during this unprecedented time. Check it out below.