Stay At Home Volunteer Kit
ORDER. PACK. GIVE.
At MATTER, we're inspired by the compassion and generosity that compel so many of you to help your neighbors in times of need. During this difficult time of social unrest and social distancing, we know you're searching for ways to help.
The Stay At Home Volunteer Kit is designed for easy packing in homes so individuals, families or small groups can pack 50 healthy snack packs and distribute them in their communities to kids out of school, seniors, or anyone vulnerable at this time. YOU MATTER.
THE STAY AT HOME VOLUNTEER KIT
Each Stay At Home Volunteer Kit includes everything you'll need to create 50 healthy MATTERbox Snack Packs. Each snack pack consists of a whole grain cracker, unsweetened applesauce, protein WOW butter (peanut butter substitute), a goal card, and a handwritten 'YOU MATTER' note of encouragement.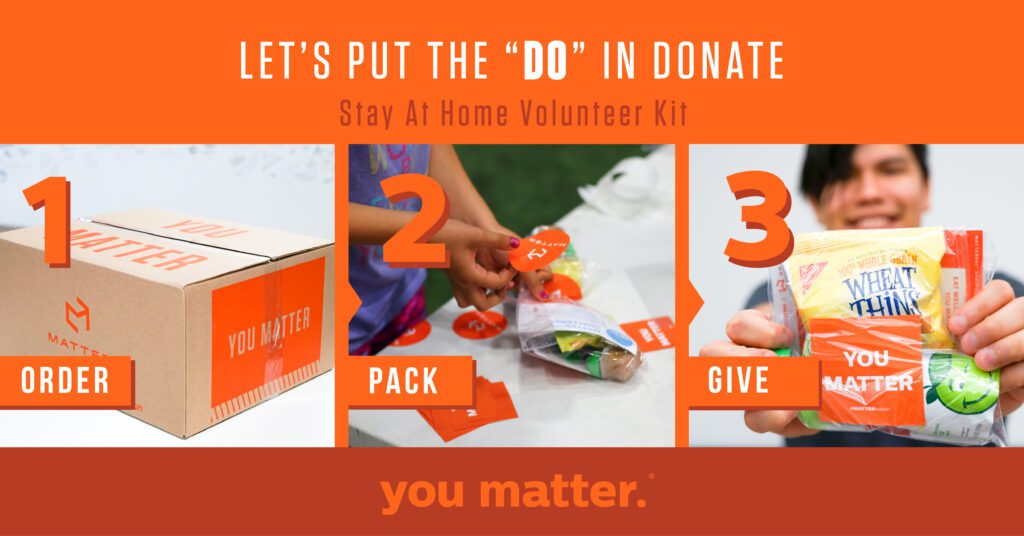 OPTIONS AVAILABLE FOR PICK-UP OR SHIPPING
If you are in the Twin Cities, you may arrange to pick up a Stay At Home Volunteer Kit at the MATTER warehouse in St. Louis Park. You can also have it shipped to you. The cost is $100 per kit if picked up at the MATTER warehouse (add $30 if you would like it shipped to you, anywhere in the United States). Simply fill out the order form to get started and indicate your preference. Plus, your contribution toward the cost of the kit is 100% tax-deductible!
DONATING SNACK PACKS IN YOUR COMMUNITY
Your Snack Packs can be donated to individuals, families, or a local organization serving those in need. If you prefer and are located in the Twin Cities, you can have MATTER distribute your snack packs to our partners by dropping your assembled MATTERbox Snack Packs from your Stay At Home Volunteer Kit inside the front door entryway at MATTER from 9 a.m. – 3 p.m Monday-Friday. Simply ring the bell when you drop them off.
QUESTIONS ABOUT THE STAY AT HOME VOLUNTEER KIT?
Contact Joy at joy@matter.ngo.
In this time of unprecedented turmoil and uncertainty, please join us in making sure the most vulnerable in our communities are not forgotten. Now more than ever, you matter!