In the wake of the civil unrest following George Floyd's murder in Minneapolis last month, residents of the city and beyond came out in full force to help bring peace and healing to their gutted communities. Parking lots were filled with seas of grocery bags and mountains of diapers. Floods of neighbors came pouring out of homes with buckets and brooms to clean up the debris.  
Amidst the darkness of fear and death, hope and love shined through. 
Two Minneapolis residents who helped bring that hope and love to the embattled people of South Minneapolis were Erin Chase and her roommate, Brandan Borgos. After watching the events unfold on TV, they knew they had to do something. Erin explained, "After the destruction from the riots the public systems were completely inundated and largely unwelcome in the area. As residents and members of the Minneapolis community, we felt compelled to help our fellow neighbors in any way we could."   
Erin, a Tradition Capital Bank employee, had a MATTER Stay at Home Kit through her company's Keystone Giving Program, a program that encourages their employees to "give generously" to their communities. After packing their fifty snack packs with the healthy food and writing out the You MATTER notes of encouragement, they knew that handing out the snack packs as they helped clean up the neighborhoods was a great way to respond to the tragic events. "We thought now more than ever is a great time to show kids that people within the community care, that they are not viewed as threats, and that they matter."  
But Erin and Brandan added their own unique twist.  
While reading an article about a North Carolina mom who was afraid for her son's future because of the color of his skin, they were inspired by one of the pictures of the little boy, Romeo. "The article had a photo of Romeo decked out in Spiderman garb and toys. Tensions are incredibly high and what better way to alleviate that than Spiderman?!"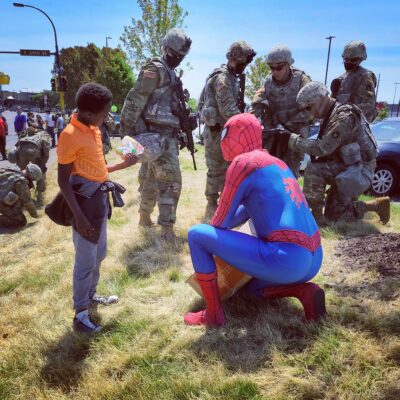 As luck would have it, Brandan loves Spiderman too. A veteran of Comic–Cons, he even has his own specially tailored Spiderman suit. And so, in honor of Romeo, it was decided that Spiderman would hand out the snack packs to the kids while Erin talked to the parents and took pictures of the surprised smiles on the kids' faces. Erin described the reactions they received, 
"Adults and children alike lit up when they saw Spiderman. Most requested photos and many expressed how refreshing it was to see something light-hearted and disarming during such a dark time in our community. Spiderman was also stopped by a fireman who asked him for a photo to show his son. He wanted him to know that he didn't need to be afraid because Spiderman was in Minneapolis to help keep us safe." 
Brandan and Erin had no idea that Spiderman would be such a hit, garnering national media coverage as well as inspiring a local artist to create a comic print of Spiderman sweeping up debris from the streets. The print was so popular, it sold out almost immediately. 
"Small acts of kindness promote both empathy and compassion in others. It can ignite a fire within someone else to do the same. Ultimately, it leads to a sense of connection and community. I am truly humbled and amazed at how Minneapolis has come together in the wake of all this. We will be stronger together."  Erin Chase
MATTER is honored to help people like Erin and Brandan find a tangible way to show kindness and compassion to people in their community through MATTER snack packs. We here at MATTER are privileged to meet so many people like Erin and Brandan who desire to reach out to those who are hurting and afraid, and to let them know they matter.  
That's a message everyone needs to hear. That's a message that can change our world. Be a superhero today and tell someone they matter.