In Minnesota, there's arguably no name more recognized among car dealerships than Jim Lupient. For more than 50 years, the Lupient family has been a pillar in our community, building a business that reflects the highest standards of corporate integrity and superior customer service. The family has also long recognized the importance of using their business to help others in the community.
"Giving back has always been an important backbone in the Lupient family and in their organization," explained Marketing Director, Cody Carpenter. "It started with Jim Lupient back in 1969 and has been carried on by his wife, Barbara, and now his son, Jeff. Partnering with MATTER is a great opportunity to help those less fortunate in our community."
During August and September, Lupient Buick GMC in Golden Valley is donating $100 to MATTER for every car they sell. In addition, their service customers have the opportunity to add an optional donation to their service bill for a chance to win a complete vehicle detail worth $250.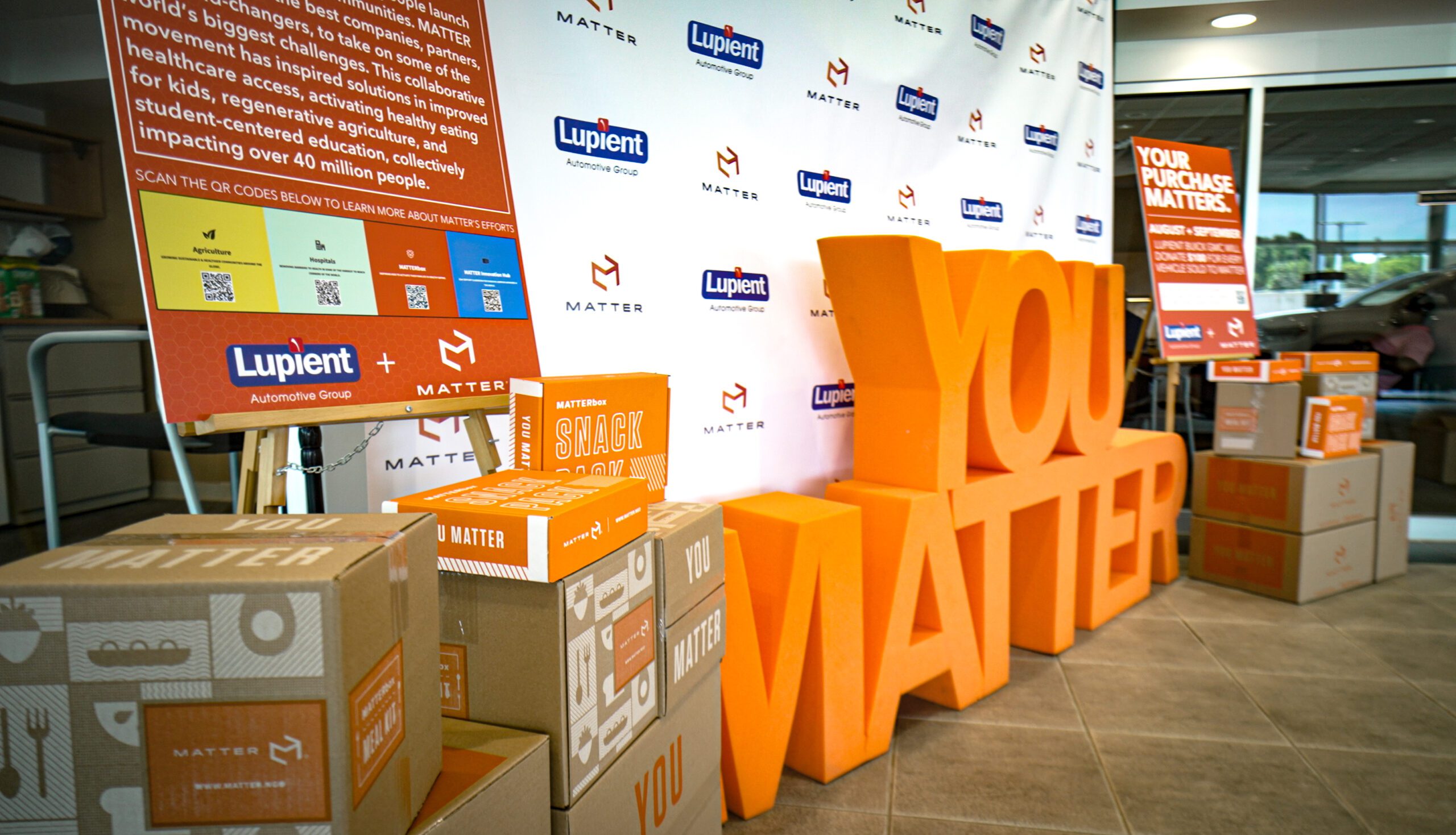 The money raised during this promotion will go towards purchasing MATTERbox Volunteer Kits to assemble snack packs full of healthy food, goal cards and personalized notes of encouragement. This fall, Lupient employees in Golden Valley will have the opportunity to assemble the Kits together and deliver the snack packs to The Sanneh Foundation in St. Paul.
"It was an easy decision to give the food to The Sanneh Foundation," said General Manager, Tim Ciccarelli. "Kids are our future. Anything that we do to support kids creates an exponential benefit to our community. And the environment at The Sanneh Foundation is incredible. The kids are really given the chance there to grow and develop. To help provide healthy snacks to those kids…I really don't know that there's a better way we can help the community."
Though this is only the second year of this campaign, the partnership between Lupient and MATTER goes back many years. Through Barbara Lupient's friendship with Megan Doyle, one of MATTER's founders, Barbara has been a strong supporter of MATTER's work locally and around the world.
In addition to this promotion, Lupient is also one of our amazing sponsors for Rock the Lake, MATTER's boat-in benefit concert THIS SUNDAY, August 7th, at Lake Minnetonka. Our third and final Rock the Lake concert will feature the wildly entertaining, Viva Knievel, covering all our favorites from classic rock to today's pop. Proceeds will go towards supporting MATTER's mission of helping people launch projects that improve communities.
Our thanks to Barbara Lupient and Lupient Buick GMC in Golden Valley for partnering with MATTER to care for kids in our community. They matter and so do all of you!
In this short video, Tim Ciccarelli and Cody Carpenter share about Lupient's commitment to giving back to the community.