While many of us know about athletes as a result of their superb performance or records set in their sport, what we often overlook is the charitable work that many do throughout the world. Professional athletes have a unique platform to influence others, whether they play basketball, baseball, football, soccer, tennis, rugby or any other sport. Many widely known amazing athletes, often as players at a national or international level in professional sports, have the opportunity to give back in a way that is meaningful to them, helping their current community locally or around the globe. As a result, athletes are changing the world!
Gorgui Dieng
Gorgui Dieng grew up in a small town, Kebemer, in the West African country of Senegal, where the true meaning of community was a central part of his upbringing. While growing up, like most children in Senegal, Gorgui played soccer but eventually turned to basketball. He first played organized basketball at the Sports for Education and Economic Development School in Senegal. In 2009, he was named MVP of an NBA camp, "Basketball Without Borders", that brought together some of Africa's best young basketball players. Following this camp, Gorgui made the move to the United States.
Initially, Gorgui played on the basketball team at Huntington Prep in West Virginia, and college ball at the University of Louisville, helping lead the team to an NCAA championship as a junior. Gorgui then entered the 2013 NBA draft. Selected with the 21st overall pick by the Utah Jazz, Gorgui was then immediately traded to the Minnesota Timberwolves where he spent the next six years of his career. In 2020, he was traded to the Memphis Grizzlies, and then moved to the Atlanta Hawks in 2021.
As a young man in Senegal, the suffering and poverty he observed made an indelible mark, and Gorgui promised himself that if he was ever able to make a difference for others that he would do so.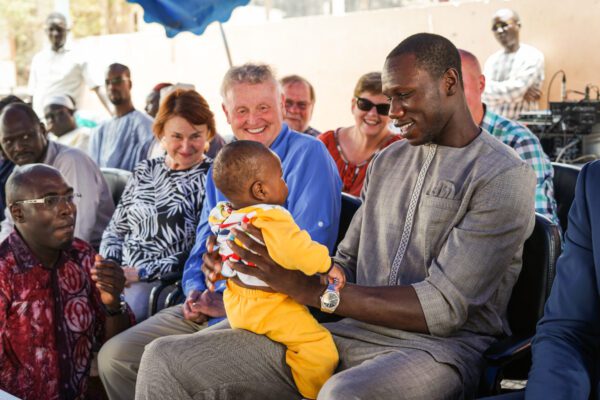 In 2015, Gorgui joined forces with MATTER, a global nonprofit on a mission to help people launch projects that improve communities, helping him turn his passion for helping others into reality. Gorgui established the Gorgui Dieng Foundation (GDF) with the goal of "Building a Sustainable Future for Senegal."
Gorgui has made a significant difference in the lives of others in recent years. Dozens of containers of life-saving medical equipment and supplies have been shipped to outfit and update the main hospital in Gorgui's hometown of Kébémer. In 2016, teaming up with the Roger and Nancy McCabe Foundation and MATTER, the GDF opened a new 200-bed dialysis center in Dakar and a new neonatal center, offering dignified healthcare to both young and old.
Believing that farming is the future of Africa, Gorgui established the Gogui Dieng Center for Agricultural Excellence which opened in 2017. A working agricultural laboratory, the Center has already held two international farming conferences to teach innovative strategies for farming in desert climates.
Every summer, hundreds of kids in Senegal have the opportunity to hone their basketball skills at the Gorgui Dieng Summer Basketball Camp. Sponsored by the GDF, the 5-day camp is free of charge and focuses on important life skills and athletic improvement, giving kids the chance to explore their potential on and off the basketball court.
In recognition of the incredible impact Gorgui has made in Senegal, the NBA awarded Gorgui with the Offseason NBA Cares Community Assist Award in 2019.
The Gorgui Dieng Foundation continues to send shipments of medical equipment and supplies to help improve access to healthcare in Senegal. Recently, the foundation's 32nd shipment arrived in Dakar. Since 2014, The Gorgui Dieng Foundation, in partnership with MATTER and the Roger and Nancy McCabe Foundation, has delivered more than 4.3 million meals and helped improve healthcare for over 600,000 people. Gorgui's most recent project is to build a maternal and children's hospital in Kébémer, to address the dire need for improved healthcare.
Gorgui sums his belief in helping others, "People are too busy right now in this world, only thinking about themselves and not what they can do to help others. I am never too busy to help others."
Luol Deng
Luol Ajou Deng was born in Wau, South Sudan. As a child, Luol fled South Sudan to Egypt, with his family, where he was initially exposed to basketball. Luol and his family eventually settled in the United Kingdom, playing in Brixton and learning from the legendary coach, Jimmy Rodgers.
At 14, Luol moved to the United States and played high school basketball at Blair Academy in New Jersey, and graduated as the #2 ranked player in the U.S. After leading his team at Duke University to the Final Four, Luol was selected by the Phoenix Suns as the 7th overall pick at the 2004 NBA draft, and was immediately traded to the Chicago Bulls.
Luol was named to the NBA All Rookie First Team as a 19-year-old in 2005, playing in Rookie/ Sophomore All Star game in his first two seasons. Luol was an All-Star with the Bulls in 2012 and 2013, and earned all NBA 2nd Defensive Team Honors in 2012. Luol split the 2013–14 season between Chicago and Cleveland after being traded by the Bulls to the Cavs. After finishing the season with Cleveland, Deng joined the Miami Heat as a free agent on a two-year deal before signing with the Lakers in 2016. He spent his last season with the Minnesota Timberwolves before signing a one day contract to retire as a Chicago Bull in 2019. Luol also represented Great Britain in the 2012 London Olympics.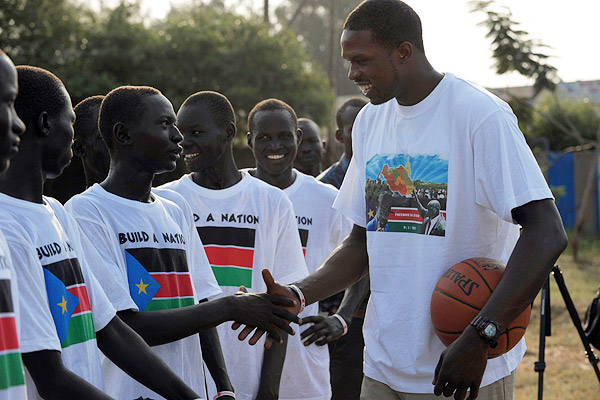 Luol's philanthropic work began early in his career as he formed the Luol Deng Foundation (LDF) in 2005. Luol received the NBA Sportsmanship Award in 2006, the Midwest Light of Human Rights award in 2010, the NBA citizenship Award in 2014, and the honor of OBE (Order of the British Empire) from the Queen of England due to his philanthropic work with LDF. Recently Luol partnered with MATTER Pro to help further LDF's philanthropic work around the world.
Specifically, the Luol Deng Foundation (LDF) works in the US, the UK, and South Sudan though a variety of projects and programs. LDF started by serving meals to families in Chicago in 2005, and expanded to a registered public charity in the UK focused on basketball programs for youth, and is a registered NGO in South Sudan with year around programs and projects that serve thousands of people through sport, wellness, education, and equality based initiatives. The Manute Bol Court was built in 2015 by the Luol Deng Foundation and serves as the epicenter for much of LDF's work in Juba. Thousands of kids have been able to practice and play basketball for free, gain access to educational resources, food, and even medical relief through the programs offered there. Her Time is a program offered that provides a girl's only basketball league and educational resources to bring equal opportunity to girls in South Sudan. Around greater South Sudan, LDF has rebuilt a primary school in Aweil that now serves several hundred students and has partnered with MATTER Pro to provide food relief during extreme flooding. Programs like South Sudan Unite and Deng Camp continue to provide opportunities and promote unity through sport, education, and culture.
At it's core, LDF's mission is to empower youth to realize their limitless potential through sport and development. Through sport programs, LDF builds character and instill a sense of belonging. Through education initiatives, LDF empowers young people to go further. Through wellness programs, LDF secures people's most urgent needs. Through a focus on equality, LDF ensures these opportunities are for everyone. LDF continues to grow and optimize to better serve our youth now and into the future.
Luol sums up his approach to changing the world, "I've always felt like it's been in my heart to help others and that I have a responsibility to give back. I'm grateful to be in a place where I have the capacity to give back and it brings me genuine joy to do so."
Bismack Biyombo
Bismarck Biyombo was born in Lubumbashi, Zaire (now known as the Democratic Republic of the Congo). Coach Mario Palma saw Bismack at a tournament in Yemen, was impressed, and offered him the opportunity to train in Spain. He launched his career playing in the Spanish ACB League in 2011 and also played as part of the World Select Team at the 2011 Nike Hoops Summit.
Bismack was drafted seventh overall in the 2011 draft by the Sacramento Kings, and then traded to the Charlotte Bobcats, where he played from 2011 to 2015, followed by the Toronto Raptors (2015-2016), Orlando Magic (2016-2018), Charlotte Bobcats (2018-2021) and Bismack presently plays for the Phoenix Suns.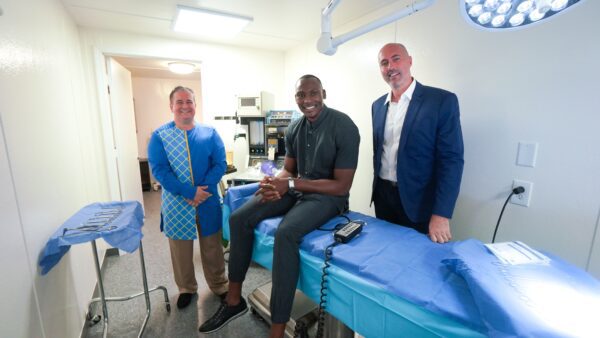 In 2016, Bismack started the Bismack Biyombo Foundation. The Foundation offers affordable schooling in multiple cities in the DRC, supports students in securing high school and university scholarships worldwide, conducts basketball camps in three cities in the DRC, and focuses on refurbishing hospitals, training and empowering staff, and making sure facilities are running properly.
In 2022, the NBA announced that Bismack is the winner of the March Cares Community Assist Award for his dedication to bettering the conditions and overall livelihoods of individuals and communities in his native Democratic Republic of the Congo. Bismack also dedicated his 2021-2022 season to his dad, and will donate his entire NBA salary to build a hospital in his homeland of the Democratic Republic of the Congo in his father's honor.
Tony Sanneh
Tony Sanneh was born in Saint Paul, Minnesota and grew up playing soccer. He played college soccer for the Milwaukee Panthers, and was the school's all-time scoring leader with 53 goals and 32 assists. He then went on to have an extraordindary professional career, playing for a variety of teams in the MLS including Columbus, Chicago, Colorado, LA Galaxy and Minnesota, and internationally in the Bundesliga with Hertha Berlin and FC Nürnberg, as well as played a key role in the USMNT's 2002 World Cup campaign. Tony was inducted into the USASA Hall of Fame in 2017.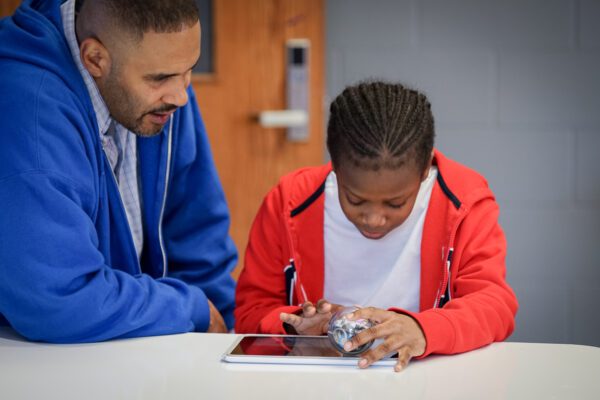 In 2003, while still at the height of his professional career, Tony created The Sanneh Foundation (TSF) to leverage what he saw as soccer's unique potential to create positive social change for youth. He wanted to support community-based organizations and assemble a supportive network within the community providing environments for urban youth to become positive and productive adults. Once he officially retired from professional soccer in 2010 and became the organization's full-time President and CEO, TSF began its growth trajectory.
Overseeing TSF's overall direction and future development in both the United States and internationally, he has grown the organization from one program and a total budget of $60,000, to six programs and yearly budget of $3.5 million. The Sanneh Foundation has also received a number of awards for its humanitarian work.
In addition to his executive leadership role with The Sanneh Foundation, Tony serves as a Sports Envoy on behalf of the SportsUnited Division of the U.S. Department of State's Bureau of Educational and Cultural Affairs. In this capacity, he has worked in Cyprus, Bangladesh, Pakistan, Ethiopia, Malaysia and Bolivia to further American cultural values of gender equity and respect for diversity.
Talking about his relationship with MATTER and the MATTERbox program, Tony commented, "Lack of access to food is a concern and we see youth come around casing a room for food. Being able to have MATTERbox snack packs available lets us address a basic need in a consistently unshameful way. A lot of times kids do not want to admit they have not eaten or do not have food at home. Their anxiety and focus changes once provided with nourishment and it also helps build a positive relationship with the adults on our staff."
Tendai "The Beast" Mtawarira
Also known as The Beast, Tendai Mtawarira is a Zimbabwean-born South African professional rugby union player who played for the South African national team and the Sharks in Super Rugby. With 117 caps, he is the most capped prop in South African history and the third most capped Springbok of all time. He is also a 2019 Rugby World Cup Winner.
For the last 10 years, Tendai has been involved in community work with various organisations. He has been volunteering in Zimbabwe, traveling there to volunteer in delivering education and sporting opportunities to kids who would not normally have them, and facilitated 60 American college scholarships and over 100 high school scholarships.
He is currently the ambassador for Lead, an organization that build sporting academies in deprived areas on the African continent. Between 2017 and 2019 he worked with Old Mutual on their rugby development program, including kids in remote parts of Zimbabwe through the sport of rugby. The program so far has 15,000 kids and over 300 have received rugby scholarships to prestigious high schools in Zimbabwe and South Africa, as well as University scholarships in the USA. Tendai is also the ambassador for Higherlife Foundation, a program that provides education opportunities to bright children from deprived communities. More recently Tendai has been working with Washington Youth Rugby in DC to coach inner-city kids and introduce them to rugby.
The Beast Foundation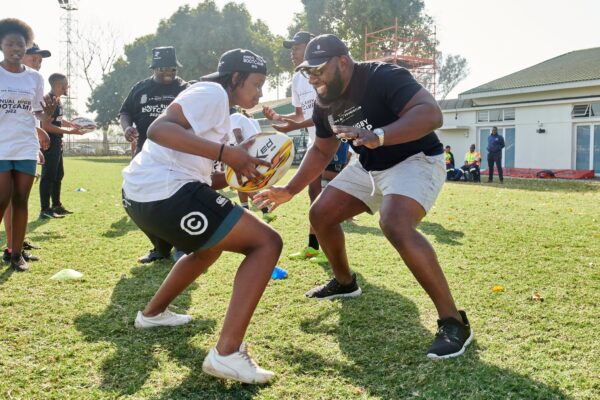 has also partnered with a Minnesota based group, MATTER, to deliver containers with Apple iPads to teach kids how to code in Victoria Falls and Harare. Tendai believes, "We must use the power of sport as an agent of social change. It has an unmatched role to play in promoting understanding, healing wounds, mobilizing support for social causes and breaking down barriers. MATTER understands the vital role sport can play in social change and I am excited to partner with them through MATTER Pro."
Tendai wants to continue his legacy and make an impact in Africa through sport, education and life skills development. The Beast Foundation promotes the social, psychological and physical development of children and teaches them important life skills through sports. The aim is to give hundreds of children from underprivileged areas the opportunity to play sports and develop their full potential to become world-class champions. The Beast Foundation uses the power of sports to educate, inspire and mobilize young people – giving them opportunities to thrive on the field and beyond.
As you can see from these five inspiring athletes, their drive off the field of play moves them to action in meaningful ways of changing the world. From medical equipment to children's programs, each of them provides invaluable services that improve communities. MATTER is grateful to partner with all of them through our MATTERPro Initiative. If you'd like to learn more, please visit our MATTER website.