MATTER Innovation Hub Update
"Creativity now is as important to education as literacy, and we should treat it with the same status."  – Sir Ken Robins
Reading, writing, and arithmetic…the starting point in any education or future career. Yet, the jobs of today, (and the high-level thinking required in a complex 21st-century world) reveal that education must move beyond these basic building blocks to unlock student creativity.
MATTER Innovation Hubs (MIH) emphasize creativity at the same level of importance as literacy. Guided by TEAL+ methodology, (Technology Enabled Active Learning, with the + being STEAM and STEM emphases), MIH students are encouraged to let their creative juices flow. The results are incredible. For instance, just this week, Zimbabwe's top female musical artist was at Mosi High School in Victoria Falls. She had heard an original song students created in the Hub and brought her music producer to help the students refine their sound.
Creativity is abounding in Zimbabwe Innovation Hubs and people are starting to notice. Yesterday, a North Carolina school teacher participating with 40 other American teachers in a study abroad program, spent a week in the Innovation Hub and told me they've never seen anything like this in their school districts back in the United States.
Children can be leaders no matter where they come from, or how rich or poor they grow up. Creativity is producing leaders for tomorrow- and don't be surprised if some of these leaders are children coming out of Innovation Hubs in Zimbabwe.
-Jeremy Newhouse
Chief of Financial Strategy & African Projects
By the Numbers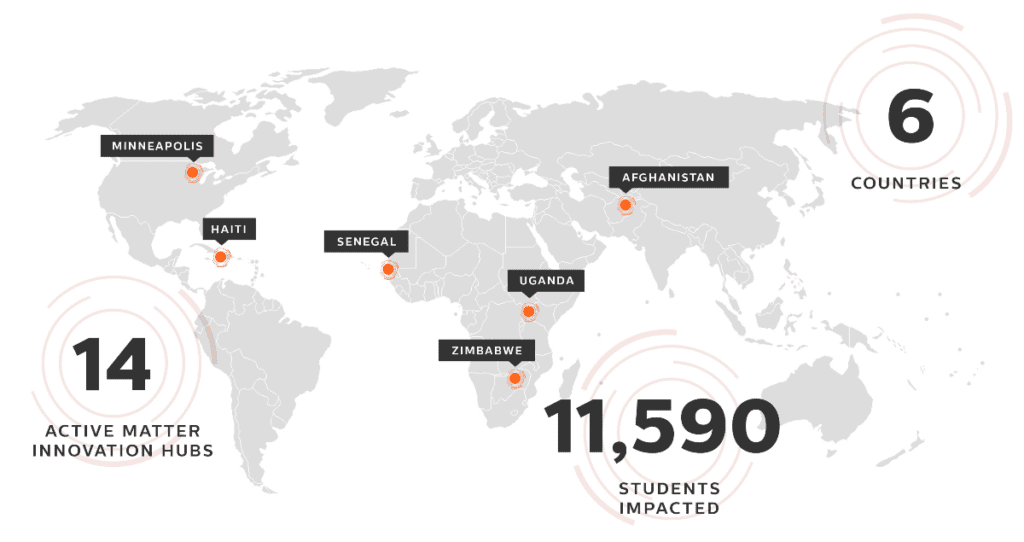 Measuring Metrics for Success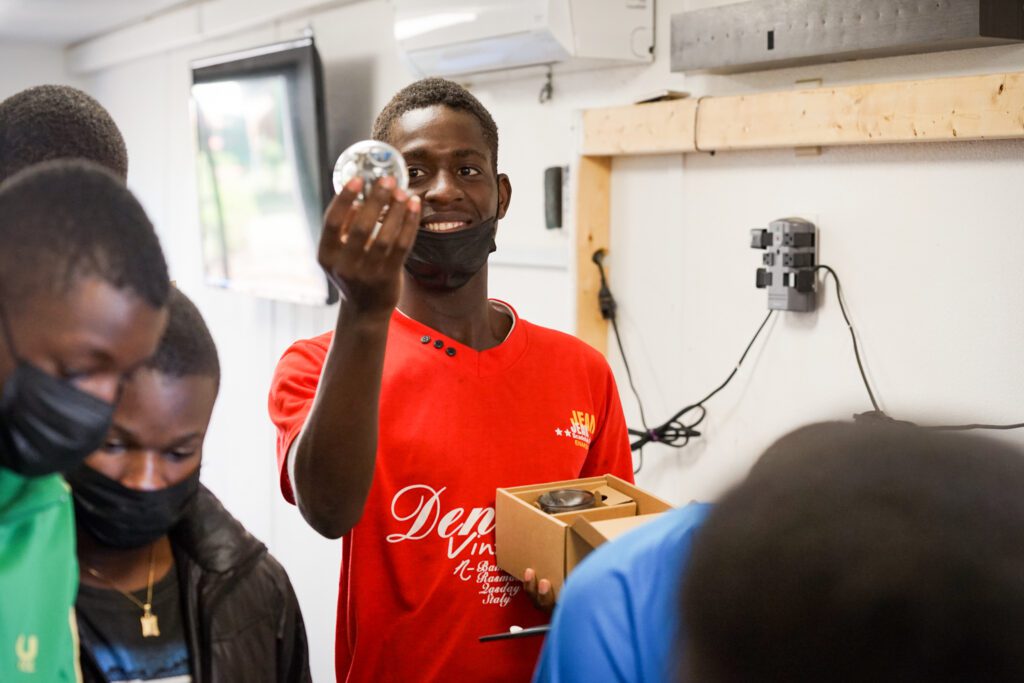 Ever since the first MATTER Innovation Hub opened in 2017, we've been carefully recording and measuring the number of students learning in an MIH, as well as the number of Hubs in operation. With 14 Hubs now actively serving over 11,000 students in six countries, it's necessary to expand the metrics we measure in order to best assess student outcomes. The new weekly metrics now include:
iPads – number of available equipment vs. actual usage
Students – number utilizing an MIH vs. the total student population of the school
Gender Equity
Coding – number of students participating and completing various coding programs
Double the Capacity, Double the Fun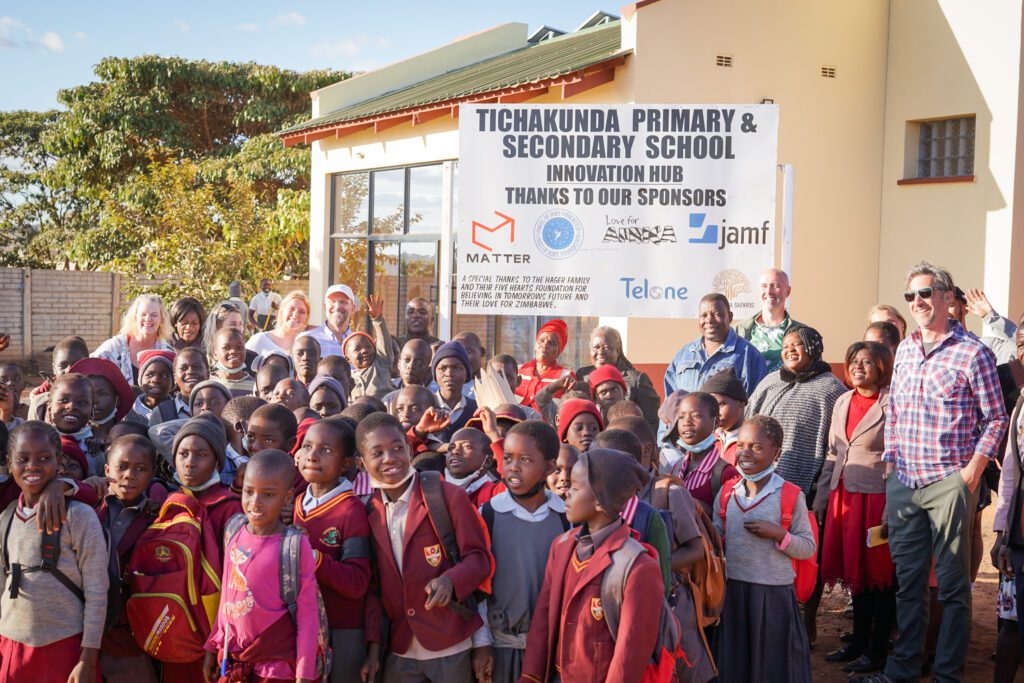 MATTER Innovation Hubs at Tichakunda Primary and Secondary School in Harare, Zimbabwe, and Mosi High School in Victoria Falls, Zimbabwe, are extremely popular among the students. With a unique methodology that puts the student at the center of the learning process, and the latest technology from Apple, the education in the Hubs in unlike anything these students have experienced before. With their popularity has come a demand to expand capacity so students can spend more time in the Hubs. In response, we recently doubled the capacity at each school. Now two active learning classrooms, with double the number of iPads and workstations, allow students more time to learn robotics and technology. Based upon the smiles of these students at Tichakunda Primary and Secondary School, they're happy with the extended opportunity to get a world-class education at the MATTER Innovation Hub!
Expanding Horizons for Students with Disabilities
Earlier this month, a MATTER Innovation Hub opened at King George VI School in Bulawayo, Zimbabwe. The largest school in the country for students with disabilities, King George VI boasts 459 students, most of whom are physically challenged or hearing impaired. About 20% of the student body are non-disabled, providing a unique environment for the disabled and non-disabled students to learn and grow together in community.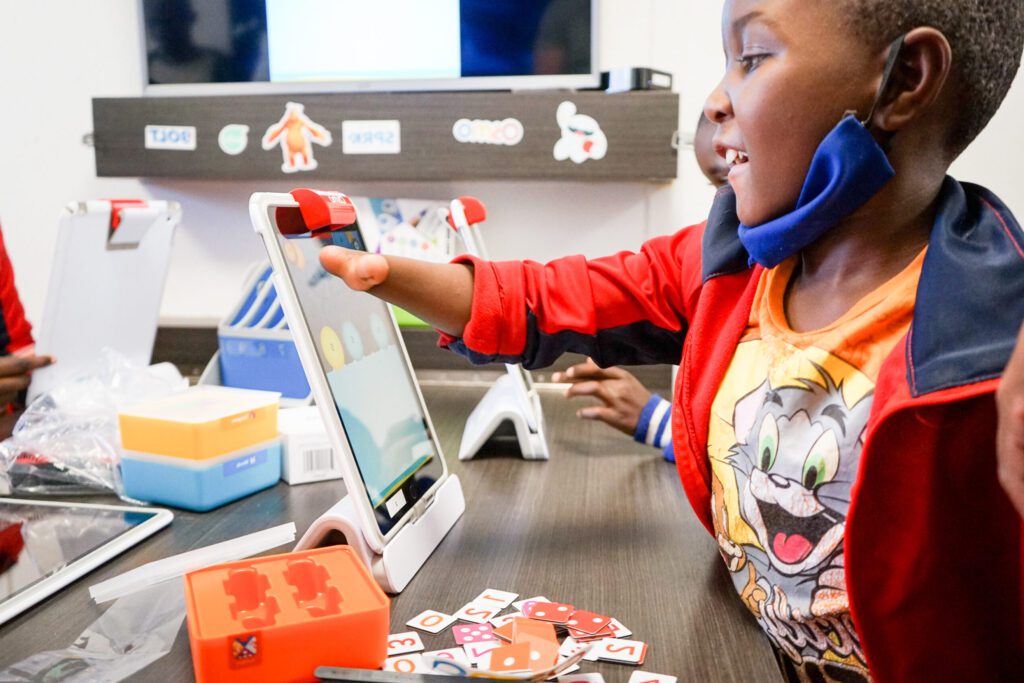 When the container of equipment and supplies arrived at the school, the students jumped right in to help set up the MIH. Helping the MATTER team oversee the opening of the Hub was the facilitator from the Mosi High School's MIH, Rodwell. In keeping with the student-centered learning focus that is emphasized in the MIH, Rodwell didn't instruct the students as to what they were to do with the equipment. Rather, he encouraged them to figure it out for themselves. Once a student mastered a certain task, he turned around and taught his classmates – just like how they will learn in the MATTER Innovation Hub.
Watching and beaming with pride was the Principal of King George VI. "It's important for any learner to have access to something like this," she said. "But for learners with special needs, it's the icing on the cake in the sense that our learners want to be independent. We do teach independent living skills, but with some of their disabilities, they can't enjoy writing and things like that. With this technology, they can do anything with whatever limb is accessible. All they have to do is press a button and go. I'm sure they'll be unstoppable! "
Watch the video below of students at King George VI engaging with technology in their new MATTER Innovation Hub!
Give the Gift of a Brighter Future
There are many ways you can help provide students around the world with a world-class education and unlock their creativity through a MATTER Innovation Hub. From sponsoring a student to donating equipment and supplies, your help allows MATTER to continue expanding this innovative educational experience to more students in more countries. Learn more here.