MATTER's 2022 Un-gala, Rock the Lake, Final Vol., is coming August 7th! This popular boat-in benefit concert on the shores of Lake Minnetonka will feature the exhilarating cover band, Viva Knievel. You don't want to miss it! 
Hosting the concert again this year are MATTER's dear friends Roger and Nancy McCabe. Their foundation is instrumental in supporting MATTER's work in Senegal with NBA player, Gorgui Dieng. In fact, it was through their relationship with Gorgui that the McCabes were introduced to MATTER. In the seven years since, the Roger & Nancy McCabe Foundation, in partnership with the Gorgui Dieng Foundation and MATTER, has sent 34 shipping containers of medical equipment, supplies and food to Senegal.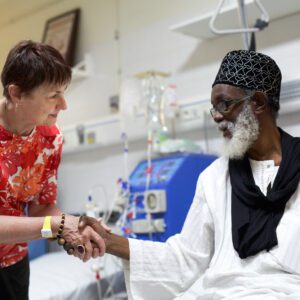 The McCabes take a very hands-on approach to the work in Senegal with regular visits to the country with Gorgui, meeting with government officials, monitoring projects, and visiting hospitals and orphanages to evaluate future projects.
In 2017, the Roger & Nancy McCabe Dialysis Center opened in Dakar to much fanfare and celebration. And rightly so. Despite 20,000 people in Senegal needing dialysis treatment, only 500 patients at that time had access to treatment. With the opening of the Roger & Nancy McCabe Dialysis Center, more people could access this life-saving treatment they so desperately needed. Five years on, Roger and Nancy still inquire about the health of some of the patients they've gotten to know over the years. For them, this work is personal.
"When we meet people at the dialysis center or visit the babies in the maternity wards, we're just so moved to help them," says Nancy. "We feel privileged to be able to make a difference in their lives through our partnership with Gorgui and MATTER."
Currently, the Roger & Nancy McCabe Foundation is helping fund a new hospital in Gorgui's hometown of Kebemer. Plans include a maternal and pediatric wing, a birthing center, optometry and dental centers, and a pharmacy. A nutritional garden will also be established on the hospital grounds to provide nutritional food for both the patients and staff. This will be a real game-changer for healthcare for the people of Kebemer and surrounding communities.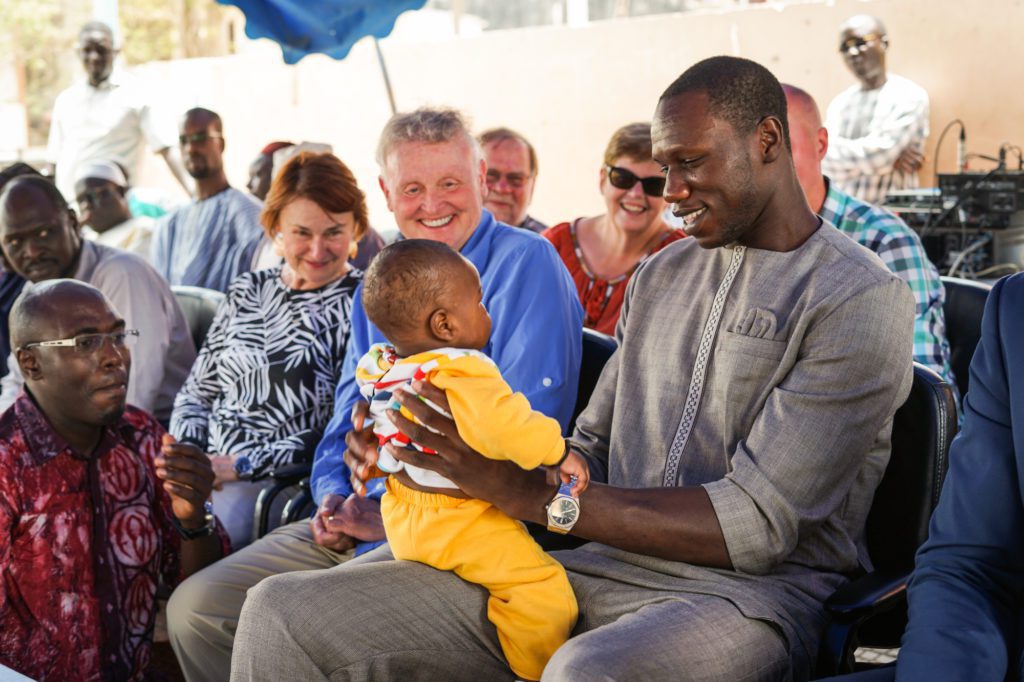 Reflecting on the work they've accomplished with Gorgui and MATTER over the years, Roger mused, "Africa has changed our way of thinking and changed our lives. This work has become the most important thing we do." Nancy added, "To us, it doesn't feel like we're doing that much but to the people in Senegal, it's huge. At the opening ceremonies for the dialysis center, hundreds of people were coming up to us telling us they loved us. It left us speechless."
To know Roger and Nancy is to love them. Since our relationship with them started in 2015, they've become part of the MATTER family. Along with some of their closest friends, they volunteer weekly at MATTER assembling MATTERbox Volunteer Kits in our warehouse. They also graciously open their home for MATTER get-togethers and events.
Which brings us to this year's Rock the Lake, Final Vol. on August 7.
Please join us at 3 pm in Brown's Bay on Lake Minnetonka for one of the best summer concerts of the year. Not only will you enjoy an amazing show, but you'll also have the opportunity to support the life-changing work of MATTER and people like Roger and Nancy, who are making this world a better place.
Together, let's rock the lake to change the world!