The date was circled in red. Thursday, April 30th, was scheduled to be our sixth annual MATTERbox Madness at the Mall of America. This energetic, high impact event features many of our corporate partners packing tens of thousands of healthy snack packs for Minnesota kids who need extra nutrition during the summer months. It's one of our biggest days on the calendar. But then the pandemic hit and MATTERbox Madness, like so many other things, was postponed.   
But what hasn't been postponed during this time is hunger. In fact, with schools and other services closed, the need for nutritious food in our communities grows by the day. 
And so in lieu of our giant packing event at the Mall of America, we started promoting our Stay at Home Volunteer Kits as a way for our corporate partners and other organizations to encourage their employees to pack snack packs in the safety of their own homes. They could then give them away or return them to MATTER for distribution among our community partners.   
The response has been amazing!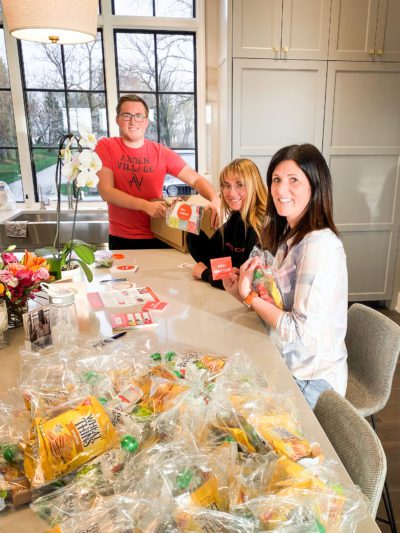 Long time MATTER partner Tradition Capital Bank missed being the 2019 MATTERbox Madness Champions by a hair. Anxiously anticipating this year's event, they were hoping to avenge themselves and take home the trophy. Undaunted by the postponement, they decided to hold their own event. Through their Keystone Giving Program, which was founded on the core value to "Give Generously", they encouraged their employees to take a kit home and record their packing time with the promise of a prize to the employee who packed the fastest.   
Lauren Withers, Keystone Program Manager for Tradition, explained why they are so passionate about the opportunity to serve the community in this way.  
"At Tradition Capital Bank we believe we are stewards of our success and blessed to be a channel of the generosity of our shareholders, clients and employees. Our spirit at the Bank is to give quietly, with our focus on highlighting the amazing work of organizations we support. We want to serve as an example that businesses like ours can be a force for good in the community and invite others to join us in experiencing the joy of giving generously."  
In addition to our corporate partners, several churches have also been promoting the Kits to their congregants. Jim Anderson is one of the facilitators for Catholic Watchmen, a men's group at St. Michael's Catholic Church in Prior Lake. When he proposed the packing opportunity to his men's group, they "jumped all over it." His wife then reached out to her prayer group and received the same enthusiastic response. In all, the Catholic Watchmen and the women's prayer group will be putting together more than 30 kits and providing over 1,500 snack packs to local organizations.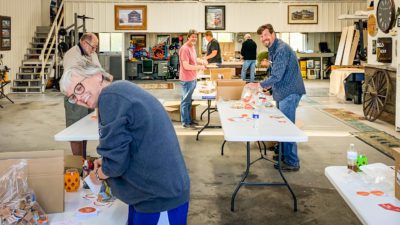 Some members of the Catholic Watchmen held their own packing event, a mini version of MATTERbox Madness, social-distance style. During a beautiful spring evening, they set up tables, keeping everyone six feet apart, and enjoyed some fellowship while they packed their Kits.    
"Everyone that responded has been impacted in some way, whether it's not being able to see grandchildren or being out of work, but they still stepped up. People are hungry to do something and to help others even if they themselves are hurting during this time."  Jim Anderson 
Eagan Hills Church has also seen an enthusiastic response from its congregation. Thanks to more than a dozen families, Eagan Hills has delivered nearly 1,000 snack packs to Salvation Army Minneapolis, 360 Communities (Rosemount), the Rosemount and Burnsville police departments, and a Minneapolis food shelf. And the orders keep coming in for more.
Kelly Knickerbocker, Eagan Hill's Missions and Pastoral Assistant, shared why Eagan Hills chose to promote the Stay at Home Volunteer Kits, "We wanted to provide an easy, practical way for people to help their communities during this difficult time. We are encouraged, but not surprised, by the response. Our families are always eager to help those in need, and that's especially true during an unprecedented time like this."
With these enthusiastic responses to the Stay at Home Kits providing thousands of snack packs to community organizations, we've decided to host a virtual MATTERbox Madness – the Stay At Home Volunteer Kit Challenge – with the trophy going to the organization, family or group that packs the most snack packs. Don't miss out! Order your kit(s) here.
Please watch this short but powerful interview with Alaina from Tradition Capital Bank on the impact of being able to help address hunger needs in their local school with the MATTERbox Snack Packs.