From the east coast to the west, our nation owes a debt of gratitude to all of our frontline workers who are selflessly serving in the midst of this pandemic, tirelessly providing care and comfort to those most impacted by COVID-19.   
When UCare and Health Fair 11 reached out to MATTER about partnering with them to provide healthy snacks to the frontline workers at Hennepin Healthcare and Carris Health in Willmar, we were only too happy to help make it happen. With the help of MATTER's generous partners and volunteers, 2,500 nutritious snacks were recently delivered to these healthcare heroes.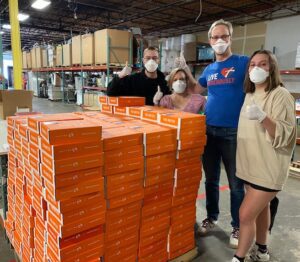 Of the volunteers who came to pack in our warehouse was the Madson family. Donning masks and gloves, they formed their own packing line and within 90 minutes had packed 300 snack packs containing Wheat Thins, Buddy Fruits Applesauce, Cheerios, Harvest Snaps Green Pea Snap Crisps, Arctic Dried Apple Chips, and Barney's almond butter, along with a note of encouragement and thanks. Included with each snack pack kit was a delicious, fresh Pazazz apple from Honey Bear Orchards.  
For the Madson family who values the importance of helping others, packing food for healthcare workers was especially meaningful. Said daughter, Lila, age 19, "It was something we could easily do that was directly helping essential workers during the pandemic, rather than just continuing to stay at home. We were directly making an impact, however small, which felt good."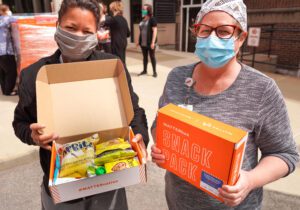 Those delivering the snack pack kits and apples to Hennepin Healthcare and Carris Health were met by masked heroes whose smiles were unseen but clearly felt across the six feet of social distancing. Amber Silva, Wellness Coordinator with Carris Health, expressed her gratitude on behalf of the frontline workers at her facility.  
"During this hectic time, many of our team members are working longer shifts than normal or do not have the ability to leave our facilities to purchase snacks or lunches during the workday. The MATTER snack pack kits and apples were not only a day brightener but also provided healthy grab and go snack alternatives which can help fuel staff through their workday.  We're so thankful for the healthy snacks and appreciation shown to our health care workers." 
Carris Health worker, Carmen Rosen, MLT (ASCP), Laboratory, not only appreciated the gesture but also enjoyed the variety of healthy snacks in each kit. "Thank you MATTER, UCare and Health Fair 11 for the snack box and apple.  Your thoughtfulness and kindness is much appreciated.  I am always game for trying new things and there were items in the box I had never tried before which made it an even more neat and delicious experience."  
From everyone at MATTER, including our dedicated volunteers, thank you to all the healthcare heroes who are serving on the frontlines. We hope the snack pack kits not only to give you a delicious boost of energy in the midst of your long days but are also a tangible reminder that you matter.  We look forward to the day when the masks can come off and we see your smiling faces once again.