"Hope is being able to see that there is light despite all the darkness." Desmond Tutu 
It's MATTER's privilege to partner with individuals and organizations to bring the bright light of hope to families and communities throughout our world. During these dark days of fear and uncertainty, sickness and death, that light is needed now more than ever.  
In the capital city of Harare, Zimbabwe stands one of the country's largest public hospitals. It's also one of the oldest. Worn, run-down and lacking even the most basic of equipment and supplies, the Sally Mugabe Central Hospital struggles to provide the level of healthcare its patients need and deserve. And now it must contend with providing for the special care of COVID-19 patients as well as prepare for a recent malaria outbreak. The healthcare needs in Harare are urgent and growing yet its leading hospital is in critical condition.  
But hope is on the way and it's coming in a 40-foot shipping container from Minnesota.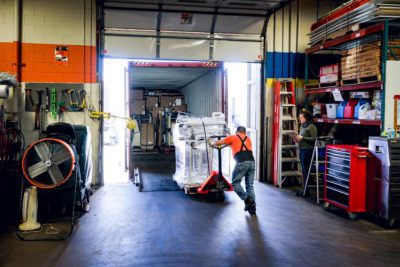 Thanks to two generous Zimbabwe companies, TelOne and NetOne, the Sally Mugabe Central Hospital will soon receive the medical equipment and supplies it so desperately needs. By collaborating with MATTER to procure the resources, the hospital will receive personal protection equipment including masks and gloves, as wells as other needed equipment and supplies including emergency stretchers, airway masks, wheelchairs, and even linen for the beds.  
Chipo Mtasa, Managing Director of TelOne and a member of MATTER's Board of Directors, explained why they chose this particular hospital to refurbish. 
"It's a big referral center for most cases in Zimbabwe, so helping that institution really helps the entire country. Millions of people will be affected."  
Not content to limit their efforts only to the Sally Mugabe Central Hospital, TelOne and NetOne have big plans for renovating other key hospitals across Zimbabwe. In a recent video, they outlined what they hope to accomplish for their country,
"The refurbishments are urgently needed across the country as most of the hospitals are still reeling from a shortage of financing, staff deficits, and obsolete equipment. It is our collective belief and hope that our efforts will go a long way…to improve the protection of all our front-line healthcare personnel at these facilities and to better equip these hospitals to handle more patients during and post the COVID-19 pandemic." 
MATTER is grateful for the opportunity to support TelOne and NetOne as they work to improve healthcare throughout their country. Their generous and compassionate efforts are shining the bright light of hope on the people of Zimbabwe during these dark days and beyond.  
Watch Chipo Mtasa in an interview with MATTER's Director of Development, Rebecca Newhouse, discuss how COVID-19 is impacting Zimbabwe and how the container from MATTER will impact healthcare throughout her country.