MATTER is excited to introduce the newest member of our team, Vicki Bachmann. Vicki comes to MATTER with extensive experience in corporate and nonprofit organizations. As Vice-President of Business Partnerships, Vicki will advance our corporate partnerships and oversee the expansion of MATTERhouse, an exciting initiative for tradespersons, subcontractors, and suppliers to partner with MATTER to help us continue our mission of launching projects that improve communities.
We asked Vicki to tell us a little about herself and share her vision for the opportunities ahead for MATTERhouse.
Welcome, Vicki! Please tell us a little about yourself. 
I was raised outside of a rural Wisconsin town, yet am now proud to call Minnesota my home. Looking back as the middle child of five, I recall fondly how much I loved the idyllic small-town life, easy access to its rural surroundings and the often zaniness of being in a big family. We were in the cheese business…how much more Wisconsin-ish can you get?  Things were mostly delicious around my house!
When I'm not nibbling, I enjoy all sorts of year-round outdoor activities, cooking, traveling, and spending time with family and friends.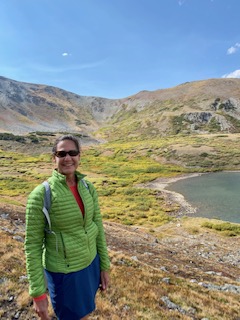 What prompted you to join the MATTER team?
I was immediately drawn to the amazing people at MATTER – what they stand for, how they accomplish a myriad of important initiatives, how they join forces to get things done collaboratively. Having worked in a wide variety of settings, I saw the MATTER culture as one in which I could not only add value and enjoy my work but be an integral part of the team. And, it helps that the staff possesses a healthy sense of humor: a workplace must for me!
What is your role at MATTER?
It's a privilege to be tasked with growing the long list of MATTER's excellent corporate partnerships in the Twin Cities and beyond. Part of my time will be devoted to sharing how MATTER can help companies build employee engagement and loyalty. I will spend a more significant amount of time advancing MATTER's mission through MATTERhouse. Offering busy real estate professionals a simple yet impactful way to give back to their communities, MATTERhouse provides homebuilders, agents, lenders, and renovators the opportunity to build a home that gives back!
How will MATTERhouse contribute toward MATTER's mission of helping people launch ideas to improve communities?
When a MATTERhouse sells, the donated proceeds help us continue finding solutions to some of the greatest challenges facing our world today, including improving access to healthcare, activating healthy eating, and providing innovative educational opportunities for children.

Positive market visibility is just icing on the cake for a homebuilder who partners with us to build a MATTERhouse. Contributions will be critically important for us to continue working with our valued partners in the Twin Cities and around the world.
How can the community support MATTERhouse projects?
If you're part of the home building or real estate community, I'd love to connect with you! Be watching for upcoming opportunities to learn more about MATTERhouse and to share your ideas with me so we can discover ways to collaborate.
You can also help spread the word about MATTERhouse through these very simple ways:
Connect us with your connections. Help us identify people who may want to partner with us. Sift through your contacts with homebuilders, lenders, renovators, real estate agents–then make an Email or LinkedIn introduction; I'll start a conversation about what's possible!
Share this blog and the link to our MATTERhouse page on your social channels.
Remember, YOU MATTER. Your ideas and actions can change the world. Believe it. We do!
If you are a tradesperson, subcontractor or supplier and would like to take part in building a MATTERhouse, contact Vicki at vicki@matter.ngo; on LinkedIn at Vicki Bachmann; or go to MATTERhouse to learn more.  
Watch this short video to learn more about MATTERhouse from Vicki and MATTERhouse partner Steve Gerten.