MATTERBOX UPDATE
As we head into the fall, we are feeling the excitement "on the board." We have a whiteboard in our office where we track all confirmed employee engagement MATTERbox packing events. As I watch it filling up, I feel proud of all the companies that are focused on and prioritizing engaging with their staff, impacting the community, and volunteerism. I know how much they will be blessed by packing!
We would love for you, your team, your company, or even your family, to join us for the last quarter of 2022 in our efforts to reach the goal of helping provide nutritious food to those in need. Are you looking for ideas to engage employees? Is your staff planning to come back to the office? What a great way to kick off the return to work! Are you hoping to host an event for 'Give to the Max Day' in November or a hands-on holiday party activation in December? MATTERbox is completely customizable for your needs and goals!
Together, let's help those in need, connect as a team, and live the YOU MATTER message!
-Tami Hedrick, Executive Vice President, External Engagement
Medtronic Practices Good Citizenship using MATTERbox
In July, local Medtronic employees held a three-day packing event as part of "Project 6", an annual company-wide volunteer effort created to honor the sixth tenet of Medtronic's mission statement which is to maintain good citizenship. "It's an important value to our company," explained Nicole Wallenberg, Project Coordinator. "Not only giving back to the community but finding ways that we can do it together as a whole."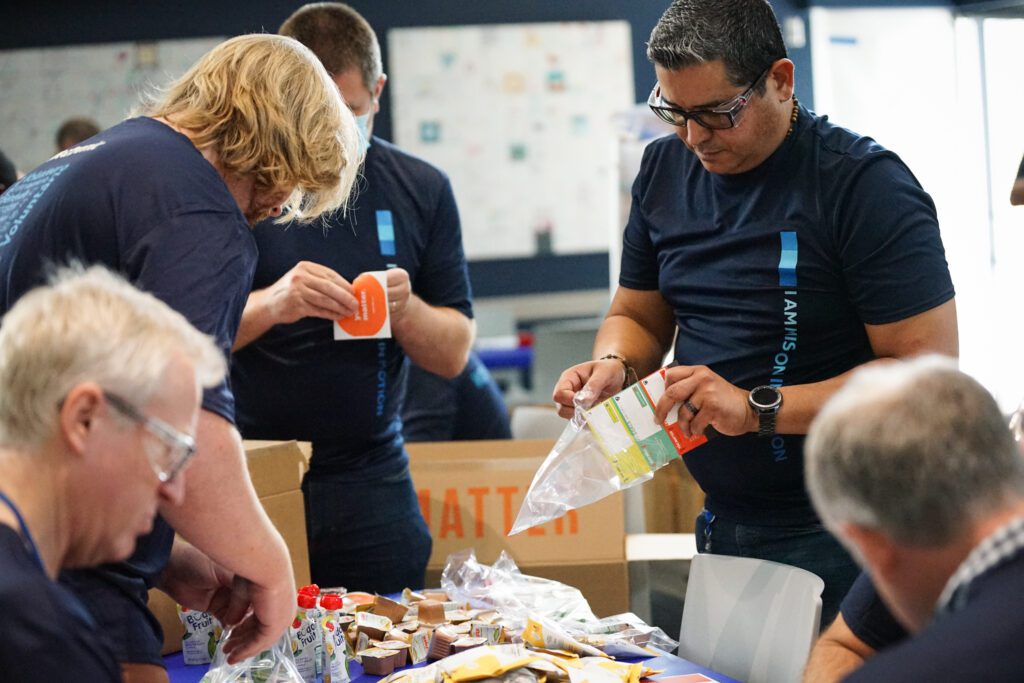 Partnering with MATTER for their Project 6 event, an estimated 1,150 MN employees packed 21,000 MATTERbox snack packs for kids in the community. As this was her first time planning a Project 6 event, an event that was going to be one of the bigger events since Covid started, Nicole was a bit nervous. Thankfully, her fears were quickly put to rest. Employees found assembling the snack packs fun and easy, and writing the You Matter notes to the recipients was especially meaningful. "The event went great! I really couldn't have asked for a better organization to work with. MATTER made the whole process so easy. It was very enjoyable and we're grateful for the opportunity to impact local kids through The Sanneh Foundation."
Thank you, Medtronic, for practicing good citizenship by caring for the needs of others in the community. We were honored to partner with you to make this year's Project 6 such a success!
Scoring a Run for Healthy Bodies and Spirits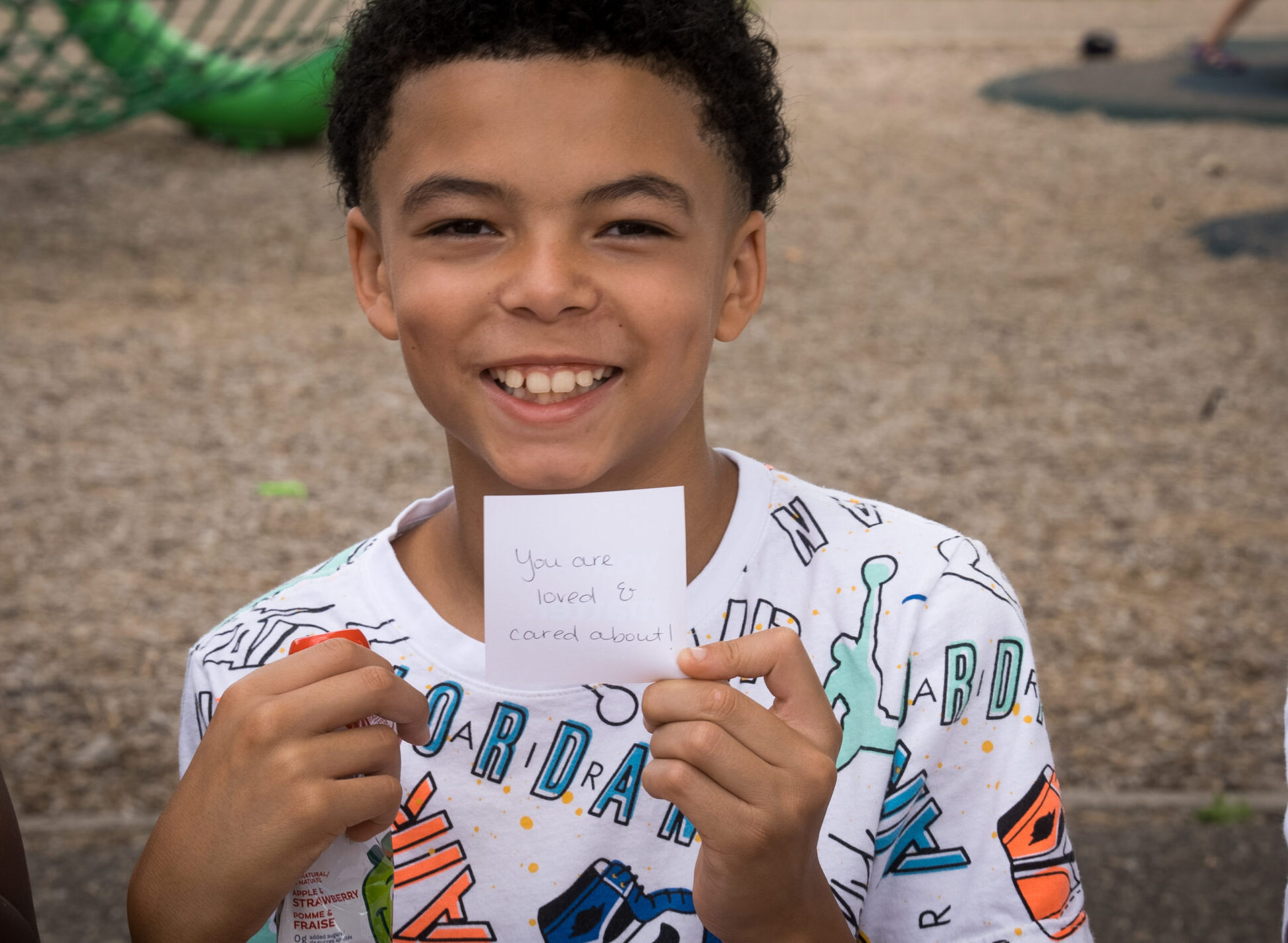 Each Friday morning this summer, about 25 kids gathered at a Boys and Girls Club in Minneapolis for one of several weekly sports camps run by The JP4 Foundation. Breaking off into groups, the kids cycled through several activity stations that helped them hone their baseball skills. During a break, each camper got a bottle of water and a MATTERbox snack pack. "I like these," said one young camper opening his pack. "The food is good and I like the note in the bag." The note in the bag was a You Matter note of encouragement handwritten by the person who assembled the snack pack. Every snack pack contains one of these special notes. "They make me feel confident. Make me want to do my best." 
The JP4 camps, as well as the camps run by The Sanneh Foundation, use sports as a vehicle to teach kids the importance of healthy activity, healthy eating, and healthy relationships. By using MATTERbox snack packs these young athletes not only get a boost of nutrition for their growing bodies, but they also get a boost of encouragement for their developing spirits to help them be their best on and off the field! 
Lupient Gives Back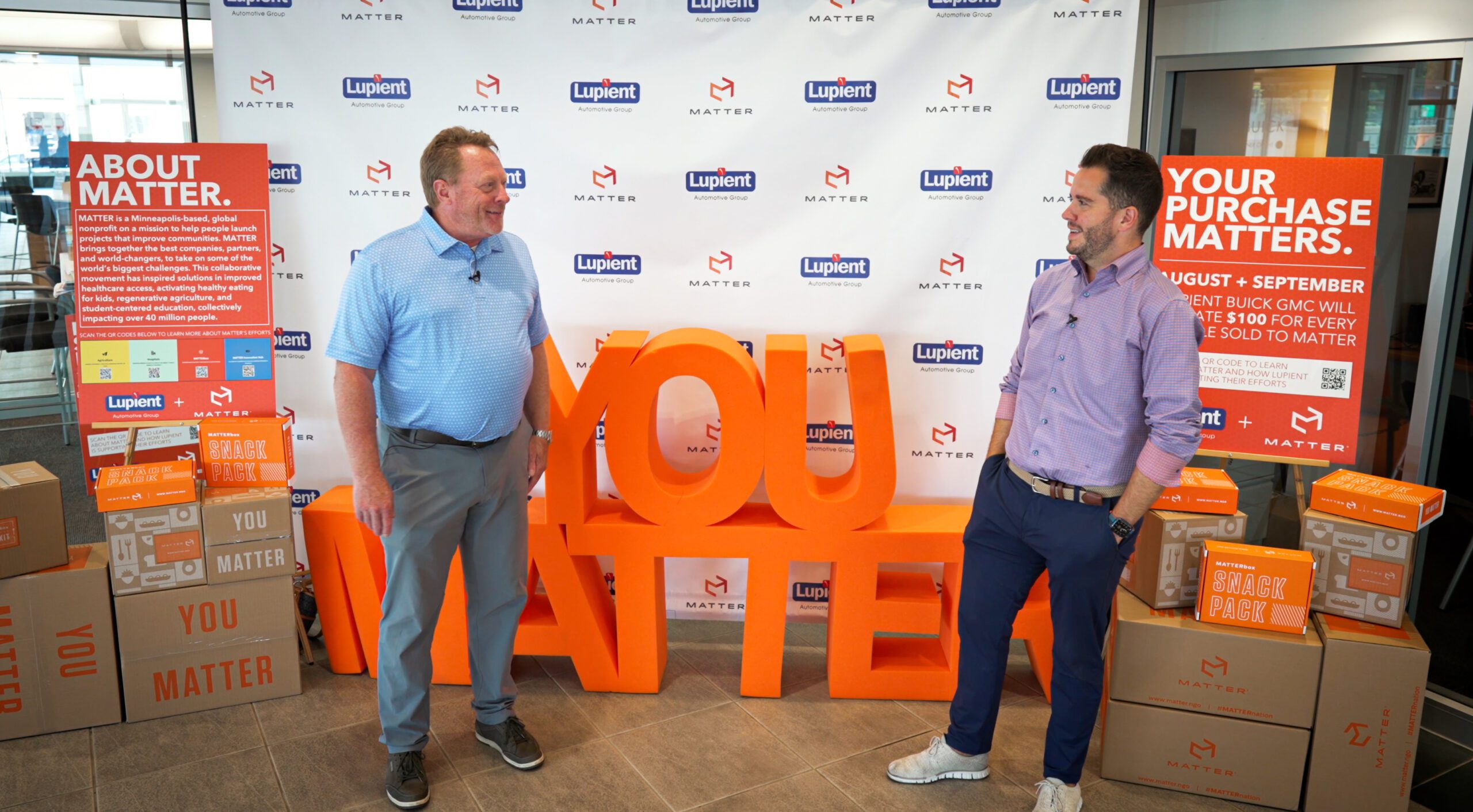 For the second month in a row, Lupient Buick GMC in Golden Valley is donating $100 to MATTER for every car they sell during the month of September. In addition, their service customers have the opportunity to add an optional donation to their service bill for a chance to win a complete vehicle detail worth $250.
The proceeds raised during this promotion will go towards purchasing MATTERbox Volunteer Kits. Each Volunteer Kit comes with everything needed to assemble 50 snack packs full of healthy food, a goal card and a You MATTER note of encouragement. Next month, employees will hold a packing party to assemble their snack packs together. The assembled packs will then be hand-delivered to The Sanneh Foundation.
To learn more about the promotion, please go here!
Thank You to our Corporate Partners
It's because of the generosity of our many corporate partners that we're able to help amazing community organizations like the JP4 Foundation and The Sanneh Foundation, among many others. Here's a shout-out to all of our corporate partners who held packing events this summer: Allianz, Amplifon, Bridgewater Bank, Evolving Solutions, Inspire Sleep, Land O'Lakes, Medtronic, Optum, Rochester Math Club, Sezzle, and Target.
Is your company looking for ideas to engage employees while providing a way to give back? A MATTERbox packing event not only helps the community in a very tangible way, but is also a fun activity to foster employee teamwork, build morale and help increase satisfaction. To learn more, contact Victor at MATTER. We have helped many companies solve their need for ideas to engage employees using the MATTERbox!