MATTERbox Update
As another year winds down, our MATTERbox team has been reflecting on all the good that has been accomplished this year through collaboration with our incredible partners.
We are so very grateful for our corporate partners, our community partners and our amazing volunteers who give so generously of their time, effort, and resources to bring healthy food to people in our communities. We are moved and inspired by your passion to help others!
With the holidays soon upon us, now is the time to plan a MATTERbox packing event for your company or small group holiday party. Our team can help you create a fun and festive event that will bring holiday cheer to those who pack the food and those who receive it.
There is no better way to celebrate the season than by letting people know they matter!
-Katie Olson, Volunteer & Events Director
Lupient Packs Over 1,000 Healthy Snack Packs For Kids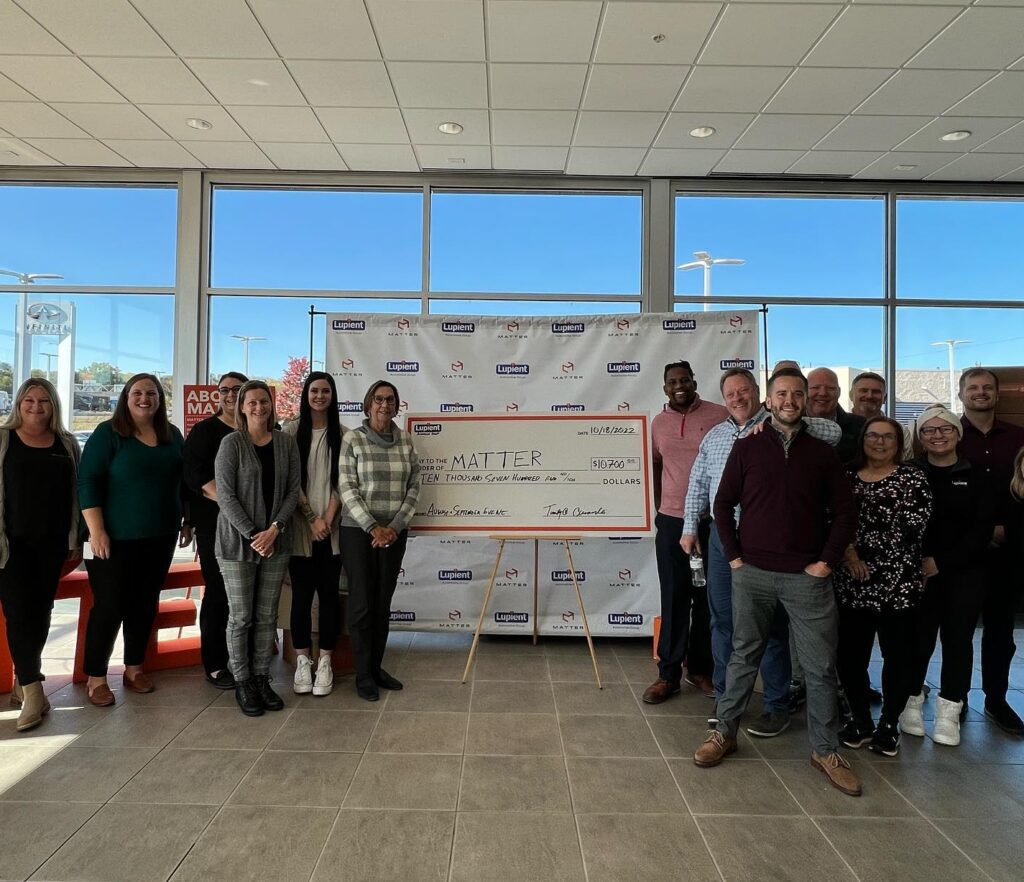 We're grateful to partner with companies like Lupient Buick GMC in Golden Valley that are committed to using their business as a means for good in our communities. Through a special promotion in August and September, they raised over $10,000 for MATTER and packed over 1,000 healthy MATTERbox snack packs for kids at The Sanneh Foundation in St. Paul. General Manager, Tim Ciccarelli, explained why they chose The Sanneh Foundation to receive their snack packs. "The environment at The Sanneh Foundation is incredible. The kids are really given the chance there to grow and develop. To help provide healthy snacks to those kids…I really don't know that there's a better way we can help the community." Thank you, Lupient Buick GMC, for your partnership and for caring for kids in our communities!
Give The Perfect Corporate Gift!
Think outside the box this year for your holiday giving and give a gift that truly reflects the spirit of the season. The MATTERbox Volunteer Kit is a meaningful way to spread holiday cheer to those who need it most.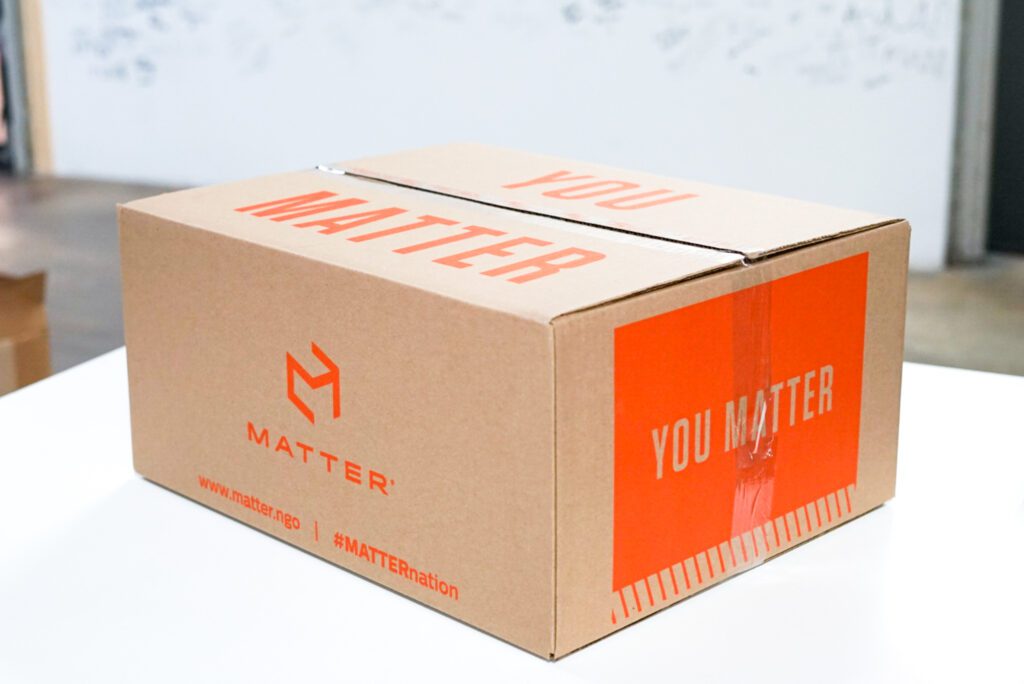 Each Kit comes with everything needed to make 50 healthy snack packs: delicious food, blank notes for handwritten messages of encouragement, bags, stickers and goal cards. Your employees will enjoy assembling the snack packs; it's fun and easy and makes for a great holiday activity with family and friends. Once packed, they can donate the snack packs to a community organization of their choosing. 

With the MATTERbox Volunteer Kit, you're giving more than a gift. You're giving your employees, clients, or vendors, an opportunity to help others – something they're sure to appreciate and remember long after the holidays are over.  

Order your MATTERbox Volunteer Kits today by contacting Katie Olson. 
Stepping Up With A New Partner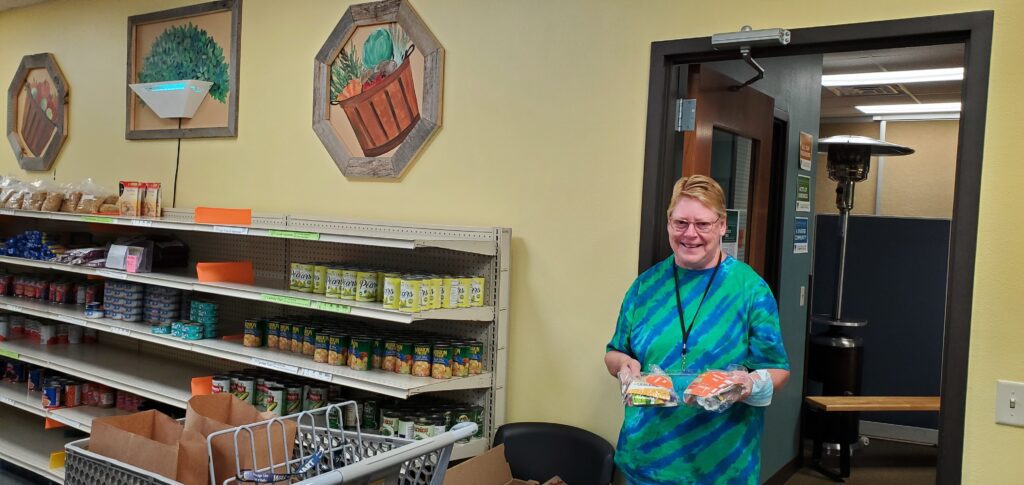 Last summer, we began providing Stepping Stones of Dunn County in Menomonie, Wisconsin, MATTERbox snack packs for the children who accompanied their parents in their food pantry. The response from the children was so positive, they decided to use MATTERbox snack packs and meal kits in some of their other programs. "We are so pleased to have received the MATTER food kit boxes and the MATTER snack bags," said Food Pantry Manager Kris Pawlowski. "We were able to send the meal kit boxes to our local Headstart Home Visit families. The home visitors from that program told us that their families thought the kits were really fun and they enjoyed making the recipe for their families. We are also able to add the MATTER snack bags to our weekly backpack bags, and we have also shared some with one of our weekly community meal sites so that families can grab one with their meal each week. They make a great item to add to their little ones' lunch bags! Our local high school guidance office was happy to receive a supply that they can make available to students who are craving a healthy snack during their busy school day." We're thrilled to help organizations like Stepping Stones of Dunn County meet needs in their communities through healthy MATTERbox meals and snacks.
Thankful For Our Volunteers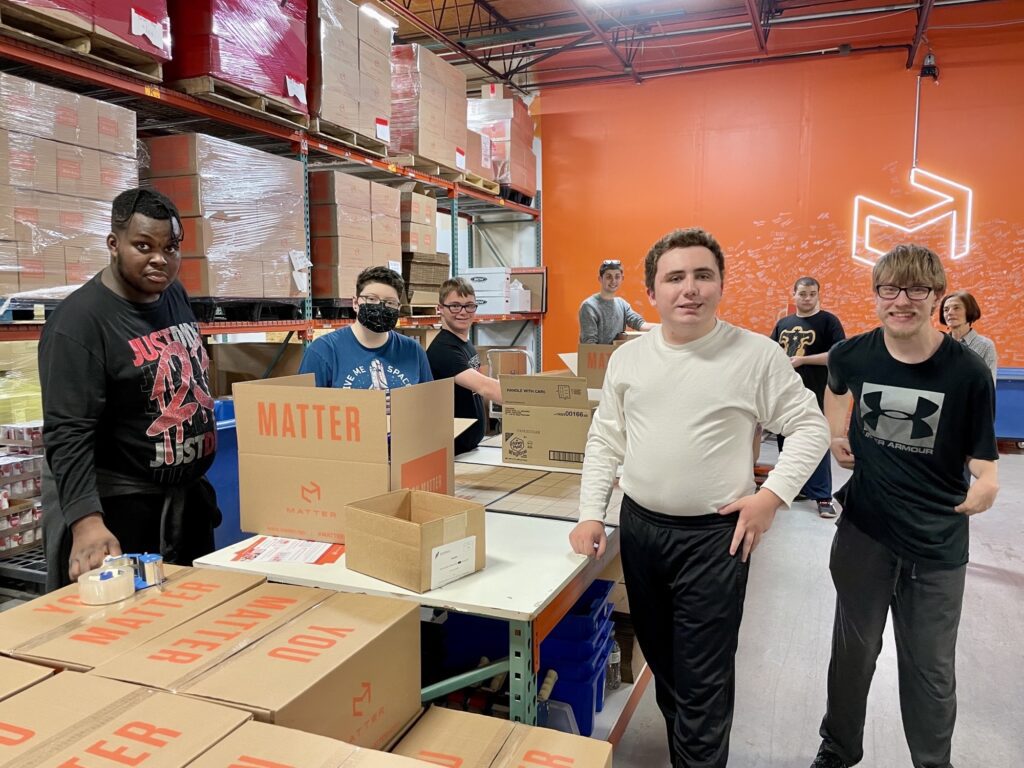 For more than ten years, students from Transition Plus, a joint program of the Hopkins, St. Louis Park, and Minnetonka schools, have been volunteering at MATTER to help them develop their job skills. Whether packing Volunteer Kits, meal kits, breaking down boxes, wiping down tables or any number of other tasks, the students apply what they're learning in the classroom to a real-world setting. Ginger, a Transition Plus staff member recently shared how important the volunteer work is for her students. "MATTER has provided an opportunity for our students to learn how to work as a team while becoming aware that they're helping others in their community and around the world. It's a huge confidence builder, they feel so proud when they complete a job."
We are so grateful for these students and the many other volunteers who regularly give their time to help MATTER launch projects that improve communities. We could not do it without you all! Thank you!