On this Give to the Max Day, we're kicking off the next phase of our Chaya campaign in Zimbabwe aimed at empowering women to feed their families, through growing Chaya and community. Our goal is to raise $50,000 toward the establishment of ten women's farm co-ops around the country. The $5,000 per site cost includes Chaya trees, equipment and supplies, fencing, a water system, transportation, and training for the approximately 30 women in each co-op. Please go HERE to learn more and help empower the women of Zimbabwe!
It's appropriate that we're focusing on the women of Zimbabwe since the Chaya campaign itself is the vision of a woman. A very compassionate and determined woman. MATTER's dear friend and donor, Sandi Young.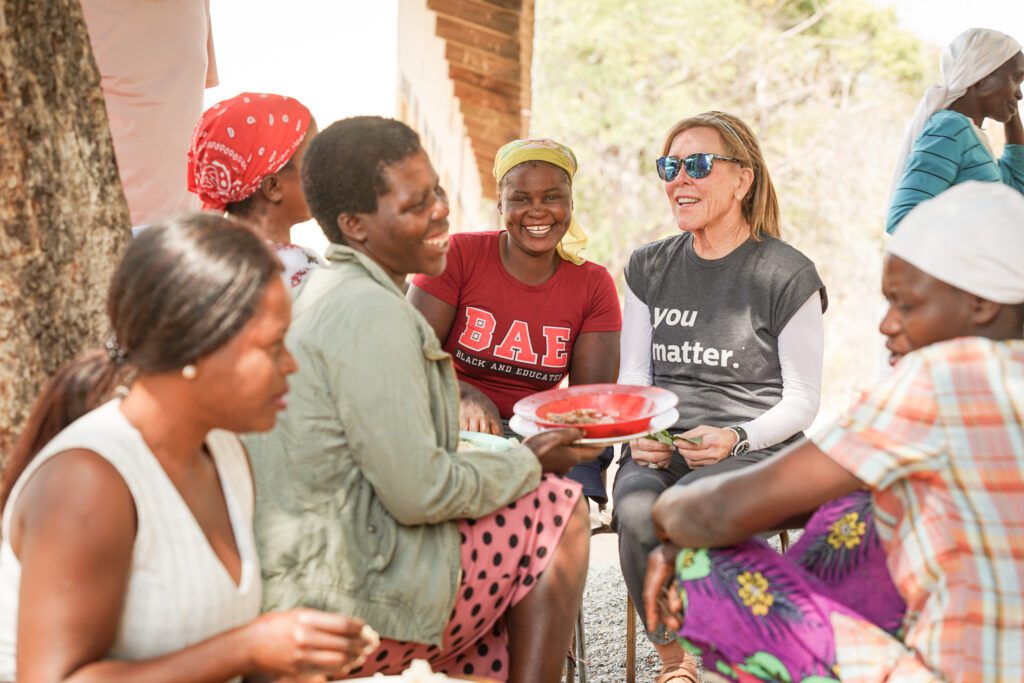 If one were to look up the word "dynamo" in the dictionary, it would be no surprise to find Sandi's picture there. She is the very essence of the word. With energy to spare, she embraces opportunities and challenges with equal parts grit and gusto. Her creative spirit is in perpetual motion, whether painting the world around her or strategizing on ways to make it better. Her petite frame holds a big personality and an even bigger heart. Helping others is her modus operandi.
When asked why she cares so much for others, she thought for a moment, "I grew up in a small town in Missouri. I think when you come from a small town you just care about everyone there because you know everyone. So I just took that feeling everywhere I went. If I could help others, that's what I wanted to do. We all want to make a difference. I've learned that my purpose is helping people to the best ability I can."
As a visionary, Sandi often sees what others miss. Years ago when introduced to Chaya while visiting one of MATTER's nutritional gardens in Zimbabwe, Sandi immediately saw the potential for this plant to be the answer to Zimbabwe's soaring malnutrition rates. Soon after, she committed to helping fund the planting of Chaya trees throughout the country.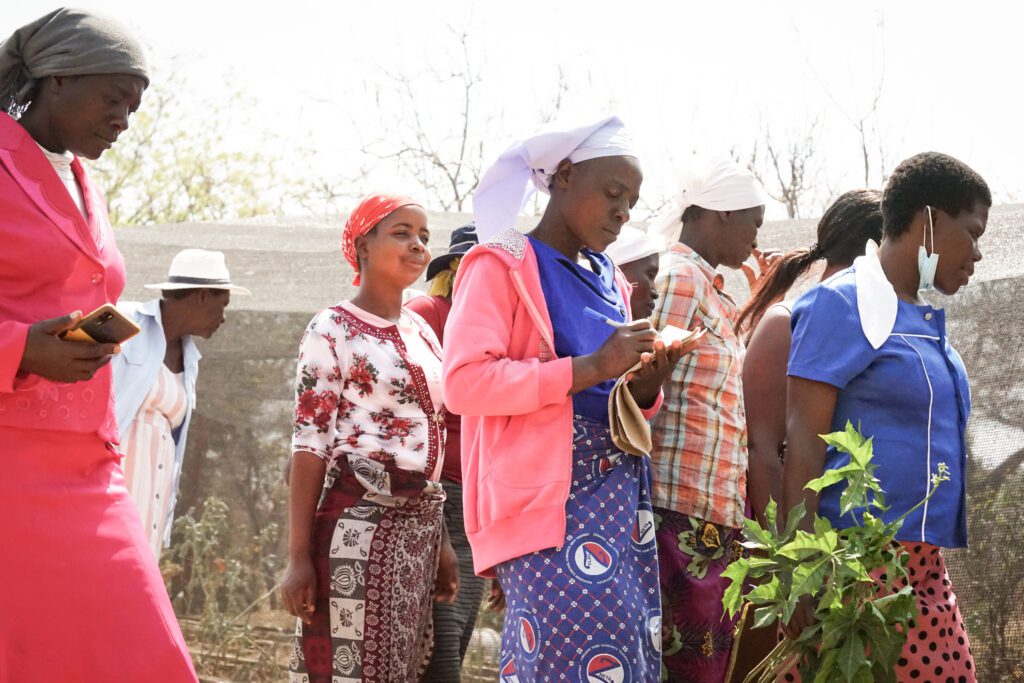 But Sandi didn't stop there. Once the trees were planted, she turned her focus toward the women of Zimbabwe who bear the sole responsibility for growing the food to feed their families. With the help of Love for Africa and Noah Elhardt of The Beer-Sheba Project, training sessions were held across the country to teach women how to grow, propagate, and prepare Chaya.
With the success of the trainings, a new strategic vision emerged to establish women's farming co-ops where the women could be trained together and support each other in growing Chaya. This past summer, Sandi visited the two co-ops that were up and running to see their progress. Little did she know the reaction she would receive from the women.
.
With jubilant singing and dancing, the women expressed their appreciation for Chaya – and for the woman who gave them the opportunity to grow it for their families. "The next time you come," they said to Sandi, "you'll find us healthier than this. We'll be taller, stronger, bigger. Even our children will be more handsome and beautiful!"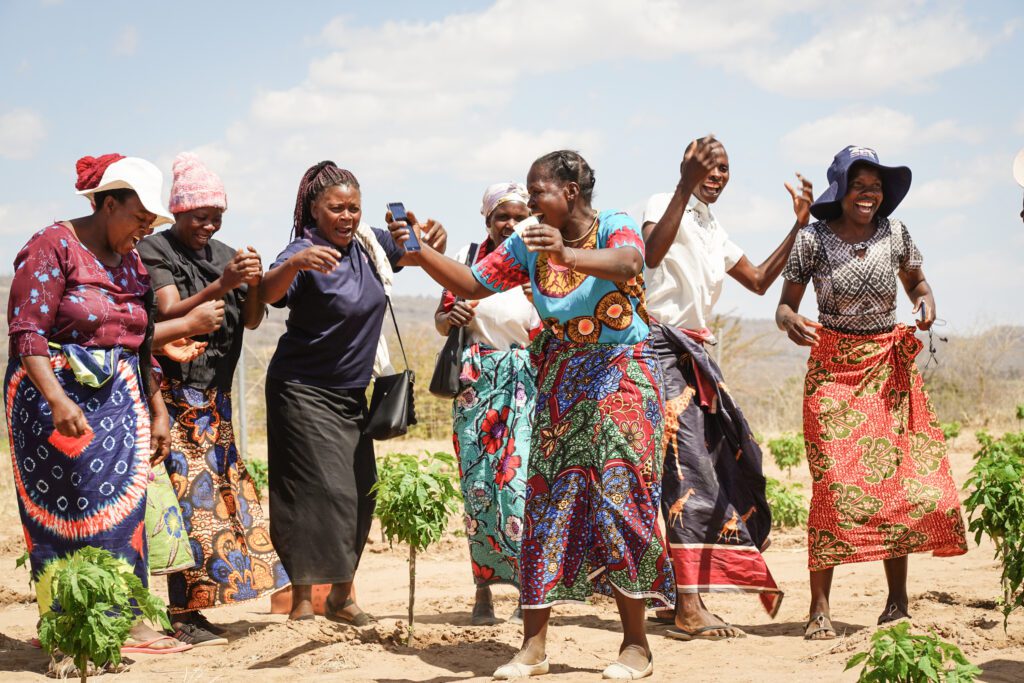 As she talked with the women that day, Sandi made a surprising observation. The co-ops were more than places to grow Chaya together. They had become places that nurtured friendships.
"The whole co-op strategy is beautiful. Some of these women had never really met each other. But they all came together to create this space, this garden, that's going to provide for them on many levels. Not only nutritionally, but also with friendship and trust. For me, you can't ask for much more than that."
In many ways, the Chaya story in Zimbabwe is only just beginning. Guided by Sandi's passion and vision, MATTER will continue to collaborate with our dedicated partners on the ground to explore Chaya's full potential to improve lives in Zimbabwe and beyond.
"It's a privilege to work with MATTER to do all this. There's some amazing talent on the team. We're just going to keep trying to make it better and better. Hopefully we can take this to countries beyond Zimbabwe and solve nutritional issues in other areas. The prospect of all that is very inspiring."
Watch Sandi's You Matter Story below! 

Hear Sandi share her passion for Chaya and the women of Zimbabwe by joining us on a Zoom call on November 29.
Go HERE for more details.