It was the end of last year, in what seems like a lifetime ago, when General Mills, Chartwells Higher Education, and MATTER began planning the annual Good Goes Round campaign that was to be held in March of this year. There's always a lot of excitement around this campaign, which in the last two years has distributed more than 70,000 healthy MATTERbox snack packs to community organizations nationwide. At the time, none of us had any idea how much things would change by March and how urgently communities would need these snack packs during one of the biggest crises of our lifetime.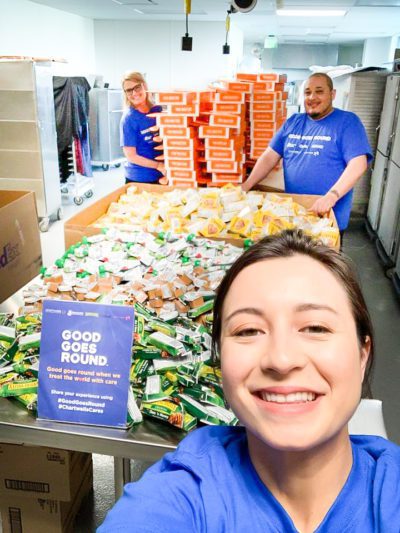 The Good Goes Round campaign engages student volunteers from colleges and universities around the country to pack thousands of MATTERbox snack packs and donate them to local organizations helping fight food insecurity. The packing events are organized on the campuses by Chartwells Higher Education, a leading contract foodservice provider.  (You can read about last year's campaign here.) This year, however, with COVID-19 bearing down on our country, most of the 100 colleges and universities participating were empty by the time the campaign started, their students having left to finish the year at home.  
But that didn't stop the campaign from moving forward. Undaunted, Chartwells Higher Education took the ball and ran with it. In lieu of student volunteers, Chartwells team members packed the thousands of snack packs themselves, making sure each pack contained the healthy food items that had been generously donated by General Mills, and a handwritten YOU MATTER note of encouragement – encouragement that was needed now more than ever.  
Nicole Young, Marketing Director/Chef for Chartwells Higher Education at Missouri State University, explained how this year's campaign was different from previous years.  
"We typically make a race out of this event, sign up as many student volunteers as possible and attempt to pack the snack pack boxes in thirty minutes or less.  This year my team of three packed all of the boxes over a couple of days.  It was a bit more somber than usual, but it also created a more personal connection to the event keeping in mind that this year's snack packs would be going to people in such an unprecedented and therefore somewhat frightening situation." 
Thanks to the unflagging efforts of Nicole's team and the other dedicated Chartwells Higher Education teams, 44,000 healthy MATTERbox snack packs were packed and delivered to an array of community organizations around the country including hospitals, food pantries, and churches.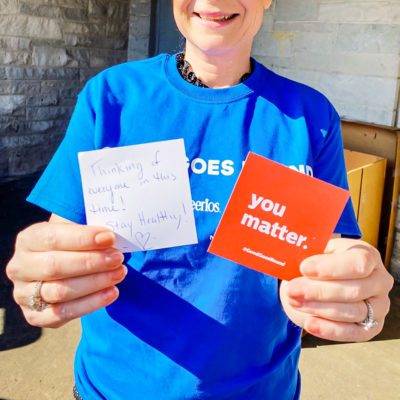 Participating for the third year in a row, Tennessee Tech University donated their snack packs to Cookeville Life Church. Sam Holm, Resident District Manager at Tennessee Tech, explained why they chose to partner with the church and the impact they made together in their community. 
"We found out that the church was already building grocery bags for the elderly that were afraid or should not travel to a grocery store for food supplies.  We felt that by adding our snack packs with the Life Church supplies we would be able to reach more individuals who needed food. Together we were able to reach over 400 elderly people. I spoke to the pastor earlier this week. He said we had a great response, many happy people." 
Stories like this make all the efforts worth it, especially in a year when many people are not only facing food insecurity but are also anxious, frightened, or alone due to the pandemic. For Nicole Young and her team, the timing of the campaign couldn't have been better.  
"It brought to the forefront how important it is to do good for our neighbors. This campaign is such a simple yet impactful way to do a little good and spread a little kindness. And this year, more than ever, we all need to spread a little kindness."
We couldn't agree more. MATTER is grateful to General Mills and Chartwells Higher Education for allowing us to partner with them in this amazing campaign that spreads kindness to communities by providing healthy food to its most vulnerable members. Though it faced many unforeseen and unique challenges, it's safe to say the impact of this year's campaign was greater than ever before.  
We've made it easy for everyone to spread a little kindness in their communities. Our Stay at Home Volunteer Kit is a fun and convenient way to pack MATTERbox snack packs from the safety of your home. You can donate them to an organization of your choice or have MATTER donate them to one of our many community partners. Let's do good together! Learn more here.