The second annual nationwide MATTERbox college campus packing event was a huge success! Partnering with General Mills Foodservice and Chartwells Higher Ed, the two-day event engaged college students and volunteers on 100 campuses in 34 states to pack 44,000 MATTERbox snack packs for kids and families to activate healthy eating in their local communities.
Eager to draw in volunteers from among the student body, coordinators at each site found fun ways to attract the crowds. Balloons, music and mascots drew in curious students who were then invited to write a You MATTER note of encouragement before packing their snack pack boxes with healthy General Mills offerings including Whole Grain Cheerios and Nature Valley Bars.
At the University of Wisconsin-River Falls, students eagerly lined up to pack boxes with their mascot, Freddy Falcon. And as usual, the You MATTER note was a big hit among the volunteer packers.
"When I learned these boxes were going to kids and you can write a positive message to them, I thought that was great. I'm in elementary education so it was really a cool thing to be part of!" University of Wisconsin-River Falls student
The 200 boxes packed at the University of Wisconsin-River Falls were donated to Our Neighbors' Place, a local organization dedicated to helping children and families with support, shelter and housing services. Every week, they distribute bags of food to the 85 kids through their Backpack Program to supplement their meals over the weekends.
Watching the lines of students packing the boxes, Shelly Smith, Executive Director for Our Neighbors' Place, expressed her gratitude to MATTER and the River Falls campus for coordinating the event,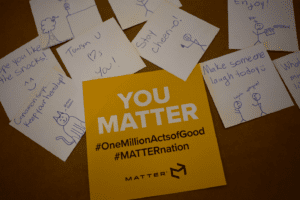 "This is the first time we're using the MATTERbox snack packs. It's a change from what we usually provide the kids, so I really like that they're going to get healthy food that is new to them. And the packaging is so fun! Kids are going to be excited to get these. We especially love the You MATTER notes. The kids are going to be so excited to know that someone was thinking about them. My hope is that the kids will keep the notes to remember they matter."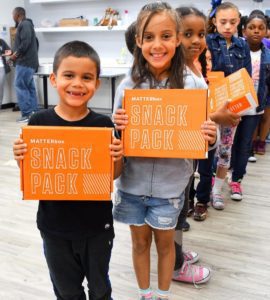 MATTER is very grateful to General Mills Foodservice for their generous donation of healthy food, as well as the efforts of Chartwells Higher Ed whose thousands of coordinators and volunteers made the packing event such a success. Collaborating together, we impacted communities across the country with healthy food to nourish bodies and messages of encouragement to nourish spirits.
One volunteer expressed the sentiments of the hundreds of volunteers across the country when she beamed,
"Even though this only took 30 seconds to pack, it makes me feel like a better person because I could do something for someone else in my day!"
Well done, MATTERnation!