What happens when a group of like-minded people come together to share their passion, experiences, hopes and dreams? Magic. That's the best way to describe what happened last Thursday evening at MATTER when over a hundred people gathered at MATTER's headquarters in St. Louis Park to celebrate the impact and power of partnership for the people of Zimbabwe.
Jeannie Burns Buckner shared her moving story of learning about the overwhelming need for a hospital in one of the most remote locations in Zimbabwe. In the midst of a global pandemic, Jeannie mobilized resources to build a state-of-the-art hospital and doctor's quarters. Since its opening nine months ago, the Jeannie Burns Buckner Maternal and Pediatric Hospital has served over 3,600 patients and delivered 156 babies. Jeannie is now heading up the building of a nurses' quarters on-site. Learn more: The Jeannie Burns Buckner Maternal and Pediatric Hospital.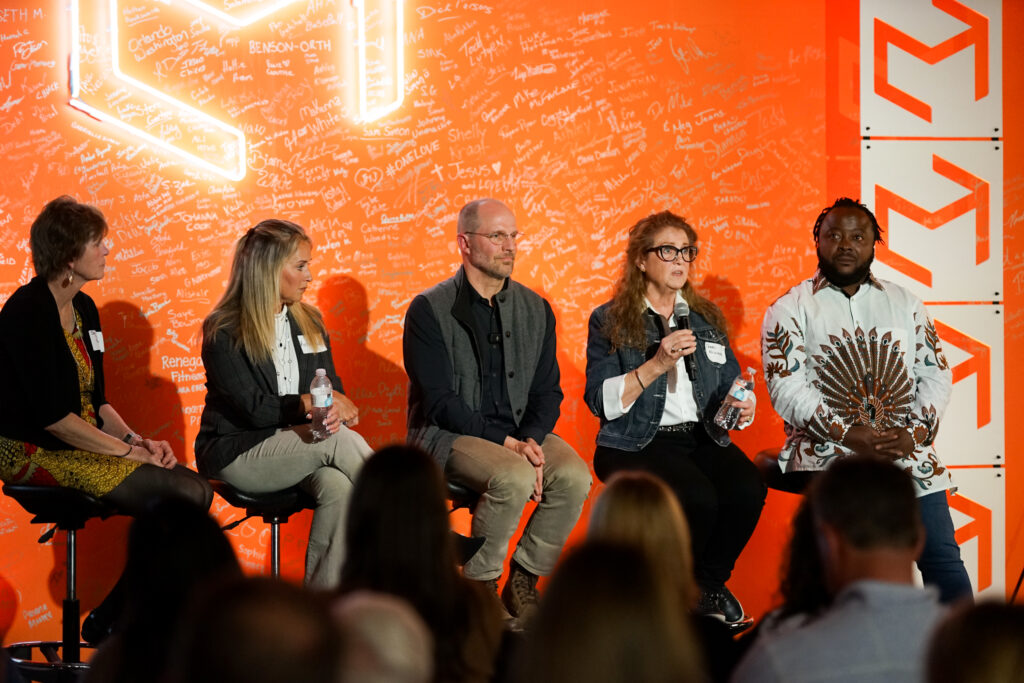 Kris Hall shared her touching story of taking up boxing after the death of her husband and then hearing about Tobius, the owner of the Victoria Falls Boxing Academy who, along with his wife, Shuvai, take in orphaned children and love them as their own. Moved by this couple's inspiring story, Kris felt called by God to lead an initiative to build a new facility for the boxing academy and a larger home for the family. Learn more: Victoria Falls Boxing Academy and Children's Home. 
For Dean Hager, CEO of Jamf, his story began back in 2019 when the first MATTER Innovation Hub (MIH) opened in Zimababwe. He shared that it was always his dream for the MIH to be a job creation program and now this dream has become a reality with the newly opened MATTER Career Readiness Institute (MCRI) that trains students for remote technology jobs with US and other international companies. Plans are underway to build a campus for the Institute, complete with a training center, student housing and work pods. Learn more: MATTER Innovation Hub and MATTER Career Readiness Institute.
Terri Williams' story started rather recently. After hearing Dean last year talk about plans for the MCRI, she was all in. As founder and CEO of Mains'l Services, Inc, a Financial Management Services provider, offering "software-as-a-service" across the country, she resonated with Dean's vision of training youth in Zimbabwe for remote technology jobs here in the US. Joining Jamf, Terri committed Main'l to help sponsor this first cohort of students at the MCRI and offer them paid remote internships upon graduation with the possibility of obtaining employment with Mains'l when their internship is complete.
The evening ended with an impassioned plea by MATTER partner, Blessing Munyenyiwa of Love for Africa, for those attending the event to visit Zimbabwe and see the projects firsthand, to be inspired by the resilient people of Zimbabwe, and to join this life-changing work that is giving his beloved country a chance at a brighter future.
It was magical.
Our very special thanks to MATTER donors Jeannie Burns Buckner, Kris Hall, Dean Hager, Terri Williams and partner Blessing Munyenyiwa for sharing their heartfelt stories. Thanks also to the always amazing Kitchen and Rail for providing fabulous food and drinks that made the evening even more special.
Catch a glimpse of the magic and inspiration of Zim Stories: Live! in this highlight video!