Though 2020 has been a tough year, it's also provided MATTERnation with some amazing opportunities to step up in new and creative ways to reach out to our neighbors, to rebuild communities and to help those on the margins of society. There's no better example of someone making the most of these opportunities than one of MATTERnation's most ardent supporters and partners, Jeannie Burns Buckner.  
As a mother and grandmother, Jeannie is a passionate advocate for the healthcare needs of women and children around the world. After helping to facilitate the building of the first maternity and pediatric hospital in Arusha, Tanzania, Jeannie set her sights on the plight of women and children in rural Zimbabwe. As MATTER's first Ambassador to Zimbabwe, Jeannie is currently funding a clinic in the remote village of Binga, the first of many clinics that will one day dot the rural landscape of the country. (You can read more about Jeannie's efforts in Zimbabwe here.) 
When the economic effects of COVID-19 started to affect families in Minnesota, Jeannie turned her attention to her current home state and began looking for practical ways to help. Partnering with MATTER again, Jeannie concentrated her efforts on providing First Responders with MATTERbox meal kits, dinner boxes and snack packs to distribute to the community. In addition to providing the needed funds, Jeannie packed some of the meal kits and snack packs herself, recruiting family and neighbors to join in the effort. 
Thanks to Jeannie's compassion and generosity, nearly 15,000 healthy meals have been provided to the community in the last two months!  
One of the organizations that received these MATTERbox meals was the Ramsey County Sheriff's Office. In May, they formed the COVID Help Team to assist those in the community who are most at risk and vulnerable, including single parents, the elderly, and immigrant communities. Among the many services the Help Team provides is the collection and distribution of donated items from the community, including food.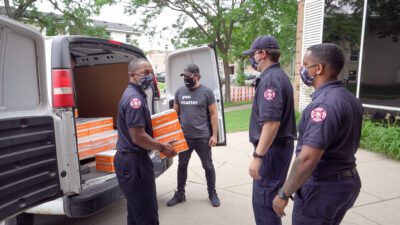 When MATTER's Victor Salamone contacted Sara Henjy, Community Service Officer with the Ramsey County Sheriff's Office and part of the COVID Help Team, she was thrilled to learn we had hundreds of MATTERboxes available thanks to the generosity of one our donors. Having partnered with MATTER last summer for a youth program, Sara was eager to team up with us again for the COVID Help Team. 
"I truly believe people and organizations are put in your life for a reason. Last summer I was introduced to Victor from MATTER. I explained who we were and what our youth program was about. Without hesitation, he said MATTER could help. I actually started crying when they loaded the snack packs into our van! This year, with the extraordinary needs in our community due to COVID, I knew I could count on MATTER again. The meal kits and dinner boxes are a great way for us to provide healthy food to families that need it. We can't thank you enough for helping us out!" 
In addition to the Ramsey County Sheriff's Office, MATTER was able to provide MATTERbox meals to North Memorial EMS, MAD DADS, the Native American Community Clinic and five Minneapolis fire stations.  President of Minneapolis Fire Department L82, Mark Lakosky, was thrilled with the gesture, "I truly can't say thanks enough. It's been so refreshing to see people coming together like this. And the meal kits are wonderful. Really a great solution for families who need help with food."  
For Jeannie, helping others is part of her life's mission, whether it be in Tanzania, Zimbabwe or Minnesota. 
"I was thrilled with the idea of partnering with MATTER again with this unique project and opportunity. I feel so good knowing that First Responders have the supply of meal boxes and snack packs to hand out when appropriate to help feed those who are hungry and in need."
We're grateful to Jeannie for her partnership. With her unwavering compassion and generous spirit, she's leading the way for MATTERnation to continue making a huge impact in lives locally and around the world.
Please watch this inspiring video of the delivery of Jeannie's MATTERbox meals to five Minneapolis fire stations.