YOU MATTER.  Two simple words that come together to form a powerful statement. At MATTER, this is not a mere tagline. It's the guiding principle by which we work with and serve others. When people believe they matter and believe others matter too, amazing things happen!  
There is no better example of this than that of our dear friend and MATTER supporter, Jeannie Buckner. Jeannie's life mission is a testimony to her belief that everyone matters. Using her resources, Jeannie is helping to transform countless lives around the world. And we're honored to help her!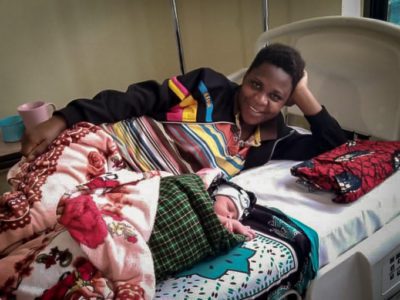 In June, Jeannie was in Arusha, Tanzania for the opening of its first maternity and pediatric hospital. This state of the art, three-story, 60-bed hospital was made possible by Jeannie and other MATTER donors and partners. (See the video below and read more here.)  Recently, the hospital celebrated its first birth. Unlike most deliveries in Tanzania, the mom gave birth in a clean birthing bed, and her doctor had all the instruments and equipment needed to ensure a safe delivery. For that new mom, welcoming her child into the world was the joyous experience it should be. All thanks to partners like Jeannie who believe the women and children of Arusha matter and deserve the best healthcare possible.   
It was during her time in Arusha that Jeannie heard about the plight of expectant mothers in the rural areas of Zimbabwe. Anxious to see the situation for herself, Jeannie went on a MATTER Insight Trip to Zimbabwe. With MATTER team members and Zimbabwe partners, including the First Lady of Zimbabwe, Jeannie traveled to some of the remote villages that dot the country's landscape.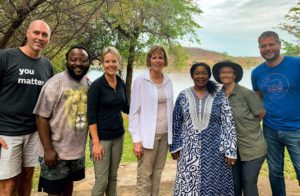 The visits opened Jeannie's eyes to the desperate need of medical facilities in these remote areas. Jeannie was shocked to learn that many expectant mothers must travel long distances for their prenatal care, some traveling up to thirty miles, and often with small children in tow. As a mother and grandmother herself, she couldn't help but think of her own children and grandchildren having to endure such unfathomable circumstances.  
Because the women and children of Zimbabwe matter, Jeannie resolved to do what she could to help them. And so Jeannie has become our first MATTER Zimbabwe Ambassador. In her role, she will help bring awareness to the plight of women and children throughout the country who desperately need health care facilities in or near their villages.  
"As the Zimbabwe Ambassador, I hope to raise awareness for the need for clinics in remote villages in Zimbabwe. We determined that the first clinic will be built in Binga Zimbabwe, identified by the First Lady as the most needed remote village for medical care. As an Ambassador I will also identify plans to renovate the busiest clinic, two hours outside of the capital city of Harare, and the need to build clinics and establish nutrition gardens in other provinces in remote villages." 
The visits to these villages were memorable, but not easy. One village was so remote that the group, including the First Lady, had to take a helicopter to get there and sleep overnight in pop-up tents with hippos nearby and a large spider sharing the women's tent! Unfazed, Jeannie left the village more resolved than ever to bring hope to the people of Zimbabwe.
For a long time I have felt that I had a calling in Africa and because of my life experiences and my amazing children and grandchildren – I feel that my calling is to help reduce maternity and pediatric deaths. We are so fortunate in North America!  When I was asked to learn more about the Zimbabwe project of opening clinics and being an Ambassador, I felt compelled. This is my legacy! 
Like the women and children in Tanzania and Zimbabwe, Jeannie matters. Together, we're working to see more babies safely delivered and more new moms provided with the nutritious food they and their newborns need.  
You matter, too! How can MATTER help you transform lives and communities? In ways big and small, everyone can do something to make this world a better place. And isn't that what we all long for? Contact us to learn more about how YOU MATTER!