Hospital & Clinic Update
2022 was quite a year! From the opening of a hospital in rural Binga, Zimbabwe, to our medical relief efforts in Ukraine, it was a year that brought enormous impact to communities under siege and under the radar. I wish I could highlight all the projects that our hospital and clinic team oversaw last year, but here are just a few that reflect the diversity of our projects in 2022:
Renovated a maternity hospital in Bulawayo, Zimbabwe that delivers 7,000 babies yearly. No longer are expectant mothers sitting on dirt floors or giving birth on beds without mattresses.
Also renovated the adjacent pediatric hospital that had been closed for 17 years due to lack of equipment and supplies. Newly opened again with supplies from MATTER, the hospital boasts 60 beds and has all the medical resources needed to provide dignified healthcare to the children in the region.
Shipped a container of medical equipment and supplies to Daystar University in Nairobi, Kenya, to equip their nursing school. The equipment will help the University provide the very best training to the country's future nurses.
Collaborated with the Gorgui Dieng Foundation to send its 32nd shipment of medical equipment and supplies to Senegal since partnering with MATTER in 2014.
Of course, none of these projects would have been possible without the generosity of our donating hospital partners. As you can see in the numbers below, our collaboration with these hospitals resulted in 3.4 million pounds of medical equipment and supplies being kept out of landfills and repurposed for our projects.
As we begin this new year, we look forward to more projects, more collaboration and more repurposing of medical equipment and supplies to impact even more communities with dignified healthcare in 2023.
– Katie Johnson, Director of Global Health Initiatives
Medical Relief Kits Bring Dignified Care to Ethiopia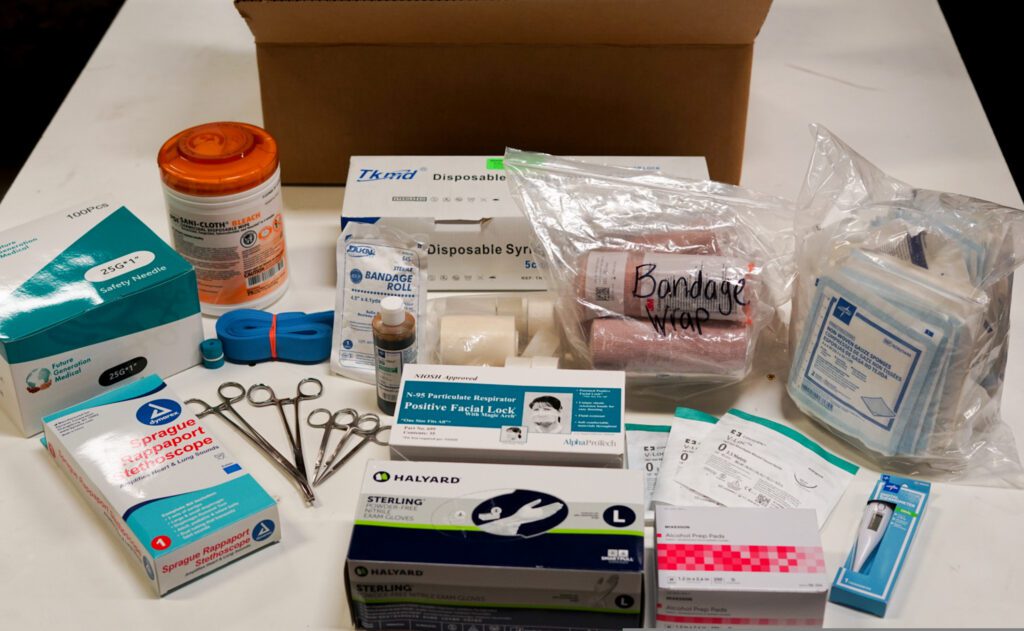 As a public hospital, Zewditu Memorial Hospital in Addis Ababa, Ethiopia, provides some of the most affordable services for people in its community. As such, it has one of the highest birth rates in the country. Unfortunately, it suffers from a lack of basic equipment and supplies. So much so that expectant mothers are given a list of supplies they much purchase and bring with them when they go to the hospital to give birth.
In an effort to address the situation, Big Family Incorporated reached out to MATTER to create Medical Relief Kits for the hospital. Each kit contains over a dozen general medical supply items including a stethoscope, a tourniquet and a thermometer.
One hundred of these kits are now on their way to Ethiopia where they will be put to good use at the hospital. For patients and their families, these kits will provide relief from the burden of having to provide their own medical supplies, elevating the dignity of the care they receive.
Chalice of Mercy: To Ukraine With Love
When Russian troops invaded Ukraine nearly eleven months ago, Ukrainian Valentyna Pavsyukova was ready. Not with guns and ammunition though. Hearing the news from her adopted home in Fairchild, Wisconsin, she immediately began strategizing. As CEO of Chalice of Mercy, a Catholic mission to Ukraine, Valentyna had the contacts and resources at the ready to get emergency medical relief supplies into Ukraine to help with the war effort.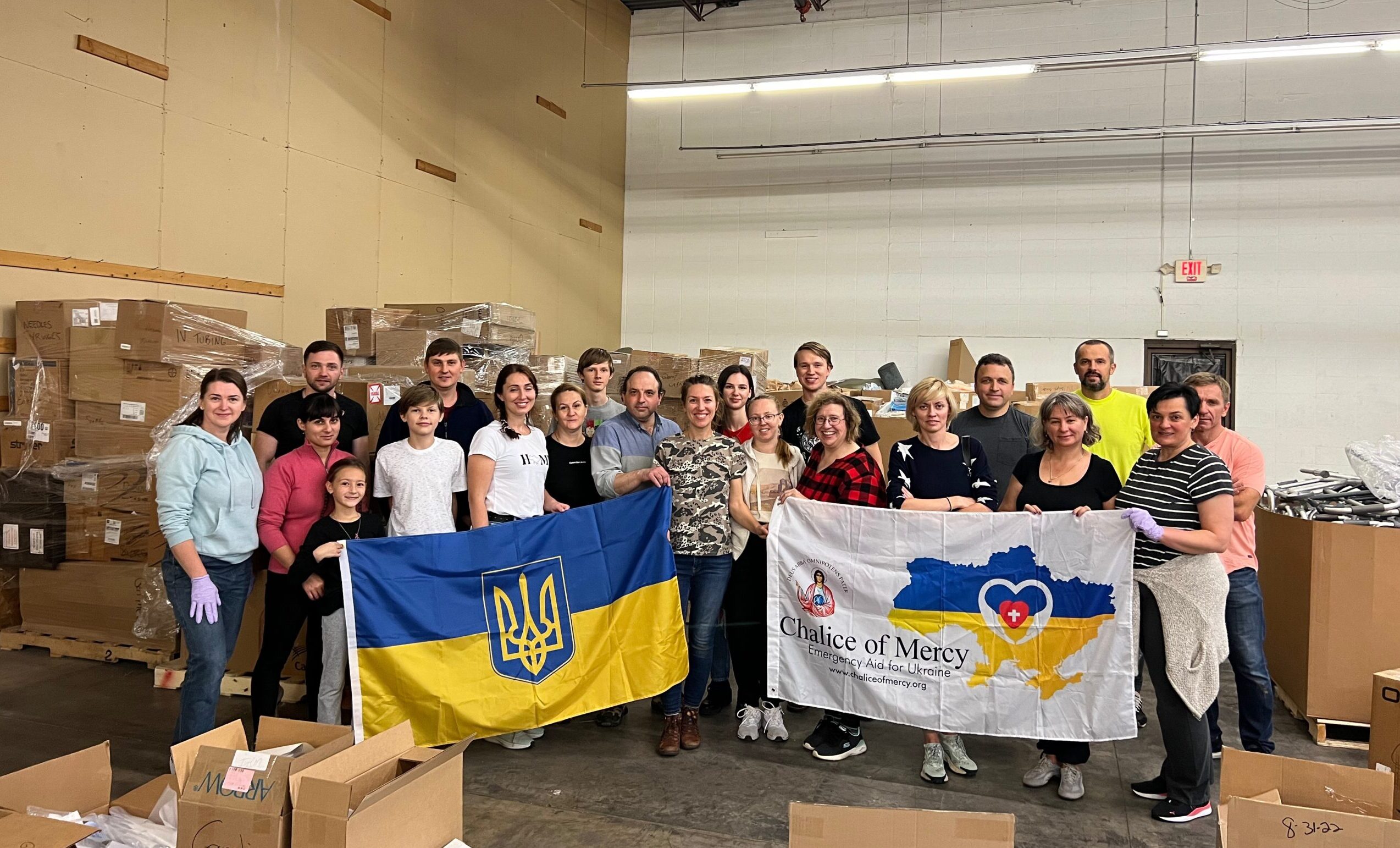 "I coordinated a team of doctors, nurses, surgeons and anesthesiologists from Spain who organized a semi-truck filled with all kinds of medical and surgical supplies and medications. Within three-and-a-half weeks from the start of the war, I was in Poland supervising the arrival of the truck from Spain into Ukraine to distribute the supplies to our contacts on the ground there."
But that was only the beginning. To facilitate its ongoing efforts, Chalice of Mercy partnered with MATTER and several other organizations to send, so far, more than 250 tons of medical supplies and other emergency relief supplies, estimated at about $25M worth, to help her country in its latest battle against Russia. Her small but mighty team is one of the leading organizations providing relief supplies to Ukraine's front lines.
"What impresses me is how quickly her organization is able to get the supplies into Ukraine," said Joel Anderson, MATTER's Vice-President of MATTER 360. "Within a week of the supplies being packed and shipped from Chalice of Mercy's warehouse in Wisconsin, they are in the hands of frontline doctors and nurses in Ukraine who are using them to save lives. It's incredible."
"It's a nice collaboration between our two organizations," added Valentyna, who founded Chalice of Mercy in 2009. "We're bringing the emergency aid that the military need so badly, but it's much deeper than that. We're also bringing them the love and the faith to believe that even if it doesn't seem like we're winning right now, we are going towards victory."
Help us continue to support the good work of Chalice of Mercy and our other partners that are bringing medical relief to the front lines of the war. Please go here to learn more.