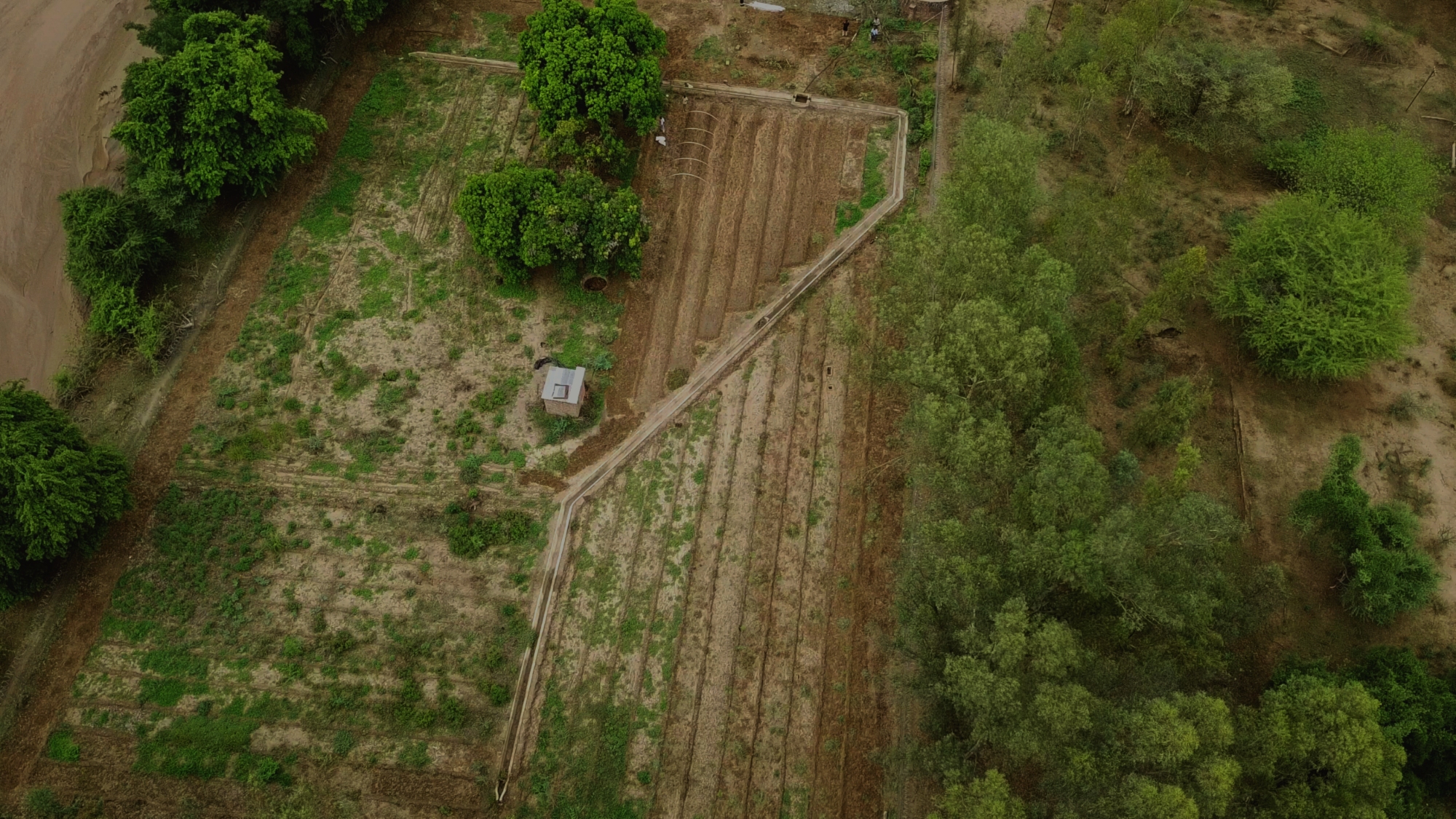 Donate Crypto Today
MATTER believes that Bitcoin is an investment in the future.
We plan to HODL all Bitcoin contributions as an investment, and we want to assure all those making a Bitcoin donation that we are not interested in flipping these funds for fiat. We believe, as a nonprofit organization, that this aligns us with cryptocurrency donors in the community who believe that the best use of Bitcoin is as a long-term investment for their money rather than a short-term vehicle to exchange and cash out quickly.
We hope you will donate crypto to MATTER, using Bitcoin or another form of crypto. By making a cryptocurrency gift to us this way, rest assured that your transaction, whether an initial contribution or an ongoing gift, allows you to make a long-term difference in MATTER's ability to launch projects that improve communities around the world well into the future.
Donating Bitcoin or other crypto is a non-taxable event, meaning you do not owe capital gains tax on the appreciated amount and it is a deduction on your taxes. This makes Bitcoin, Ethereum, and other cryptocurrency donations a most tax efficient solution to support your favorite cause. Through our cryptocurrency fundraising initiative we can accept multiple cryptocurrencies: Bitcoin (BTC), Ethereum (ETH), and other cryptocurrencies.
Please consider how you can make a difference and support world changing purposes to the fullest extent by donating bitcoin or other crypto to charities like MATTER – donate crypto to us today to help strengthen communities!
Contact Katie Olson at MATTER for more information on donating cryptocurrency.
What is #CryptoGivingTuesday?
#CryptoGivingTuesday (Giving Tuesday for crypto) is the biggest day for cryptocurrency generosity. Nonprofits around the world are participating due to the rise of cryptocurrency giving, encouraging generous donors looking to make a difference through crypto donations.
Learn more:
MATTER, a Minnesota-based global NGO, brings together the best companies, experts, problem solvers, dreamers and above all, doers, to launch amazing projects that can improve communities, like the Chaya Tree Project, which aims to plant nutrient-rich Chaya trees to feed people around the world.
Bitcoin Freedom: Cryptocurrency Strengthens Social Justice
Donate Bitcoin: Do Social Good With Your Cryptocurrency
Expanding Opportunities for Impact: MATTER Now Accepts Cryptocurrency Donations
Other Ways To Get Involved
COVID-19 Relief
Would you please consider making a special contribution to MATTER so we can continue to meet these unprecedented challenges with our local and global partners?
From PPE & medical supplies for hospitals to healthy meals for communities experiencing food insecurity, MATTER is committed to coming alongside those experiencing hardship due to the pandemic.
Designate your donation as 'COVID-19 Relief' and 100% will go towards these efforts.
Put the "DO" In Donate Order. Pack. Give.
Both safe and fun, the Volunteer Kit is designed for easy packing in homes so individuals, families or small groups can pack 50 healthy MATTERbox Snacks Packs and distribute them locally to kids out of school, seniors, or anyone who might be vulnerable at this time.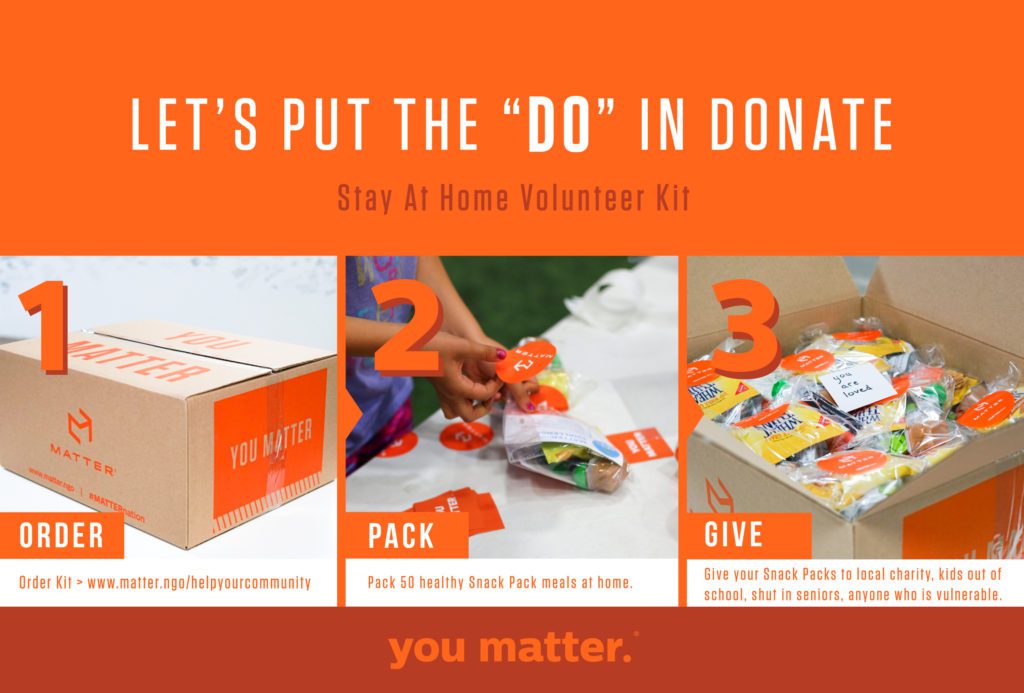 Buy One. Feed One.
Looking for an easy way to help?
Shop the new MATTER Store for your YOU MATTER t-shirt, hoodie or sweatshirt.
Proceeds will help support getting meals out to the community!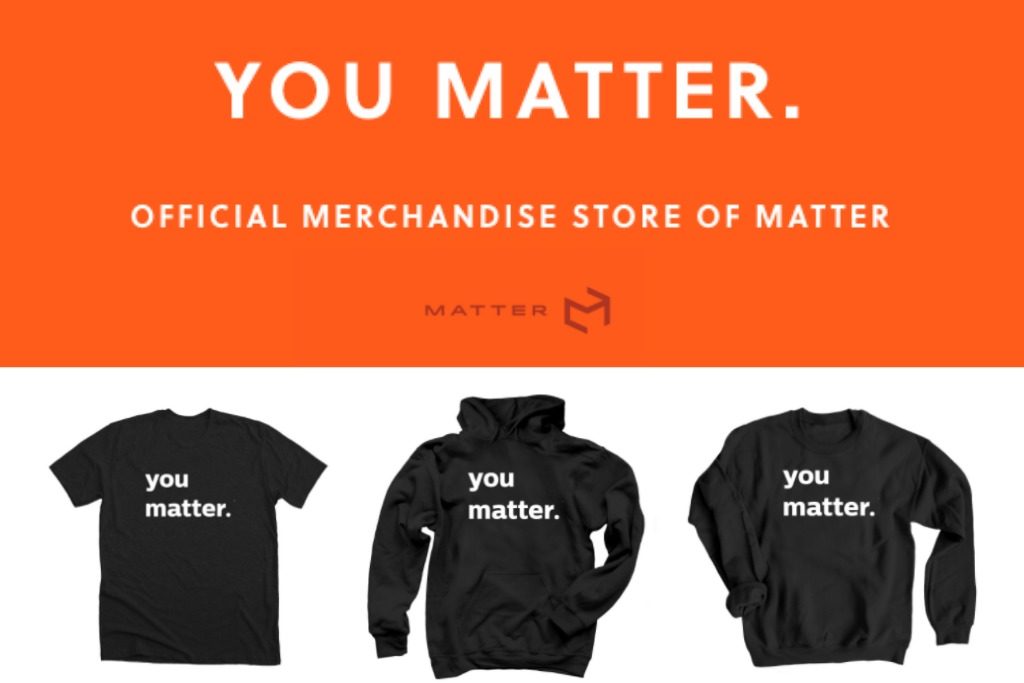 MATTER in Action
Learn more in our blog about how MATTER's work improves communities around the world.