MATTER is joining with KSTP 5 Eyewitness News for Feeding Minnesota, a summer-long campaign addressing the needs of food insecurity and hunger in our communities. In the upcoming weeks, we will be highlighting stories featuring the collaboration with our amazing community and corporate partners to provide 50,000 healthy meals to children and families this summer.
Colliers Minneapolis-St. Paul (MSP) is one of the largest commercial real estate firms in the Twin Cities and one of our special corporate partners. MATTER's history with the company goes back to 1977 when MATTER's founder, the late Dennis Doyle, founded Welsh Cos., which was acquired by Colliers International Toronto in 2017. As Colliers MSP, the company still maintains many of the same values that Dennis instilled in Welsh Cos., especially that of putting people first.
Jean Kane joined Welsh Cos. in the mid-1980's, eventually becoming its president and COO before assuming the role of CEO in 2012, a title she retained after the acquisition. Now, thirty-some years after joining Welsh Cos., overseeing its enormous growth, and leading it through a successful acquisition, Jean is set to depart from the company.
On Wednesday, employees at Colliers MSP threw Jean a much-deserved party to celebrate her incredible tenure. In keeping with the company's, and Jean's, value of putting people first, and to honor Dennis's legacy of giving back to the community, the employees chose to incorporate a MATTER packing event during the celebration.
Using MATTERbox Volunteer Kits, employees enthusiastically packed nearly 1500 healthy meals during the MATTER packing event for Children's Minnesota Hospital. Jean expressed appreciation to her colleagues for making her party even more memorable by adding the packing event.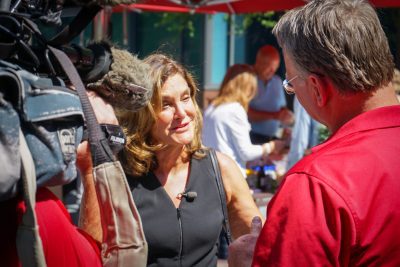 "Dennis was a mentor, partner and friend. I learned a lot from him. Specially, that as leaders we need to serve not only our people and clients of the business; but, also the broader community. One memorable quote from Dennis is "do good, by doing good". Today, was an opportunity for all of us at Colliers celebrate being together and to honor Dennis' legacy by coming together and serving others in need." 
Congratulations to Jean! We're grateful for the support MATTER's received from Welsh Cos. and Colliers MSP under her leadership, and we look forward to continued collaboration in the future as we both seek to put people first by doing good in our communities.
Quenton Marty, MATTER's President added, "All of us at MATTER are incredibly thankful for the strong support that Jean Kane has provided for our work over the years. Her leadership at Welsh and Colliers has been the driving force for change for thousands of people in our community. We are honored to partner once again to get meals out to those in need. We wish Jean the best in her future and we look forward to continuing the legacy of service that she has modeled to all of us."
Interested in learning more about Feeding Minnesota and how your company can participate in helping MATTER provide healthy meals to children and families in our communities? Contact Victor at MATTER for more information.