On the grounds of the Victoria Falls Hospital, under the heat of the intense Zimbabwe sun gathered a small group of people from the hospital, the community and MATTER. After surveying a strip of land adjacent to the hospital's back parking lot, it was declared "the perfect spot". The area, neglected and overgrown with weeds, hardly looked perfect for anything, much less the plans this group had in store for it.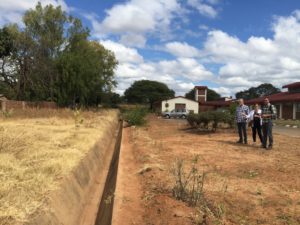 Fast-forward eight months and the abandoned strip of land next to the parking lot is now a lush, flourishing garden producing nutritionally rich food for the new mothers at the hospital. The transformation is quite a sight to behold!
The soil in this area of Zimbabwe, notoriously sandy, makes it hard to grow food. The first step in establishing the garden at the hospital centered around building a worm farm. Worms are nature's way of creating the nutrient-rich black soil perfect for growing food. Large square beds filled with manure and food scraps house the Red Wiggler worms. The beds, covered with compost and kept moist, maintain the perfect temperature for the worms to thrive. As they eat their way through the organic refuse, their castings create the nutrient-rich soil in which plants thrive.
Thanks to the worms doing what worms do, the expectant mothers' diets are now fortified with delicious offerings of kale, spinach, lettuce, okra, onion, tomato and carrot fresh from the nutrition garden.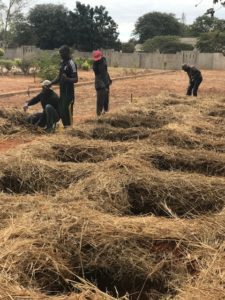 But feeding patients is not the only valuable service this garden provides. It also serves as a demonstration garden for the community. Under the supervision of the garden manager, Silent Kaseke, local school children help in maintaining the garden, gaining valuable gardening experience and learning the importance of nutrition.
"The kids are excited about this because they get to learn a lot in the process, like they get to know notorious weeds that compete with our vegetables for nutrients, and also get to know about different pests that have the potential to destroy our crops if left uncontrolled. We also conduct tours at the garden with community groups, and the response is overwhelming. Everyone is amazed." Garden Manager, Silent Kaseke
A collaborative effort between the hospital, community and international partners, and MATTER, the garden has become an important component for patient care.
"The hospital is extremely grateful for the garden fresh produce. The patients are getting the very best nutritional value from them and the veggies go a long way in alleviating food problems in the hospital." Collen Ackim, Victoria Falls Hospital Nutritionist
With the success of the garden at the Victoria Falls Hospital, more nutrition gardens will dot the Zimbabwe landscape in the next three years, increasing access to health and providing communities with the tools and training to grow nutritionally dense food to feed families and improve health outcomes throughout Zimbabwe. If you would like to come alongside us to learn more or support this work, please visit our website  or contact chris@matter.ngo.