This week's blog is written by MATTER's Vice President of Business Operations, Victor Salamone. 
Lights! Camera! Action!  
Standing in the darkened studio room under a bright spotlight with a television camera staring us in the face, my MATTER colleagues and I straightened our aprons, took a deep breath to calm our nerves and happily welcomed our TV audience who was watching from their hospital rooms. Being careful not to look at ourselves on the monitor or step on each other's lines, we started preparing and cooking one of our healthy YOU MATTER Cooking recipes, Black Bean and Corn Pasta Salad. Before we knew it, thirty minutes had passed, we were dishing up the finished pasta salad for the in-studio audience and waving goodbye to the camera. Our first YOU MATTER Cooking Show on live TV was a success!  
It was also another encouraging confirmation that this healthy cooking initiative that we developed and launched in 2019 can impact people in a variety of settings. Let me take you back for a moment to explain how we got to this point.  
I joined the MATTER team in 2016, bringing 30 years of experience in the food and hospitality industry to the development of our healthy MATTERbox meal kits and snack packs. Having worked with such well-known companies as Hilton, Famous Dave's and Crave, I knew the importance of providing people with tasty food. No matter how healthy the food, if it doesn't taste good it won't get eaten and the health benefits will be lost.  
That's one of the reasons I'm so proud of our YOU MATTER Cooking initiative. Created in partnership with one of  SUPERVALU (now UNFI)'s talented nutritionists, the nine recipes are not only healthy and nutritious, but they genuinely taste great. And even better, they're easy to make. Each recipe can be used in conjunction with a MATTERbox meal kit that contains all the ingredients needed, minus a few fresh ingredients that can be purchased from the grocery store. 
YOU MATTER Cooking would not have been possible without the generous support of Boston Scientific. Their desire to help young people and their families live healthier lives resulted in the development of this fun and easy cooking class. There's an online version for kids or adults to use independently or in small groups. There's also an easy to use downloadable facilitator's guide so YOU MATTER Cooking can be used in larger groups or classroom settings. We even created several short skill videos to help students learn to use kitchen tools safely and correctly. 
Because it's so user-friendly, YOU MATTER Cooking can be implemented anywhere. Schools, hospitals, community centers, homeschools, youth programs, the possibilities are endless. Currently, Hennepin Healthcare is using it in its Diabetes Prevention Program and Simley High School in Inver Grove Heights is using it in one of their life-skill classes. The feedback we've gotten from these programs, as well as others, is that the recipes are easy, fun and taste great. That's music to our ears!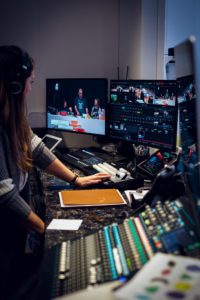 Recently, our partnership with Boston Scientific expanded to include Masonic Children's Hospital in Minneapolis. Collaborating together, the idea was born to broadcast live cooking shows in the hospital's amazing Zucker Family Suite and Broadcast Studio showcasing YOU MATTER Cooking recipes. With the positive response to the first show, we're planning future shows that will feature volunteers from Boston Scientific and maybe even some young patients joining in on the fun!   
After filming that first episode, MATTERbox meal kits were given out to patients and staff. People excitedly took a box, anxious to make the recipe at home that they had just watched being made on TV. We couldn't have been more pleased; that's exactly the response we were hoping for! Five more shows are in the works and we're looking forward to the collective impact of the shows on helping patients and their families develop healthy eating habits now and into the future.  
If you have an idea of how YOU MATTER Cooking can be used to help young people develop life long, healthy eating habits please let us know. At MATTER, we're here to collaborate with you to bring your ideas to life. And a special thank you to Boston Scientific and Masonic Children's Hospital for making this opportunity possible!