November is the time of year to reflect on what we're grateful for and here at MATTER, we're very grateful for our volunteers. Because of their generous efforts, we're able to launch incredible projects that help improve communities next door and around the world.
MATTER's volunteers are a diverse bunch. From students to soccer moms to retired CEO's, MATTER is blessed with amazing people dedicated to giving a portion of their time and energy to helping move MATTER's mission forward.
People like Judy Timmons. Judy came to MATTER as a volunteer last Spring after seeing a story on KSTP Eyewitness News about the MATTERbox Volunteer Kit. Intrigued, she started researching MATTER. Not only did she resonate with our mission, but she discovered we're only a couple of miles from her home, practically neighbors! Upon learning about an available volunteer opportunity to help with our MATTERbox projects, she was eager to get involved because she knows volunteering matters and can make a huge difference.
"In February of 2020, I was diagnosed with cancer just as the pandemic was hitting the US. By the time I had completed treatment, my corporate role had been eliminated and, as a result, I was provided an opportunity to explore a new chapter of my life. Shortly afterward, I heard about MATTER and wanted to use my free time to volunteer here."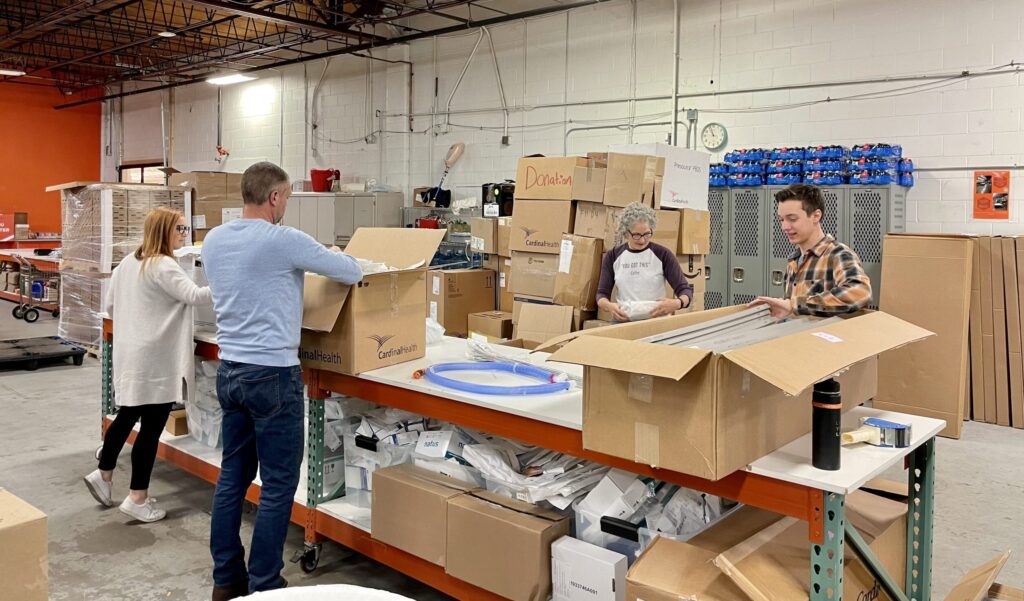 Working alongside the MATTERbox team, Judy was responsible for organizing supplies and facilitating the volunteer food packing events at MATTER. With her decades of experience managing teams, Judy quickly learned how to make the packing experience fun and meaningful for the volunteers as they packed Volunteer Kits with healthy snacks and meal kits with nutritional meals for families.
After several months in that volunteer position, Judy applied for and was hired as a part-time Medical Supplies Associate. Today, she helps MATTER repurpose donated medical supplies for distribution to our international hospital partners, and for resale and recycling. Most days find Judy sorting through the myriad of supplies that are donated to MATTER weekly, everything from sutures and syringes to catheters and clamps, and a whole lot more. It's a lot to learn, but Judy is more than up to the challenge.
"It's a big learning curve, and I'm enjoying the work and the team here. My corporate experience of leading teams, managing projects, and improving processes transfers nicely. I'm excited to continue learning and to apply that learning as I help deliver a meaningful experience for our volunteer groups and, ultimately, help MATTER help more people."
Helping people is what it's all about. Our sincerest thanks to Judy, as well as all of our incredible volunteers who partner with us to help make this world a better place.
You can join us! We have some upcoming volunteer opportunities available to pack MATTERbox Volunteer Kits in our MATTER warehouse. This is the perfect activity for individuals, families and small groups to give back to the community this holiday season. Volunteering matters! Sign up here today!