The Minnesota Timberwolves, Hy-Vee and MATTER are teaming up to educate and inspire kids on the importance of healthy eating! From February 13-27, customers at all 10 Twin Cities' Hy-Vee stores can participate in this exciting initiative by purchasing coupons at checkout that will provide MATTERbox meal kits and snack packs to children and families in our community who may not have access to healthy food.
Both Hy-Vee and the Minnesota Timberwolves have each pledged up to a $5,000 match for shopper MATTERbox purchases during the campaign.
With childhood obesity rates on the rise, MATTER is finding innovative ways to teach and encourage children and families to make healthier food and lifestyle choices, and we're excited to partner with this popular retailer and sports team to help tackle this challenge.
"As a grocer, it's our responsibility to make sure people have access to nutritious food and understand the importance of a healthy lifestyle. This partnership complements our mission to make lives easier, healthier and happier."  Mary Fuhrman, Senior Regional Vice President of Hy-Vee's Northern Region.
The Minnesota Timberwolves know firsthand the importance of healthy nutrition and eating for optimal wellness and performance.
"Health and wellness are huge focus areas for us at the Minnesota Timberwolves and Lynx. We are thrilled to partner with Hy-Vee to provide MATTERboxes in our communities and help kids and families take small steps toward living healthier lives." Jennifer Ridgeway, Vice President of Social Responsibility for the Minnesota Timberwolves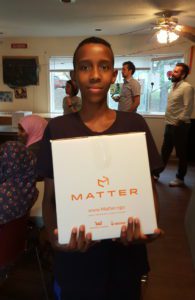 A MATTERbox meal kit is so much more than simply a box of food. It's a "nutrition activator," helping people take their first steps toward a healthier life. Filled with healthy, shelf-stable foods, a recipe book and nutrition education, it's a teaching tool to help families balance their diet, shop healthy on a budget and create healthy meals.
The MATTERbox snack pack is a healthy alternative to the typical empty-calorie snacks kids consume. It offers a nutritious boost of a delicious protein, a healthy carbohydrate, and a yummy fruit. Included with every snack pack is a fun health challenge card, along with a handwritten You MATTER note to feed their hearts and inspire their spirits.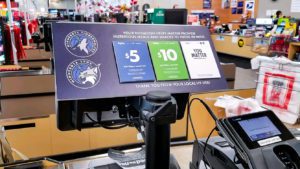 The MATTERbox meal kits and snack packs purchased during this campaign will be distributed through the Tony Sanneh Foundation, a local organization dedicated to improving the lives of youth in our community by providing programs that strengthen physical health, and social and emotional development.
MATTER is grateful for these community partners who team with us to increase access to health across the Twin Cities. Please join us! Look for the in-store display at your favorite Hy-Vee and purchase the coupons at checkout.
Read the joint press release announcing this exciting initiative here!