In what may be occurring for the first time in U.S. history, today's children may have a shorter life expectancy than their parents. Possibly by as much as five years.
Two of the major causes of this health crisis are poor diet and physical inactivity. According to the CDC, the percentage of children and youth affected by obesity has more than tripled since the 1970s. Today, 1 in 5 kids in America suffer from obesity.
But what if we could give those five years back?
That's the challenge MATTER is addressing over the next three years: How to reverse this devastating trend so today's youth can live the full and healthy lives they deserve.
Our solution is the MATTERbox, a tool designed to help activate healthy eating for kids. Each box incorporates an intentionally designed meal kit offering a dignified experience of healthier eating. MATTERbox snack packs, a lighter version of our meal kits, offer kids a nutritious alternative to the junk food they often consume. With easy recipes and goal-setting cards included, MATTERbox meal kits and snack packs help kids and families think about food differently. In short, MATTERbox teaches kids healthier eating habits!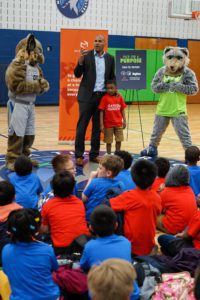 But getting kids to change their eating habits and become more active is not easy. That's why we partner with athletes and sports organizations that serve as valuable influencers for today's youth. When their sports heroes talk about the importance of nutrition and fitness, kids listen. It's also why we diligently seek out community partners who work directly with young people and share our mission of health and nutrition. Sports camps, community centers, schools, even mobile libraries serve as important allies to get MATTERboxes into the hands of children and families who need them most.
Expanding the impact of MATTERbox beyond the Twin Cities of Minnesota is a vision we are now seeing realized with MATTERbox DIY Kits. Traditionally, MATTERboxes are packed and distributed in and around the Twin Cities in partnership with local businesses and corporations. Launched in 2018, the MATTERbox DIY Kit makes it possible for groups and organizations anywhere in the country to hold their own MATTERbox volunteer packing event and distribute the healthy food to partners in their own communities.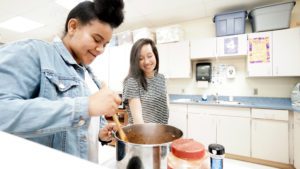 Helping kids understand the importance of nutrition is the first step towards reversing the current trend and giving those five years back. But for lasting change to occur, they need to go beyond awareness and learn how to apply their knowledge to daily life. In partnership with Boston Scientific, we created the innovative YOU MATTER cooking class. Used in conjunction with MATTERbox meal kits and recipes, the cooking class offers fun and engaging lessons in cooking healthy meals. Our easy-to-use cooking curriculum and classes are available online and can be utilized in a variety of settings, including schools and community centers.
You don't have to be a charity to change the world.
At MATTER, we believe that individuals and organizations have the power to create change in their own communities that, over time, has the potential to change the world. Sign up your company to participate in a hosted MATTERbox packing event, or consider conducting a DIY packing event with your own team of volunteers.  Become one of our valued community partners distributing MATTERboxes into the hands of those who need it most, or host a YOU MATTER cooking class in your school or community group.
Join us in creating change for children and young people today to give them a healthier, and possibly longer, future tomorrow!