MATTERbox Madness 2022 is in the books and the MATTERbox Madness Champions Crowned! The annual food packing competition, as fierce and fun as ever, resulted in corporate teams packing 10,000 healthy snack packs for Minnesota children this summer.
The idea for MATTERbox Madness started at Cargill in Minneapolis almost a decade ago. Amanda Escen, now Chair of the MATTER Board, worked for Cargill at the time. She was searching for a volunteer activity to build employee engagement and give back to the community. After discovering MATTER's healthy food initiatives, Amanda created a competitive event for her team packing MATTERboxes. The event was such a success and the reaction from her co-workers so positive she knew this had to become a larger event beyond Cargill. She shared her vision with the MATTER team and MATTERbox Madness was born.
Eight years later, the MATTERbox Madness trophy is back where it all started. Congratulations, Cargill, for being the 2022 MATTERbox Madness Madness Champion!
Winning MATTERbox Madness is especially meaningful to Cargill this year because it was one of the first events their employees have done together since COVID struck two years ago. Joel Sterk, Service Delivery Advisor, explained,
"We were excited to organize a volunteer event as we began coming back together in the office. MATTER was a good fit for our heart to give back to our communities and MATTERbox Madness was a great fit given our history together."
MATTERbox Madness is the kick-off to our annual summer food campaign aimed at providing 50,000 healthy meals to children during the summer. With one in seven Minnesota children facing hunger or food insecurity, the summer months can be especially hard. MATTER partners with community organizations on the front lines of this crisis to ensure that no child spends their summer vacation worrying about where their next meal is coming from. With 10,000 meals now packed, we're well on our way to meeting our goal of 50,000 meals!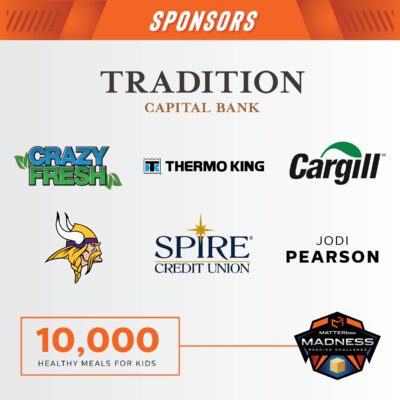 Though Cargill took home the trophy and bragging rights, they weren't the only company that received recognition. The Furthest Distance Award went to Thermo King. Their employees participated from thirteen states – and Puerto Rico! The Spirit Award went to last year's Champion, Tradition Capital Bank. The Rookie of the Year Award went to two teams this year: Spire Credit Union and Crazy Fresh.
Having fun and building comradery is an important part of MATTERbox Madness. Ultimately, though, it's the purpose behind it that is most meaningful to the companies, as Joel Streck from Cargill shared,
"Everyone enjoyed the day of packing and while it felt really good to win the trophy, our entire team agrees the impact MATTER makes in our communities is a much better feeling." 
A special thanks to all of our sponsors for making this year's MATTERbox Madness a success!
There's still time to help provide healthy meals to children and families this summer. In fact, April is National Volunteer Month. What a great time to activate your company to host a packing event to build employee engagement and give back to your community. Other amazing companies that are hosting packing events this month include AIG, Bell Bank, Deutsche Bank, Discover, Land O'Lakes, RBC Wealth Management, Target and Twin Cities Orthopedics.
We are so grateful to partner with all these community-minded companies who are making a huge difference in our world. Working together, we're impacting tens of thousands of children and families with healthy food so they know they matter.
Please go here to learn how MATTER can help your company plan and execute a fun and meaningful packing event.
Watch highlights from the 2022 MATTERbox Madness below!