"Sport has the power to change the world." Nelson Mandala  
Athletes today carry the stature of celebrity. And like celebrities, their public influence and huge fan base puts them in a unique position to make a significant impact in our world. While many recognize the importance of using their influence for good, it's often the case they don't know where or how to begin.  
That's why we created MATTER Pro. Our newest initiative, MATTER Pro, is a purpose agency focused on empowering athletes to activate their impact in the community. By designing a brand platform unique to each athlete, helping them to discover their purpose, and developing a multifaceted strategy to activate it, MATTER Pro ensures amplification of an athlete's impact for maximum effectiveness. 
"There has been a rich history of athletes using their influence to create change in the world. Today, more than ever, there is an expectation for athletes to lead that change. As a result, an incredible opportunity exists for athletes to build their brand around purpose. By leveraging their platform and visibility, athletes can unite and inspire their passionate fan base around cause in a collective effort to multiply their impact, building something that will last." Quenton Marty, MATTER President
Since 2015, MATTER has worked with Minnesota Timberwolves player, Gorgui Dieng, to help him realize his dream of transforming lives in his home country of Senegal. To date, more than twenty containers of life-saving medical equipment and supplies have been shipped for the main hospital in Kebemer; a new dialysis center in Dakar was equipped; and the innovative Gorgui Dieng Center for Agricultural Excellence was built, complete with a working demonstration farm which has already hosted two international farm conferences.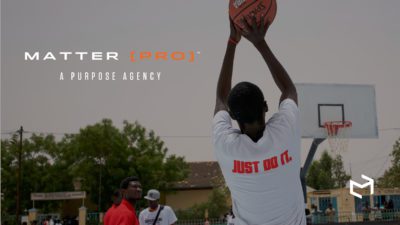 To amplify this amazing work, MATTER teamed up with Gorgui to create a brand platform consisting of a unique logo design, website, social strategy, content creation, fundraising, and event management. At his foundation's annual gala in 2019, MATTER helped Gorgui bring together more than 400 supporters, teammates, sponsors and partners to raise a half a million dollars for his work in Senegal. 
His tireless dedication to his home country hasn't gone unnoticed by his fellow athletes. Recently, the NBA awarded Gorgui with the prestigious Offseason NBA Cares Community Assist Award. We can't think of a more deserving recipient and are so proud Gorgui is receiving recognition for his work! (You can read more about this award here.) 
As a founding partner of MATTER Pro (along with Timberwolves season ticket holders, Roger and Nancy McCabe), Gorgui is eager for his fellow athletes to experience the same purpose and impact that he's experienced. 
 "MATTER and I have worked together for many years, making a difference in my country of Senegal. My hope is that through MATTER Pro, other athletes can also embrace causes important to them and create their own personal legacy."
MATTER Pro board member Matt Makovec, Director of Community Relations & NBA2K Player Operations for the Los Angeles Lakers, added: "I believe MATTER Pro offers a unique opportunity to help athletes really embrace purpose through their platform as athletes, in turn bettering the world." 
As MATTER launches this new MATTER Pro initiative, MATTER is grateful for the generosity of the Gorgui Dieng Foundation and the Roger and Nancy McCabe Foundation to make MATTER Pro a reality. We're eager to come alongside more athletes to help them realize their dreams for changing the world!