MATTER's work results from innovative and collaborative partnerships that meet needs and find solutions to help people live healthier and more fulfilling lives. Our collaboration with two leading-edge companies, Jamf and Modular Life Solutions, has resulted in one of our most exciting initiatives to date, the MATTER Innovation Hub. A 21st century classroom designed within a shipping container, the Innovation Hub runs on solar power, utilizes the latest Apple technology, and can be deployed anywhere in the world.
On display last week at the Jamf Nation User Conference (JNUC), the largest gathering of Apple administrators in the world, the Innovation Hub wowed conference goers with its technological capabilities and potential for global impact.
A class of fourth graders from Prodeo Academy in Minneapolis came and toured the Hub. Squeals of delight could be heard well beyond the walls of the Hub as the young students excitedly programmed drones to fly above their heads and manipulated robotic spherical balls to roll around a table—skills learned on site through hands-on, self-directed activities.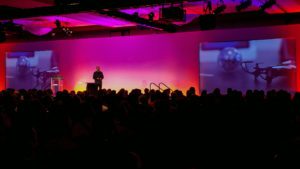 Jamf CEO Dean Hager, in his keynote address at JNUC, explained how the Innovation Hub came into existence. An opportunity arose to bring technology education to a school in Cite Soleil, Haiti, one of the largest, poorest and most dangerous slums in the Western Hemisphere. With no electricity, the task seemed virtually impossible. But the potential for changing lives was too great an opportunity to pass up. That's when Jamf, MLS and MATTER collaborated together to find a solution,
"So if the classroom can't handle the technology, we had a thought: 'Why not ship the classroom?' And that's how the MATTER Innovation Hub was born."
With the first Innovation Hub now deployed in Cite Soleil, kids that have never seen a light bulb before are now receiving a modern, high-tech education that will open doors of opportunity to futures they once could only dream about.
An Innovation Hub has also been set up at Urban Ventures, a Minneapolis organization that seeks to break the cycle of poverty by preparing and sending every child in the surrounding neighborhood to college or postsecondary education. The MATTER Innovation Hub helps provide these students with the technological skills they need to make that goal a reality.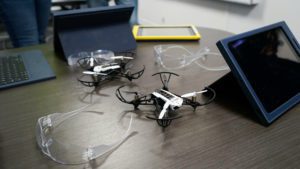 As part of MATTER's three-year initiative beginning in 2019, MATTER plans to deploy more Innovation Hubs worldwide, with plans already underway to send a Hub to a school in Victoria Falls, Zimbabwe. With half of the population under 18 years, it's imperative to Zimbabwe's future that its students can compete in a technologically connected world.
The MATTER Innovation Hub is a game-changer for equalizing education and providing new opportunities to students world-wide. During his keynote address at JNUC, Dean Hager reflected on the life-changing impact of the Innovation Hub on the kids in Cite Soleil,
"These kids all woke up in a shanty hut, and more than likely slept on a dirt bed to come to school [without having seen] electricity before. And they walked into a shipping container and had a classroom as good as any in the U.S. When I imagine what these kids are going to be doing in 12 years, the sky's the limit and I just couldn't be more proud."
With the deployment of more MATTER Innovation Hubs across the nation and around the world, the sky truly will be the limit for the children we aim to serve. Want to join us in this exciting initiative? You can learn more here.