"The families I come into contact with were struggling to put food on the table when the economy was good. With COVID now, things are so much harder for them. Many of the parents are not working anymore or their hours have been cut in half and their problems have multiplied. It just breaks my heart, especially when I see the children suffer."
Crime Prevention Specialist, Terry Dehmer, sees his share of struggling families. Working with the Brooklyn Park Police Department, Terry's job is to help build relationships with businesses and residents in an effort to reduce crime and keep people from being victimized. One of the ways he's found to help build those relationships is with MATTERbox snack packs.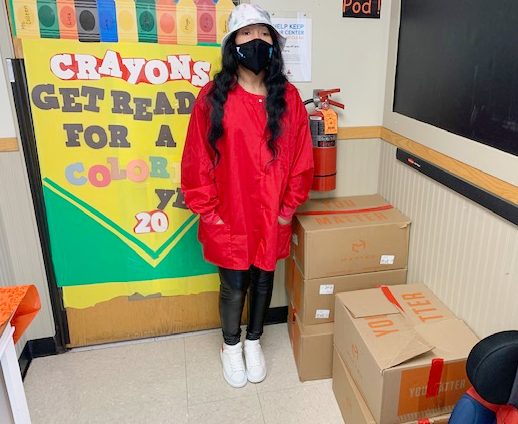 As part of Terry's job, he visits childcare and youth centers to read to the children, get to know them, and help them better understand the role of police officers in their neighborhoods. About three years ago, he started bringing MATTERbox healthy snack packs with him on these visits.  "They've been a game-changer. When I walk into these places with the snack packs, the kids just light up. They are so, so thankful."
Filled with whole-grain crackers, unsweetened applesauce and a soy peanut butter substitute, MATTERbox healthy snack packs are nutritious alternatives to the junk food that make up much of kids' diets today. That's a big reason Terry uses them in his work.
"There are food deserts in our city where the only places people can go is a Quick Stop and there just is not a lot of healthy stuff in a Quick Stop. So it's important to me that I'm giving the kids food that is healthy and balanced, not dropping off a bunch of Cheetos and Diet Pepsi."
Perhaps the most important aspect of Terry's interaction with kids is helping to foster a positive image of the police. Using MATTERbox healthy snack packs, Terry can show the children that police officers care about them and are there to help them.
"This week I went in to deliver some snack packs to one of the daycare centers I visit. There was a family with four little children. The kids greeted me and asked what I was doing there. I said I was bringing food for everybody. They came over, wrapped their arms around my legs and said, 'Thank you, Mr. Police Officer!' It brought tears to my eyes. You can't buy that these days. And I like that they saw that it was someone in uniform, so they know that the police really do care for them. That day meant a lot to me and your food made it happen."
Creating more moments like this is the reason we've kicked off our seventh annual MATTERbox Madness earlier this week. In collaboration with our amazing corporate partners, we've launched our goal of providing 50,000 meals this summer to our community partners who are on the front lines helping meet the needs of struggling families and letting them know that someone cares.
To Terry and the Brooklyn Park Crime Prevention Unit, and all our community partners who are using MATTERbox snack packs to make this world a better place, thank you. You matter!