What do a fire truck, golden dragons, and healthy food have in common? It's a shinning example of a local company's commitment to community here and abroad. On December 15, 2015 Matter's partnership with the quartz counter top manufacturer, Cambria, culminated in an event to generate community impact both in Minnesota and Panama.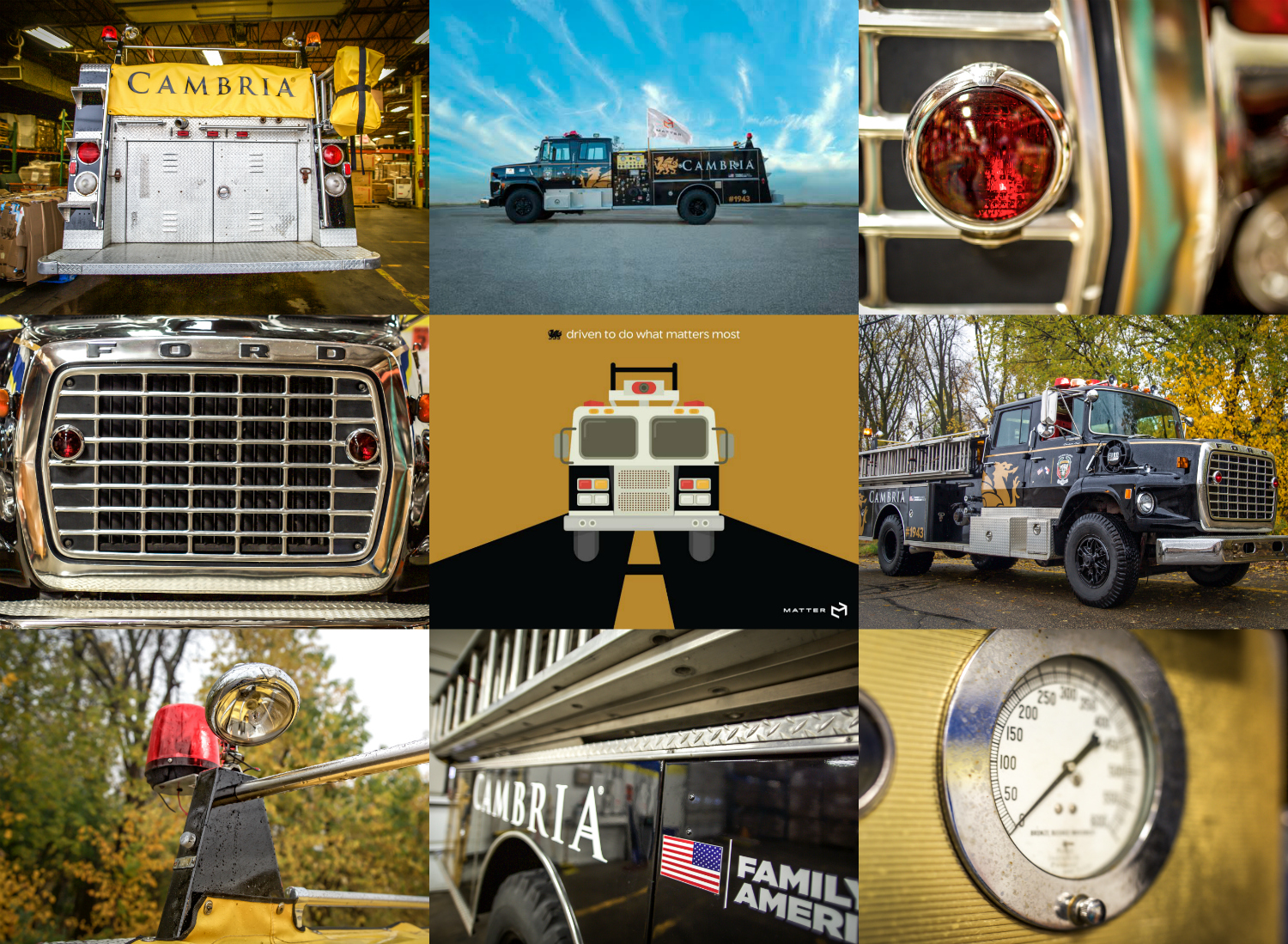 Fire Trucks and Golden Dragons:
In October of 2014, Marty Davis of Cambria, made a commitment to social responsibility by purchasing a fire truck, to benefit the community of David, Panama. Once Marty learned more about the vibrant David community, he decided to transform the fire truck from ordinary to extraordinary. Cambria teamed up with Matter morphing an ordinary red fire truck's exterior to a sleek black, decorated with the iconic golden Cambria Dragons!

Healthy Food:
With the fire truck painted, it was time to celebrate with a sendoff worthy of its destination and purpose. To celebrate, Cambria rallied 150 of its employees from multiple locations to compete against one another to set a MATTERbox record. Teams arrived in style, sporting ugly Christmas sweaters and decked in Cambria colors. It was clear by the energy in the room that they were proud of their company, invested in their community and ready to compete! Cambria employees packed nearly 1,000 MATTERbox dinners in record-breaking time! On December 17th, Matter delivered the meals to local partners in the Twin Cities.
Panama Partnership for Success:
Cambria and Matter have partnered with the Rotary Club of Edina, Minnesota, the Rotary Club of David, Panama, and Fundacion Amigos de Boquete, Panama to ensure the success of the Cambria Fire Truck Mission. The Edina and David Rotary Clubs and Amigos worked together to manage and fund the transportation of the Cambria fire truck from Miami, Florida to the Bomberos Main Fire Station in David, Panama. They also obtained Operating Manuals and introduced the David Bomberos to the Head of Technical Support for Central America at Waterous, the manufacturer of the Cambria fire truck's pumping system, so that the Bomberos can receive technical support in Spanish whenever necessary.
Matter's trusted partnership with the Edina and David Rotary Clubs and Amigos has been forged over a number of years and has involved the delivery of nine containers of humanitarian aid provided by Matter for those in need in Panama. Matter's relationships with its trusted partners on site, both locally and internationally, are critical to its ability to ensure the success of its Missions wherever they are undertaken.
Cambria: A Company that Matters:
Through financial support and volunteerism, Cambria is taking the simple act of being resourceful to new heights. As a result making a big difference in expanding access to health, next door and around the world.
Stay tuned for Driven to What Matters Most: Part 2 to see what happens when the fire truck arrives in Panama.
Find out how you can become a Company that Matters.