Imagine you're a young child waking up one day to find a lump developing in your abdomen. Over the next several weeks, the lump gets larger and becomes more uncomfortable. As it grows, you start experiencing nausea, heartburn and constipation. You feel miserable. If you live in the United States, you'll be taken to a doctor where you'll be diagnosed with a hernia. A common condition, you'll have outpatient surgery to repair it and join the ranks of about a million people who undergo this type of surgery every year. You'll recover quickly and get back to your busy life of learning, playing and growing up. 
However, if you're living in a low resource country, which has neither the equipment nor the trained doctors to perform surgery, you're out of luck. You'll have no choice but to live with this painful and possibly fatal condition. Unable to concentrate at school, you'll struggle academically. Unable to play with your friends, you'll struggle socially. If you survive into adulthood, you'll struggle to meet your basic needs. A medical condition which can be easily treated in countries like the United States, can ruin a life for half the population of the world.  
That's why MATTER has taken on the challenge of improving access and quality of healthcare in these low resource countries. No child or adult should needlessly suffer when there are solutions to alleviate their suffering. But these solutions often require innovative collaboration.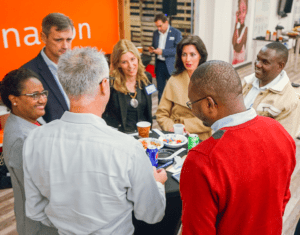 That's one of the reasons we recently held our first MATTER Partner Conference. Recognizing how vital our partners are to the work we do in equipping hospitals, as well as in healthy food, agriculture and education, we brought together about 50 of our local and international partners for a day of connecting, learning, sharing and brainstorming. 
Among the partners who spoke was Dr. Peter Melchert. Dr. Melchert, an internist and pediatrician at Abbott Northwestern Hospital and Children's Hospitals of Minnesota, is also Director of Medical Simulation International, an organization that develops novel training tools to benefit medical providers in low resource areas. 
Through MATTER's hospital program, our local hospital partners donate equipment and supplies which we then ship to hospitals and clinics around the world. But equipping these hospitals is sometimes only part of the solution to improving healthcare for their patients. With few trained personnel, particularly surgeons, the care they offer might be minimal, at best.  
That's where Dr. Melchert comes in. Using the latest advancements in technology, his organization is developing simulated computer training in surgical procedures for doctors in these areas. When completed, there will be training programs for the 44 surgeries deemed essential by the World Health Organization.  
"Simulation is widely used in medical training here in the United States and elsewhere in high resource areas. But it hasn't been utilized in low resource countries. I think it can make a huge impact and help with the workforce problem facing healthcare in these areas." 
The first simulation program that's been developed is for obstetric fistula. Often called the scourge of poor women, obstetric fistula results from prolonged and obstructed labor. Women with obstetric fistula suffer from chronic leaking of urine or feces, leaving them often as outcasts of society. All but eliminated in the developed world and easily repaired by surgery when the occasional injury occurs, obstetric fistula is epidemic in low resource countries. Dr. Melchert explained,
"There are millions of women who suffer from this. They are the lowest on the social totem pole. That's why we're doing this. They need our help."
MATTER is privileged to partner with Dr. Melchert and his colleagues whose work will save millions of lives and prevent the unnecessary suffering of untold numbers of people. With MATTER equipping hospitals and Dr. Melchert's simulation training a vital tool for its doctors, common medical conditions like hernias, and traumatic conditions like obstetric fistula, will no longer be life sentences of pain and isolation. Patients in these hospitals will have hope again. 
Like Dr. Melchert, all of our partners are dedicated to helping people live healthier, happier and more fulfilling lives. Through healthy food, agriculture, healthcare and education, MATTER and our partners will continue our life-changing work. Please join us! Your support is crucial to our continued efforts to increase access and quality of health next door and around the world. Learn more here!