"This is so good! And it was super easy. I'd definitely make this again." Fourteen–year-old Briar is taking her second forkful of the pasta salad she just made. Filled with black beans, corn, tomatoes, red and yellow peppers, red onion, cilantro, and avocado, it's bursting with color and smells amazing. But best of all, it's tasty and healthy. Briar adds a squeeze of lime and takes another bite. "Perfect!"  
The recipe, Black Bean and Corn Pasta Salad, is one of nine healthy recipes from the You MATTER Cooking website. Designed to teach healthy cooking skills, the recipe courses on the website come complete with step-by-step directions, skill videos and nutrition education activities, making it a fun learning activity for families to do together or for youth to do by themselves with adult supervision. Even children can participate with the easier recipes.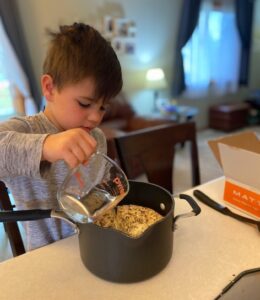 Six-year-old Owen recently made the 10-Minute Rice Meal with his mom, Alena. As a mother of three, Alena often encourages her kids to help her in the kitchen. Despite the extra time and patience it requires to include them in the cooking process, she thinks it's worth it.  
"I want them to eat healthy and I know they're more willing to try something when they help make it rather than when I just put it in front of them.  I also want them to learn how to cook, especially my boys. It's an important skill they will use throughout their lives." 
Adding their own fresh ingredients to the items included in the MATTERbox meal kit made the process fun for Owen. Opening the MATTERbox and taking out each item, he sounded out the names on the labels, announcing to his mom what each one was. Excited to see the can of black beans, his favorite, he was nervous about the diced tomatoes. However, when it came time to sit down and eat their finished creation, he didn't think twice about them. Alena was happily surprised,  
"Like a lot of kids, Owen has sensory issues when it comes to eating and tomatoes are usually one of the foods he refuses to eat. I'm impressed he's actually eating them and likes them!" Added Owen with his mouth full, "Everything tastes so good, I don't really even taste the tomatoes!"  
For Jessica, mother of four, finding an activity that can get her middle schoolers out of their bedrooms and doing something together during the stay at home order has been a challenge. Encouraging them to make a You MATTER Cooking recipe together, she hoped it would be a constructive activity they would enjoy. Following the directions on their computer, they made their way through the Southwest Burrito Wrap, learning a few nutrition facts and some new cooking skills along the way. For Jessica, it was fun to see them working together as a team.  
"I was there to supervise, but they did it all! And I have to say, we were all surprised at how good the wraps were. We'll definitely make these again. Or, I should say, my kids will definitely make these again!"  
At fourteen, Briar is a veteran in the kitchen, having cooked and baked with her mom since she was young. But even so, making the Black Bean and Corn Pasta Salad had its challenges. Watching the skill video on how to chop an onion, she carefully followed the directions while blinking back the tears and masterfully diced her first onion.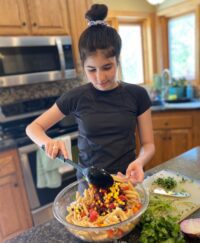 Proudly adding her pasta salad to the dinner table that evening, Briar received a five-star rating from her family. "I'll definitely make another You MATTER Cooking recipe. I like how it helps you go step-by-step so you really can't mess it up. And you can take out or add what you want. It was a lot of fun and everybody loved it!" 
Try a You MATTER Cooking recipe today with your kids! You can do one with or without a MATTERbox meal kit. We guarantee it will be a great family activity that will not only teach your kids basic cooking skills but will surprise everyone at how good it tastes.   
See Briar's testimonial below!