When Tropical Cyclone Idai slammed into Eastern Africa in March, it became one of the worst tropical storms to ever hit the continent. Wiping out entire villages and leaving more than 1,000 people dead throughout Zimbabwe, Mozambique and Malawi, with thousands more still missing two months later, it stands as the third deadliest tropical cyclone ever recorded in the Southern Hemisphere.
The devastation left in the wake of a storm the size of Idai is almost unfathomable. More than 3 million people were directly affected by the cyclone, leaving hospitals and clinics throughout the three countries quickly overwhelmed by the enormous need for medical care.
When our partners in Zimbabwe reported vast shortages of essential medical equipment and supplies, MATTERnation responded with its typical unbounded compassion and generosity, making it possible for MATTER to send a shipping container of relief supplies and equipment to hospitals and clinics in the hardest hit areas of Zimbabwe.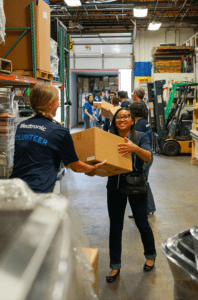 MATTER's amazing supporters got the effort started by raising the funds needed for shipping the 40-foot container. Once the funds were secured, our hospital partners in Minnesota and Iowa filled our warehouse with donated equipment and supplies, donating everything from surgical masks and gloves to wheel chairs and crash carts.
Of the more interesting items donated was a hospital bed pod from MercyOne in Iowa. Designed for use in crisis situations, the pod houses five portable hospital beds, complete with mattresses and linens. Mobile and compact, the bed pod will be a valuable asset to one of the beleaguered hospitals in the crisis area.
Once the donated items were procured, MATTERnation once again stepped up to the plate to get them packed into the container. Medtronic, one of our Companies That MATTER, sent a team of employees to join the MATTER team in getting the container loaded up. This was no easy feat. Packing heavy equipment and hundreds of boxes requires a lot of energy and care, but the Medtronic employees were up for the challenge and excited to be part of the relief effort.
The container will be on the water soon headed for Zimbabwe. Our partners on the ground are eagerly anticipating its arrival.
"The container of equipment and supplies will be a huge help for the doctors and nurses assisting with the day-to-day care of the victims of this disaster. Zimbabwe is very grateful for the assistance. Thank you!" Anne Taggert, Director, Love for Africa Foundation
MATTER is so very grateful to all those who made this effort possible. In addition to those who gave financially, we'd like to thank our hospital partners for their medical donations: Allina Health, Fairview Health Services, HealthPartners, UnityPoint Health and MercyOne. A huge shout out to Lube-Tech, for transporting items from Iowa to Minnesota; and also to Medtronic for providing a great team of employees and making our first-ever volunteer container packing event such a great success!
Thank you, MATTERnation! Together, we will help hospitals and clinics in Zimbabwe provide the victims of this terrible disaster with the care and dignity they deserve. They matter and so do you!