The philosopher Mick Jagger once said, "You can't always get what you want, but if you try sometimes you just might find you get what you need." Well, MATTERnation, we've got you what you need – a good time for a great cause!
Rock The Lake, Vol. 2 is coming on August 22nd from 5-7 pm in Brown's Bay on Lake Minnetonka. Proceeds from this unique boat-in concert will go towards helping communities at home and around the world that have no access to nutritious food or dignified healthcare.
Helping us rock out will be Minnesota's own, The Rolling Stoners. While not a tribute band per se, The Stoners describe themselves as "a collective of dearest pals that genuinely admire the early-era Stones live performance magic and mostly dislike special costumes." The result? "Straight-up rock n' roll the way our forefathers intended, down n' dirty."
Lead singer, Joe Gamble, recently stopped by MATTER to visit with the team and learn more about MATTER's local and global projects. We took the opportunity to ask him some questions about his incredibly talented band.
How did the Rolling Stoners get started?
I grew up in a small town that didn't have a lot of access to clubs or playing live music. Like most people, I was influenced by my parents and the music they were listening to. I had a close group of friends and we would always be finding ways to make music. We were in and out of, like, 15 bands, rotating who played what instrument. One of those bands started doing some really cool stuff and we thought, "Let's get out of this small town and come up to the Cities."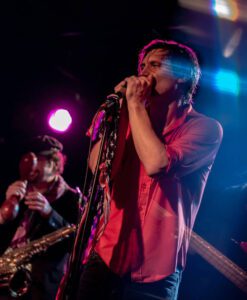 That band went on to become Enemy Planes which had a really great music career. We had lots of success locally and nationally, even toured in Spain. Out of that project, we knew that when we were not on the road we wanted to do something around town. We didn't necessarily want to do cover music, but we wanted to live inside a catalog. And so we looked at options and The Rolling Stones were the perfect fit because it's blues, you can make it your own, and you can emote through it without doing a disservice to the song. As a matter of fact, it's almost a celebration of how the songs were made, to play them in your own spirit. And here we are."
What can people expect from The Rolling Stoners when they come to Rock The Lake?
Being outdoors, on a beautiful lake, with the greatest band of all time being celebrated in spirit and in music, it's going to be great! When people come together for a good cause, that alone creates a good vibe. But when you introduce the music of The Rolling Stones, whether people know it or not, their music is woven into our collective knowledge of what rock music sounds like. It doesn't even have to be their hits, people will just dance when The Rolling Stones are being played. You can't help it! It's going to be a great time. We're really looking forward to it!
Wild horses shouldn't hold you back from joining us at Rock The Lake on August 22nd to help MATTER continue impacting communities here at home and around the world. Together let's rock the lake to change the world! Learn more here.
Here's your personal invitation from Joe Gamble of The Rolling Stoners to join us for Rock The Lake, Vol 2!