Recycling medical equipment and medical supplies helps work toward solving the tremendous problem of reducing medical waste. Taking medical surplus here in the United States and turning it into treasure in another part of the world not only saves lives, it's good for the environment given the tons of waste generated. MATTER 360, a social enterprise arm of nonprofit organization MATTER, does just that, taking items as a donation, including medical devices and hospital beds, and moves these items from their old location, where they are no longer useful, and repurposes this equipment to humanitarian organizations serving patients, in places as remote as Binga, Zimbabwe. In fact, MATTER has shipped over 650 containers to 77 countries over the last 20 years, to improve access and the quality of healthcare. Further, MATTER saved 3.3 million pounds of waste from landfills in 2021 alone, and more than 5 million pounds in the last three years.
How Are Medical Equipment & Supplies Repurposed By Organizations?
MATTER remains committed to repurposing excess medical equipment and supplies to aid people and improve environmental sustainability by reducing landfill medical waste. MATTER accomplishes this through the MATTER 360 initiative, distributing to international hospital and clinic partners, through resales and recycling. Donations of items come from a variety of organizations including hospitals, clinics, and medical supply companies. Any substantial donated items may be picked up by MATTER at the donor's location as a valuable community service to partners, making it easy for medical equipment suppliers to easily dispose of their surplus pieces of equipment or unneeded supplies.
Lisa Campbell, Director of Purchased Services Contracting at UnityPoint Health, a MATTER 360 partner, commented, "The most important thing is that we want to make a difference in people's lives all over the world. We have this reach in Iowa, Illinois, and Wisconsin, but we want to touch more lives than that. This is such important work, being able to help organizations like MATTER with things that would otherwise go into the landfill, or we'd have to pay for someone to haul them away. It makes perfect sense to partner with you. It's a wonderful relationship, our whole vision and purpose are to show people how much they matter, and what better way to do that than by partnering with MATTER."
How Do You Get Recycled Medical Equipment To People?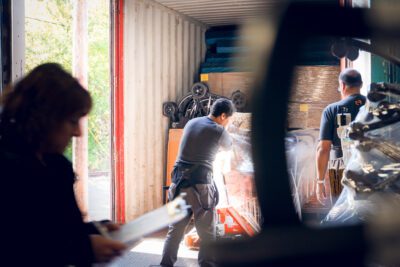 Before repurposing by MATTER, each donation of equipment is checked over as part of the process. Dirty items are cleaned and minor repairs made. From there, donations are reviewed with an eye towards the many projects MATTER partners on around the world. When there is a match, the equipment becomes part of a container shipped to the project at the right time. This provides value to MATTER's partners at the same time that it prevents waste through reuse.
How Do I Partner With MATTER?
It's easy to partner with MATTER 360. If you want to join in the effort through our medical equipment recycling program and keep medical equipment from landfills, reach out to us today. We also accept a wide variety of medical supplies to help prevent unnecessary disposal of these products. Visit MATTER 360 to learn more, watch this You Matter Stories Episode, or contact Joel Anderson, Executive VP of MATTER 360.