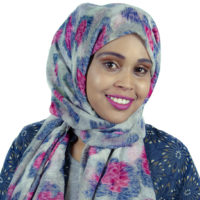 When you meet Nimo Ahmed, you're struck immediately by her kind smile and her warm, engaging presence. When you hear her story and learn what she is doing to make a difference in this world, you realize this petite mother of five is no push over. She's very much a force to be reckoned with.
Nimo is one of the founders and Executive Director of MN Community of African People with Disabilities (MNCAPD), a non-profit organization founded in 2014 to serve the disabled Somali community in Minneapolis. Since its founding, MNCAPD has expanded its mission to include the disabled and marginalized in her birth country of Somalia. The task is immense and the challenges profound, yet Nimo is undeterred. That's why MATTER is proud to partner with Nimo and share her story on this International Women's Day.
Nimo's family moved from Somalia to America when Nimo was still a young child. Her compassion for the disabled was kindled when she broke her back in a car accident as a teenager. Her carefree, active lifestyle was brought to a sudden halt as her world became confined to a wheelchair with months of surgery, treatment, and rehab at Mayo Clinic. Though she eventually recovered from her injuries, the experience changed Nimo in profound ways. It opened her eyes to the world of disability. She understood first-hand the services and resources necessary for a person to live with a disability or to recover from one. Most importantly, she realized her Somali community had little knowledge of the resources available for disabled people or the understanding of how to access them.
Thus, MNCAPD was born. Located in the heart of the Somali community in Minneapolis, MNCAPD provides a variety of services to help the disabled live full and active lives in mainstream society. Services include everything from physical therapy to job skills training.
The success of MNCAPD in Minnesota prompted Nimo to expand its mission to help the disabled in her home country of Somalia where they are often shunned and marginalized from the rest of society.
"When I got in a car accident and broke my back, I realized how difficult it is to go from being an independent to a dependent person. For the disabled in Somalia, it is a very different situation. I had tons of treatment and physical therapy to recover. But in Somalia, they don't have those resources and treat them like it is an illness. That motivated me to help make a change."
Armed with compassion, courage and a fierce determination to restore dignity to the disabled, Nimo set out to change these attitudes by providing the resources they desperately need with the love and care they inherently deserve.
Since partnering with MATTER in 2016, twelve cargo containers full of food relief and medical supplies have been delivered to the people of Somalia, with specific outreach to the disabled community, and more shipments being planned for the future.
In late 2017, Nimo made her first visit back to the land of her birth. To see the country struggling with the effects of war, famine, drought and terrorism, made a huge impact on her. She left feeling hopeful but overwhelmed. Especially when it came to the needs of orphaned children.
"To see disabled kids abandoned by their parents and to hear very heartbreaking stories of destroyed families was very difficult. My goal in the future is to try and find a way to help each and every person."
Nimo's compassionate spirit and tenacity to see the disabled treated with the dignity and care they deserve is inspiring to us here at MATTER. We are honored to work with Nimo and her organization and look forward to continuing our partnership to serve the people of Somalia.
As a woman making a profound impact on the world, what is Nimo's advice to other women on this International Women's Day?
"In order to do your best to help others, first you must be very passionate about the work, and realize it will be a long journey with many challenges. When you're a woman, you will have those who have little to no faith in you or question your abilities. But you just have to show them that you are capable of doing what you put your mind to."