DIY is all the rage these days. Whether it's furniture, home repairs, gifts or decor, everyone wants to Do-It-Yourself. Now, MATTER has incorporated this concept in our latest initiative.
Announcing the DIY MATTERbox. This novel approach to our successful MATTERbox program will activate healthy eating in communities far beyond MATTER's immediate reach; and indeed, all across the country.
MATTERbox is a simple and dignified approach to the very real problem of access to healthy food in many cities around our country. The MATTERbox program strives to educate and empower people towards better eating by providing healthy meals along with nutrition education and easy recipes, helping people take their first steps towards a healthier life.
Traditionally, MATTTERboxes are packed and distributed in and around the Twin Cities of Minnesota, in partnership with local businesses and corporations. DIY MATTERbox makes it possible for groups and organizations anywhere in the country to hold their own MATTERbox packing events and distribute the healthy food with partners in their own communities.
The DIY MATTERbox campaign launches nationwide the week of February 26, 2018. Students and volunteers at 50 college & university campuses in 26 states will pack 300 MATTERboxes at each event. Each MATTERbox will contain two snack packs. At the end of the week, a total of 30,000 snack packs will have been packed and distributed to local schools, health care providers and community organizations throughout the 50 participating communities.
Each snack pack contains Whole Grain Cheerios, Nature Valley bars and Larabars, generously donated by General Mills as part of their Cheerios Good Goes Round campaign. Other items include unsweetened applesauce and WOW butter (a deliciously healthy soy nut butter).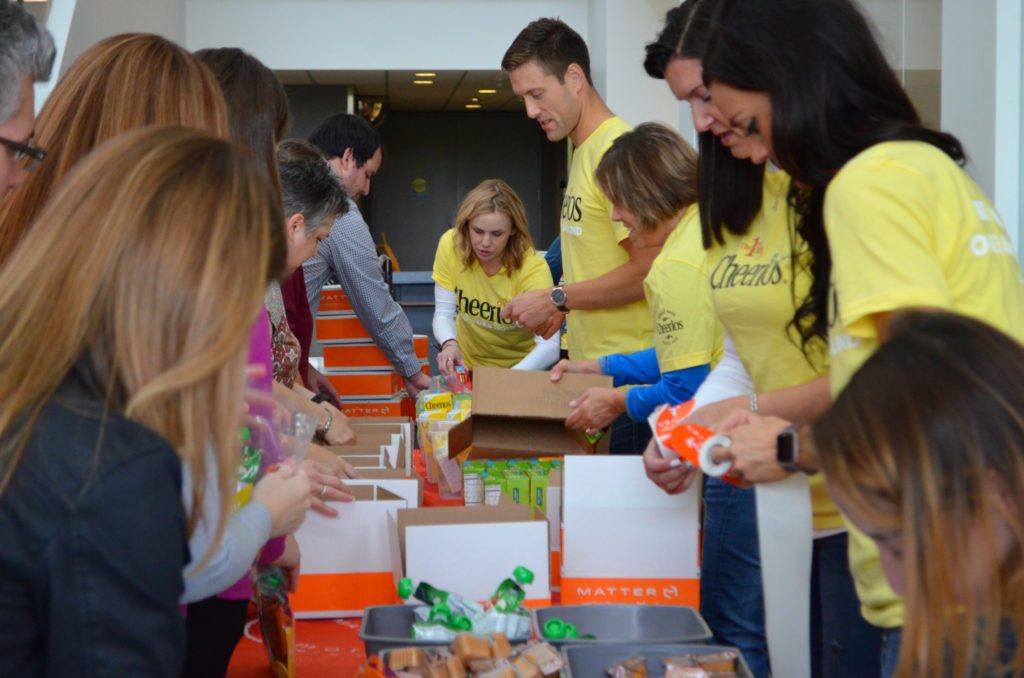 On Feb. 16, 25 volunteers from General Mills came to the MATTER warehouse to assemble the 50 large DIY MATTERbox pallets for delivery to each of the campuses. Each pallet contains everything the campus volunteers will need to pack their own MATTERboxes, from the healthy food to the nutritional education materials, right down to the pens the volunteers will use to write "You MATTER" notes of encouragement to the MATTERbox recipients.
"Events like these really draw a community together because we are no longer one organization or sports team or one individual. We are a group of students united with the passion to make a change in our world and the determination to inspire those around us to do the same."
– Luciana Gizzo, student volunteer, Sacred Heart University
Thanks to General Mills, one of our "Companies that MATTER," and all the students and volunteers who will help give amazing people a chance to live a healthier life. Together, we are #MATTERnation strong!
Download the press release: MATTERbox DIY Expansion
College & university campuses participating in the nationwide DIY MATTERbox campaign:
ALABAMA, Montgomery – Auburn University Montgomery
ARKANSAS, Fayetteville – University of Arkansas
CALIFORNIA, San Luis Obispo – Cal Polytechnic University
CALIFORNIA, Turlock – CSU Stan State
CONNECTICUT, Fairfield – Sacred Heart University
CONNECTICUT, Hamden – Quinnipiac University
FLORIDA, Boca Raton – Florida Atlantic University
FLORIDA, Coral Gables – University of Miami
FLORIDA, Jacksonville – University of North Florida
GEORGIA, Mount Vernon – Brewton Parker College
GEORGIA, Toccoa Falls – Toccoa Falls College
IDAHO, Pocatello – Idaho State University
ILLINOIS, Chicago – University of Illinois at Chicago
INDIANA, Indianapolis – IUPU
KANSAS, Wichita – Wichita State University
LOUISIANA, Baton Rouge – Louisiana State University
MASSACHUSETTS, Boston – College of Fenway
MASSACHUSETTS, North Dartmouth – University of Massachusetts – Dartmouth
MASSACHUSETTS, Worcester – Worcester State University
MARYLAND, Baltimore – UMBC
MARYLAND, Towson – Towson University, Chartwells
MICHIGAN, Rochester – Oakland University
MICHIGAN, Ypsilanti – Eastern Michigan University
MINNESOTA, St. Cloud – St. Cloud State University
MISSOURI, Kansas City – Rockhurst University
MISSOURI, Springfield – Missouri State University
NORTH CAROLINA, Asheville – UNC Asheville
NORTH CAROLINA, Charlotte – UNC Charlotte
NORTH CAROLINA, Greensboro – UNC Greensboro
NORTH CAROLINA, Charlotte – Queens University of Charlotte
NEW JERSEY, Galloway – Stockton University
NEW JERSEY, Montclair – Montclair State University
NEW MEXICO, Albuquerque – University of New Mexico
NEW YORK, Rochester – St. John Fisher College
NEW YORK, Albany – Albany College of Pharmacy
NEW YORK, Buffalo – Buffalo State University
NEW YORK, Garden City – Adelphi Dining
NEW YORK, Hamilton – Colgate University
NEW YORK, Hempstead – Hofstra University
NEW YORK, Pleasantville – Pace University – Pleasantville
NEW YORK, Purchase – Manhattanville College
OHIO, Bowling Green – BGSU
OREGON, Portland – Portland State University
TENNESSEE, Cookeville – Tennessee Tech University
TEXAS, College Station – TAMU College Station
TEXAS, Corpus Christi – TAMU Corpus Christi
TEXAS, Houston – University of Houston
TEXAS, Richardson – University of Texas at Dallas
UTAH, Cedar City – Southern Utah University
WISCONSIN, North La Crosse – University of Wisconsin – La Crosse