This week's guest blog written by Joie Norby Lê, PhD, Co-Director of Education|Special Projects for Friends of the Lakota Nation, Inc. 
Oftentimes, the work we do would not be possible without the assistance of others. For our organization, Friends of the Lakota Nation (FOLN), this certainly proves true. In October of 2019, our nonprofit developed relationships with MATTER and Persolvent. Knowing about the continuous efforts of companies such as MATTER and Persolvent, whose work directly impacts high-need communities with similar operations, a conversation about the opportunity to assist the Pine Ridge Reservation was more than welcome.
Our nonprofit, which serves the Pine Ridge Reservation in South Dakota, is focused on three key areas: education, family support, and special projects. As our organization grows, our efforts to reach additional communities on the Lakota Sioux reservation, an area of just under 3,500 square miles, greatly increases.
As we understand more about the challenges the communities on the reservations face, especially with regard to much-needed food access and family support, our work truly matters. The communities on the reservation are significantly isolated from one another, and while we strive to reach as many as we can, there are many communities in the interior or outlying areas of the reservation that still need attention. They need to know that they, too, matter. It is our hope that such partnerships will allow us to help them realize just that.
With our annual event in mid-December, 2019, our partnership with MATTER, Persolvent and SIMEK'S, a Minnesota company also dedicated to food access and giving back, proved invaluable as our yearly efforts to collect and package food and family support supplies became swiftly implemented through the generosity of these companies. A plan to provide 50 MATTERboxes, 600 snack packs, and 100 backpacks full of support supplies was developed and facilitated by Ashley Gullickson, Director of Marketing and Strategic Partnerships for Persolvent, and team member, Lois Estell, who set up a packing event in which staff from each company could participate.
Persolvent & SIMEK's, sister companies, continually come together to live out our shared core value of being charitable. In business, we have always found that by partnering and complementing our core competencies with other companies, we are able to expand our reach with an ultimately better product/service offering. This holds true when it comes to helping our communities. Through partnering with organizations, such as Friends of Lakota Nation and MATTER, we are able to not only increase our impact but lean on the expertise of these organizations to understand greatest need in the areas they serve. –Ashley Gullikson, Director of Marketing and Strategic Partnerships for Persolvent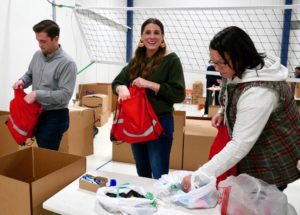 In early December, I traveled to Minnesota to participate in Persolvent's and SIMEK'S packing event, a project made possible through the leadership of Jay Bruber, CEO of Persolvent, Vince Arnoldi, President of Persolvent, Lindsey Hickey, President of SIMEK'S, and many others. In just two hour's time, backpacks were filled, snack packs were assembled, and MATTERboxes created. A friendly competition helped spur the event on as teams raced to see who could fill snack packs the fastest.
During the weekend of December 20th, volunteers for our organization, including Denver-based restaurant, Park Burger, led by Peter Newlin, longtime friend and partner, Brad Corrigan, of the band, Dispatch, helped to successfully distribute backpacks and food kits to several communities. In addition, we provided 400 burgers and s'mores to local residents late into Friday night and the following day.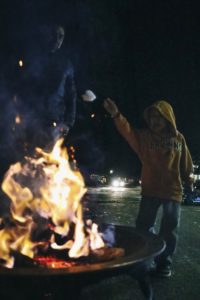 The weekend was an emotional yet rewarding time for volunteers with the greatest impact felt by the residents and families who received support in the form of burgers, s'mores, meal kits, snack packs, backpacks, and most of all, friendship. It is difficult to gauge the impact you have on others when oftentimes, you cannot see the change firsthand. Time is slow on the reservation, and monumental change would require sustained attention to systemic issues. However, sometimes, the little moments become the most impactful.
When we started our nonprofit journey, there were just a handful of volunteers that would collect supplies, hand out toys or blankets, and visit with community members during our annual December trip. In the nine years since we started assisting Pine Ridge, we have evolved and alongside organizations such as MATTER, Persolvent, SIMEK'S, Park Burger, Dispatch and many others, we have come to understand that none of our work would be possible without our partners—our friends.
Together, we make an impact not just because of what we can give but because of what we believe: We are better together. We can make a difference. We can make others feel that they matter. Our partnerships—our friendships—always make it possible.