On August 6, 2020, MATTER lost one of our dear friends and dedicated volunteers, Eddy Cyphers. Eddy became part of the MATTER family over three years ago when he reached out to us hoping to help with our agriculture projects. With his extensive experience in farming and travel, and his love for people, Eddy quickly became invaluable to our projects in Zimbabwe, Senegal and Liberia.
Eddy's life made an enormous difference in our world. The work he did in Africa will affect the health and nutrition of communities for generations to come. But he didn't set out to be the world-changer that he became; he just wanted to use his skills and experience to help people. He lived simply, choosing to invest more in people than possessions. Rather than pour money into a house, Eddy lived in a camper, his well-traveled pickup truck pulling his portable home wherever he felt he was needed most. Here's how we described Eddy in a blog back in 2018: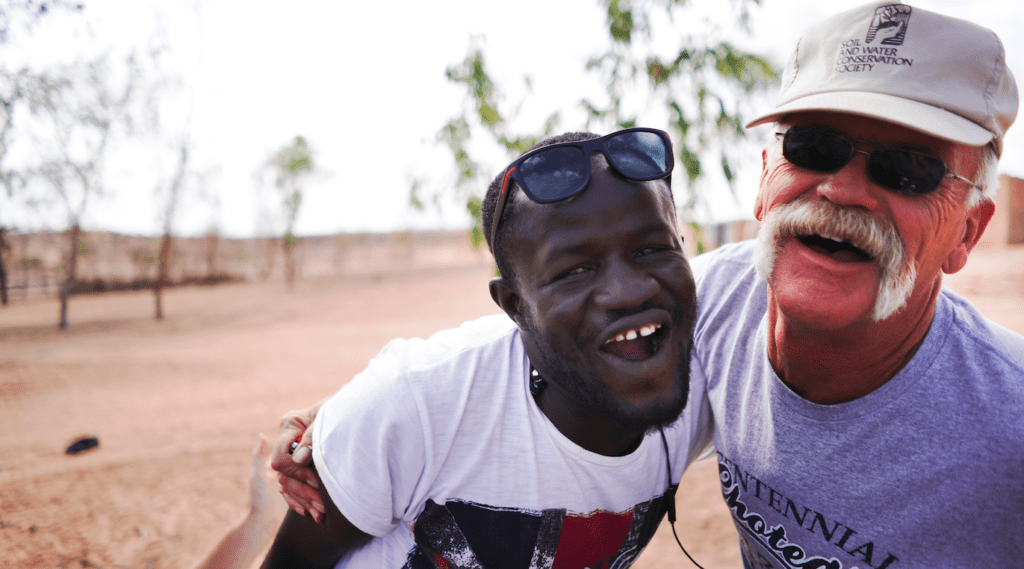 Eddy is a big guy. Not in the physical sense, but in every other sense of the word. He sports a big, horseshoe mustache and is quick to flash a big, friendly smile. He's big on adventure and loves to explore the world and learn about other cultures. But more than anything else, Eddy's got a big heart. Compassion guides his life. One look at his Facebook page and you see a man dedicated to serving others and willing to travel far from his Montana home to do it. Whether he's helping his sister renovate their old family home in Minnesota or helping the people of Houston rebuild from Hurricane Harvey, Eddy literally goes the extra mile.
Indeed, Eddy went many extra miles with MATTER. Tens of thousands of them, renovating old farm equipment, establishing nutrition gardens for hospitals and communities, and training farmers on best practices for desert farming. And along the way, forging deep friendships and letting everyone around him know they mattered.
Chris Newhouse, MATTER's Vice President of Global Projects, reflected on Eddy's ability to connect with those he served, "Eddy was a unique individual who fully gave of himself to help others. He was a patient teacher who built trust and led by example. He was able to communicate his real-world knowledge of farming techniques and mechanized solutions to projects in Senegal, Zimbabwe and Liberia, fulfilling his vision to serve in Africa and help lift up the hands of MATTER's partners."
For Silent Kaseke, garden manager in Zimbabwe, working alongside Eddy in the rural village of Lukosi, became one of the most meaningful experiences of his life.
"We used to call each other brothers for life. I stayed with Eddy for three months in Lukosi. Eddy did a lot in our communities. Eddy worked very hard in teaching the community how to enrich the soil, how to do organic farming. Eddy also held a conference on how to farm the Chaya tree…Eddy made a lot of difference in Lukosi…Goodbye brother for life. Someday we will meet again."
Eddy's life was an inspiration to all who knew him. Possessing little in earthly terms, he was rich in the things that truly mattered. By putting people first and going that extra mile, he left a legacy of impact from Minnesota to Africa. And he will never be forgotten.