There's nothing like the energy generated in a room full of people who have come together to do good. Smiles, laughter, cooperation, kindness… all these things flow from hearts united in purpose to help others.
This shared, compassionate energy was on full display yesterday in Eau Claire, Wisconsin, as hundreds of people gathered together to pack MATTERbox snack packs for distribution in communities in Wisconsin and Minnesota.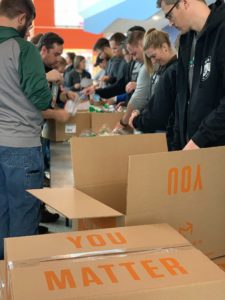 MATTER partner Jamf, a leading-edge computer software company specializing in Apple management solutions, held the packing event during their All Company Meeting in Eau Claire. Organized by Jamf Nation Global Foundation, 800 of their employees from around the world took time out of their busy schedule to pack nearly 12,000 MATTERbox snack packs.
Each MATTERbox snack pack contains a delicious protein, a healthy carbohydrate, and a yummy fruit, along with a nutrition education card and a personalized note of encouragement, offering the recipient food for the soul as well as the body. Snack packs are distributed in a variety of settings, from schools, community centers and sports camps, to shelters and street outreach programs. Some police departments and hospitals keep MATTERbox snack packs on hand as well. MATTERbox meals and snack packs are an innovative solution to help people learn to eat better and give them a chance at a healthier life.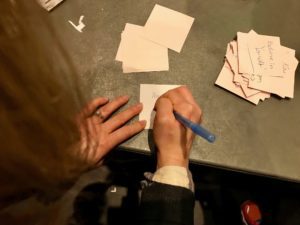 The packing at the Jamf event was done assembly-style. Long lines of employees gathered around tables filling the snack packs with nutritious food, while others were writing messages of encouragement on You MATTER notes to be included in the snack packs. Based on the laughter and camaraderie in the room, it was obvious everyone was having a great time working together to make the event a success.
Event Director, Maggie Armstrong, was encouraged by the impact the event had on Jamf employees,
"I found the MATTERbox activity to be super engaging for our group and I believe it helped our employees from all around the world to feel connected to one community, unifying us as an organization and perpetuating Jamf's values."
That sentiment was echoed by many of the participants afterward. Said one, "Serving with my team of Jamfs at that scale for the betterment of our community was the best part of my week, and a highlight in my 8.5 years at Jamf."
Dean Hager, CEO of Jamf, explained what the partnership with MATTER means to Jamf and its employees,
"It has been awesome to find a partner that believes in raising up communities. Sharing that value makes all the difference. It was also fun to be the largest single company packing event!"
If your company would like to make an impact on the community by hosting a MATTERbox packing event, please contact us to learn more!